"There's nothing more powerful than an idea whose time has come."

- Victor Hugo (1802-1885)
As the French poet and novelist Victor Hugo once suggested, the strength of necessary change is a force to be respected. Today, as the era of cheap oil begins to sunset, the idea of developing renewable alternatives to the world's reliance on oil is driving forward a wave of inspired innovation. As it stands, oil is quite often used in many ways beyond our conventional association of it with mere gasoline prices. As oil prices rise, so too over time do the correlated costs of our many consumer goods such as those seen in the graphic below.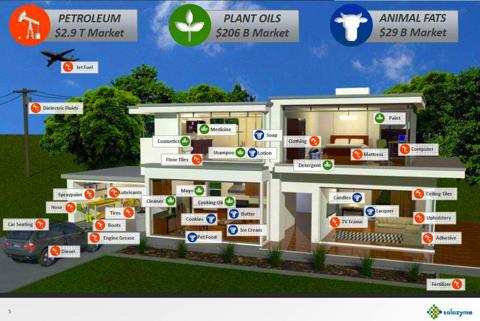 The role of biotechnology in our lives is changing.
The use of living systems to make productive products has typically been secluded to areas of agriculture, food production, and medicine. Yet oil's increasing price volatility has now allowed biotechnology to penetrate the world of industrial production. It is here in this picture that renewable oils company Solazyme (SZYM) finds itself with a unique solution. As mentioned here, the company has developed the world's "very first platform to convert carbohydrates to oils." Not only has the company developed the ability to create oil, but it's invented the tool kit necessary to modify such oils to meet exact customer specifications. The company can control carbon chain lengths, saturation levels, and functional groups to modify important oil characteristics.
Investors fail to see Solazyme as an investment in biotechnology.
As it stands now, Solazyme remains a step above its perceived competition as seen in my other article written here. As mentioned, the company fails to be fairly compared to other public conversion technology companies in light of its ability for value creation found in its ability to create customized solutions. With the output flexibility to navigate into key niches within a $3.1 trillion market range, Solazyme is given an inherent advantage through its creation of tailored outputs.
In many ways, the company is more accurately similar to companies within the sphere of pharmaceutical drugs. Instead of finding a cure to pancreatic cancer, for instance, the company is providing a solution to the unmet need for an enhanced biodegradable dielectric insulating fluid. This real world example addresses a $2 billion market and can be seen in the offtake agreement with Dow Chemical (NYSE:DOW). Yet altogether, this one market is just a taste of the niche oil-based solutions Solazyme's technology is able to address.
Like a growing pharmaceutical drug company, Solazyme is capable of developing unique and proprietary solutions to problems now faced by an end client. With an extended phase of development, the company's current revenue stream is primarily derived from research & development programs. This is due to the ongoing construction of the company's first production facilities. As a result, the non-product revenues remains much akin to pharmaceutical companies and their milestone payments such as that seen with Arena Pharmaceutical (NASDAQ:ARNA) and its relationship with Eisai Inc. As is the case with many of these development companies which can't be evaluated on current earnings alone, a strong cash balance and a steady pipeline is often characteristic of strong corporate health.
As seen in a brief comparison in the table below, Solazyme remains relatively undervalued. The following companies illustrate a very broad spectrum of the biotechnology sphere. Monsanto (NYSE:MON) offers a similar business model to that seen in the future of Solazyme, but it remains limited in its market scope and its capabilities. The company also fails to reflect the growth potential Solazyme currently has. On the other hand, Illumina (NASDAQ:ILMN) is an established player in a growing field of biotechnology. The market has factored in a high degree of growth potential for its market, and yet the market scope pales in comparison to Solazyme's future prospects.
As stated above, Solazyme is most similar to a growing pharmaceutical drug company such as Arena Pharmaceutical. Both companies address exclusive and high volume businesses. Yet both must also endure a lasting period of development without earnings. Both companies must pass an evolutionary period as represented in the clinical trials of Arena and the scale-up productions of Solazyme. Last of all, both companies add value by addressing niche areas of demand with limited competition and high barriers to entry.
| | Solazyme | Monsanto | Ilumina | Arena Pharm. |
| --- | --- | --- | --- | --- |
| Market Cap. | $515 Million | $46.30 Billion | $5.89 Billion | $1.83 Billion |
| Growing or Established? | Growing | Established | Established, But Growing | Growing |
| Price/Sales Ratio | 10.28 | 3.42 | 5.37 | 62.49 |
| Price/Book Ratio | 2.36 | 3.91 | 4.79 | 17.22 |
| Current Ratio | 9.87 | 2.29 | 5.43 | 8.92 |
| Biotechnology Field? | Industrial Biotechnology | Agricultural Biotechnology | Medical Research and Devices | Pharmaceutical Drug Development |
Reasons For Persistent Undervaluation:
What ultimately impacts the company in the present appears to be the external failures of its surrounding environment and the inability of the investing community to focus on the company's unique capabilities. This is seen in several of the following failures of the company's surrounding environment. Solazyme also remains discounted because of an underestimation of its unique advantages.
Failures External To Solazyme's Development:
Failure within algae community. Open-pond algae companies that utilize the sun have dragged down the sector. Solazyme uses a closed heterotrophic system that grows in the dark. Solazyme had previously been a sun-based company but reinvented itself down a more practical path.
Failure within conversion companies. Conversion companies like Amyris (NASDAQ:AMRS) and Gevo (NASDAQ:GEVO) have failed to scale up accordingly. Both companies use processes Solazyme does not.
Failure within government policy. Solyndra rings with political backlash. Opposition to Obama-backed policies such as algae-based fuels continues to grow. Solazyme does not need government financing in order to achieve commercial profitability.
Failure within access to capital. The capital markets have dried up for renewable fuel companies. This was seen in IPO withdrawals. Solazyme had a successful IPO in 2011 and is leveraging its current capital advantage.
Neglected Advantageous Abilities of Solazyme:
Able to create proprietary oils never before found. Solazyme is currently formulating customized solutions to niche markets of industry. Solazyme may be able to create the sole resource necessitated by tomorrow's industries.
Able to cross multiple spheres of industry. Solazyme offers immense value in creating market diversification to its upstream suppliers. It can focus on highly profitable industries and be flexible to adapt to market conditions.
Able to create consistent production supply chains. Solazyme's enclosed process creates a higher degree of outputted quality consistency. It can alleviate against problematic issues such as weather and contamination.
Able to attract "best of breed" partnerships. Being the first-to-market allows for the greatest selection of upstream and downstream partners. Solazyme offloads production and distribution risks to established players in their respective industries. The company is creating joint ventures to which it licenses its technology.
Conclusion
From early August 2012 to the present day, the company's stock has fallen from $14 to the current price of $8.50 despite any justifying event-based rationale for the current drop. It would appear that investors continue to see Solazyme as a commodity manufacturer of the future with limited current capacity for production. What they fail to see is that the company has positioned itself into the framework of a technology licensing giant of which the competition remains years behind. However, Solazyme's approach to the development of renewable tailored oils remains a reflection of modern day alchemy. The technology is able to profitably convert low-cost sugars (including those derived from waste biomass) into oils more precious than black gold.
The company's abundance of resources (talent-based and monetary), intellectual property, first-to-market position, existing partnerships, proven technology, and rapid pathways to profitability are all priceless advantages unable to be calculated on the balance sheet. When we take a look at cutting edge leaders and the growing prospects in biotechnology such as those found Arena, Ilumina, and Monsanto, it remains clear that Solazyme remains largely discounted in comparison. As a developing biotechnology company rapidly growing to address a large untapped market, Solazyme's potential remains discounted.
The company retains a leadership position in this new field of industrial biotechnology. While analysts and investors continue to associate Solazyme with biofuel start-ups and other conversion technology specialists, practical comparables capable of expressing Solazyme's unique value creation fail to exist on the public markets. The company continues to remain undervalued in light of its ongoing associations and inadequate comparisons of value. Yet for investors able to clearly see the direction of the changing winds, one would imagine it to be wise to mentally price the company according to its hidden worth.
Disclosure: I am long SZYM. I wrote this article myself, and it expresses my own opinions. I am not receiving compensation for it (other than from Seeking Alpha). I have no business relationship with any company whose stock is mentioned in this article.