Since the company's May 2012 IPO, the results from PetroLogistics LP (NYSE:PDH) have failed in pretty dramatic fashion to live up to the pre-IPO projections. However, this is not a business failure, but is instead a function of how PetroLogistics operates. Investors could very well reap some very attractive returns by taking a chance and picking up shares now after the disappointing third quarter results were released.
Note: MLP companies such as PetroLogistics have units and pay distributions. The words stock, shares and dividends may be used here with the understanding that the rules of MLP units apply including the tax consequences of investing in MLP units.
PetroLogistics is a chemical manufacturing company generating revenue from a single processing plant which produces the petrochemical propylene using propane as a feedstock. Propylene is the second most widely produced and used base petrochemical. The majority of propylene comes as a by-product of crude oil refining or natural gas cracking. PetroLogistics and its facility is the only dedicated propylene production source in the U.S. Energy refiners have the option to produce propylene or other by-products, depending on relative prices.
Profits are Spread Dependent
PetroLogistics has contracts with various chemical companies to pretty much sell all the propylene it can produce. There is a spot market and the potential from existing customers for larger orders to pick up any extra production. The plant runs close to full capacity and there is not expectation for a dramatic increase in potential production in the near - 3 to 4 years - future.
PetroLogistics pays market price for propane and receives the market price for propylene. In almost any conceivable energy or chemicals price scenario, this will be a profitable venture. The profit question revolves around how much profit will be earned each quarter and what will be the resulting quarterly distribution. For investors looking at PetroLogistics remember this point: Any extrapolation or prediction of future distribution amounts is just a guess. For the 2012 third quarter made a 21 cent per share distribution after earnings on a propane-to-propylene spread of 25.9 cents per pound. In the second quarter, the spread came in at 37.9 cents and the pro-rated dividend paid was 26 cents per unit. If PetroLogistics had been a public company for the full second quarter, the distribution would have been 45 cents.
Buy When the Dividend is Down
As I noted in my first article on PetroLogistics, the company's business reminds me very much of Terra Nitrogen Company, L.P. (NYSE:TNH). Since the results of these companies dependent on commodity prices on both ends, quarterly profit levels can swing significantly. The difference is that Terra Nitrogen has been earning a historically wide spread for the last couple of years and PetroLogistics spread is probably near the low-end of possibilities.
Company management makes no predictions where propane and propylene prices will go in the future but they do note that propylene demand and prices are well below historical averages. I am fairly confident that there will be many quarters in the future when PetroLogistics pays out better than 50 cents per unit. The current share price may stick around until the dividend rate starts to trend upward, but that move could happen in a hurry. As a new IPO MLP, PetroLogistics has no track record and looks speculative. However, I see it as similar buying TNH back when that company was paying $1.00 quarterly - distributions are in the $4.00 range now - and the unit price was around $75.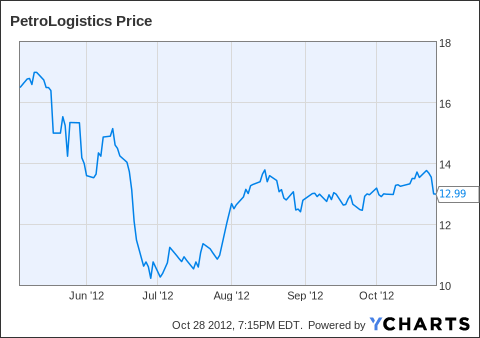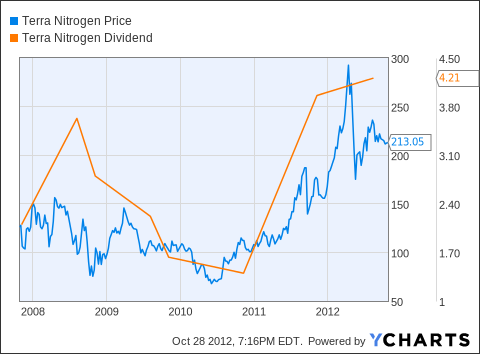 Recommended Reading: Terra Nitrogen at the Wrong Point in its Business Cycle
Disclosure: I have no positions in any stocks mentioned, and no plans to initiate any positions within the next 72 hours. I wrote this article myself, and it expresses my own opinions. I am not receiving compensation for it (other than from Seeking Alpha). I have no business relationship with any company whose stock is mentioned in this article.