Earlier this year, J.C. Penney's (NYSE:JCP) management team embarked on a daring new pricing strategy of eliminating coupons and most sales, in order to cut selling expenses and boost margins. Instead, the company would aim to attract customers through strong brands and better merchandising (organized around a collection of approximately 100 "shops.") I have been skeptical about this transformation from day one, and thus far the results have been dreadful. J.C. Penney posted wide losses in Q1 and Q2, with first half sales down by 20%.
In response to this poor performance, CEO Ron Johnson has pledged to keep the main elements of his strategy intact, but to "tweak" some of the details. The first major change was that company president Michael Francis was pushed out in June. Francis was in charge of J.C. Penney's marketing, and Johnson decided that he needed to personally take charge in that area, thus making Francis expendable. Then, in July, the company eliminated one of the three tiers in its pricing strategy; leaving only regular prices and clearance. Earlier this month, I wrote about a particularly bold reversal, as Ron Johnson offered customers a $10 gift to entice them back into the store. While the company spun the offer as a special gift, most analysts recognized that it was simply a coupon in disguise.
On Sunday morning, J.C. Penney released yet another special offer to customers. The company is offering 30% off almost all clearance merchandise through Nov. 3. The offer was sent to customers by text and is the first thing greeting visitors to the company's website: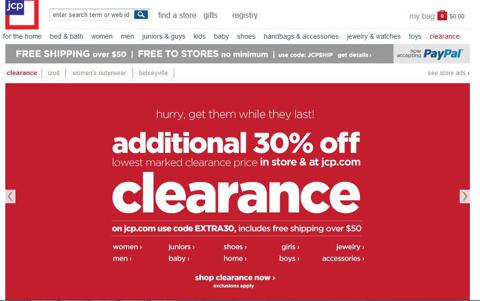 It is certainly good, from a business strategy standpoint, to be adaptable. While Johnson initially came out squarely against coupons and discounts, he seems to be coming to grips with the difficulty of weaning customers off of discounts. In the retail world, there are no points awarded for sticking to your convictions when it's really time to cut your losses.
The problem for J.C. Penney investors is not that Johnson is reversing strategy, it's that he is being forced to give up ground again and again. Competitors in the mid-price department store sector, primarily Kohl's (NYSE:KSS), Macy's (NYSE:M), and Dillard's (NYSE:DDS), have capitalized on J.C. Penney's strategy change, simply by continuing to offer frequent promotions. This has allowed them to take share in an era of sluggish consumer spending. This most recent "adaptation" seems particularly ominous. Coming very soon after the $10 gift offer, J.C. Penney's decision to offer this 30% discount confirms that the company is having tremendous difficulty moving merchandise. In all likelihood, this means that the average analyst estimate for a 17% drop in Q3 sales is too generous. Moreover, offering a 30% discount on clearance prices will weigh on J.C. Penney's margins in Q4 (Sunday was the first day of the new quarter). During the second quarter earnings presentation, management disclosed that the selling margin on clearance items was 5.9% in Q2, and a whopping -27% in Q1. While the company's plan is to sell clearance items at a 10% margin, this goal is well out of reach for the time being.
Lastly, J.C. Penney's return to discounting provides further evidence that the company's inventory reduction strategies have been ineffective. While the company has sufficient liquidity with its $1.5 billion credit line, cash on hand may have dwindled to as little as $400 million as of the end of October. If Q3 results come in as weak as I expect (sales down more than 20% and pre-tax losses of $100-$150 million), the company is at risk for further credit downgrades. This is important because it will lock the company into its plan to fund its transformation from current cash flows. With cash flows significantly below management's original expectations, this will drastically slow the pace of the transformation and push back any potential recovery to 2014 or beyond.
While J.C. Penney shares have underperformed this year, the stock has rallied since hitting a 52-week low of $19.06 in mid-July, briefly surpassing $30 before pulling back to $25.46 as of Friday's close. Considering the company's poor performance, the stock price could be far lower. J.C. Penney still trades at a generous 20X forward P/E, and 2013 estimates are probably too high. Based on the ominous signs coming out of J.C. Penney this month, I am lowering my price target to $18 and reiterating my sell/short rating.
Disclosure: I am short JCP. I wrote this article myself, and it expresses my own opinions. I am not receiving compensation for it (other than from Seeking Alpha). I have no business relationship with any company whose stock is mentioned in this article.