Weekly Outlook: The market continues to look fairly weak, but it did end the week on a positive note. The market has been hurt by a number of weak reports on company earnings, and with earnings season still headlining for the next couple weeks, the market may still lack much upside. On the other hand, the market has held the 13000 line very well, and as long as that line holds, we cold see the market staying fairly flat. A lot of earnings weakness/downside has been priced in at this point, and as we get near the election, the market could start to see short covering to avoid risk into the election.
This week will be mostly about continued reaction to elections, extensive economic data, and we may see some potential pitfalls of Hurricane Sandy hit the market to start the week. Overall, we expect a flat week to end October and begin November.
Economic data has been fairly decent over the last couple weeks, which has been ignored by the market's reaction to earnings. Therefore, economic data could become very crucial this week as most of the big name earnings are already out and the market has priced in a lot of the damage. The market will start on Monday with Personal Spending and Income. Tuesday will be headlined by Consumer Confidence and the Case-Shiller Index. Consumer Confidence is a key report as a tick up in that report could go a long way to quell some of the market fears. Halloween will bring us ADP Employment Change and Chicago PMI. Thursday is jam packed for the first day of November with Challenger Job Cuts, Initial Jobless Claims, ISM Index, Construction Spending, and Auto/Truck Sales. Finally, we finish up the week with the NFP report. The final unemployment numbers before the election could be interesting as Obama will definitely want those to improve into his final campaign days. All in all, data is extremely busy this week and should be impactful. Some solid reports could help the market bounce off recent support.
Europe has been pretty quiet for a couple weeks as data, earnings, and the election have gripped the markets. Right now, the market is really just playing a waiting game with Europe as it anticipates the Spanish bailout that should happen before the end of the year. Right now, though, the zone remains quiet. Most would like to see it stay that way as a crisis there now with the markets on the brink would be very detrimental to the marketplace. For data, German unemployment information on Tuesday will most likely provide the most important news for the week.
Earnings are going to continue to be very important to the marketplace, but at the same time, the market has in some ways realized that earnings have been bad and priced in this news fairly considerably. So, more of the same may affect individual industries/sectors, but it's hard to imagine more widespread panic/drops on earnings issues. Some of the key reports to watch this week are ExxonMobil (NYSE:XOM), Chevron (NYSE:CVX), Pfizer (NYSE:PFE), Visa (NYSE:V), AIG (NYSE:AIG), and Baidu (NASDAQ:BIDU). If a few upside surprises can occur, it could really help the market bounce off this support line.
The Federal Reserve kept QE3 in place with its current parameters despite some buzz it may be bolstered and extended. With the election around the corner, though, the plan was left as is. We believe they are done for the rest of the year with any more expected action, so we will be curious to see if at some point QE3 can start to help make a difference in the marketplace. For this week, the Fed will release the Dallas Manufacturing report as well as a number of key speeches are expected, led by President Williams speech on monetary policy on Thursday that could give some intriguing headlines.
So where are we headed this week?
For the last two weeks, we believed that the market was very close to a strong breakdown. While we have had weakness, the market has held support at 13000 on the DJIA and 1400 on the S&P 500. Those levels are key to hold, and the longer they hold, the more likely the correction is done and the market begins to bounce back. With that said, we are still at a place where the market could break much lower. Data will be the key to this week. NFP, Consumer Confidence, and several other reports should definitely shine some light on the state of the economy and give the market the potential to bounce or break. Earnings will continue to be important, and we may actually see some weakness to start the week on the back of the Hurricane Sandy issues as they affect New York City.
Stocks To Trade:
The four stocks we are looking at this week are Deere (NYSE:DE) and Yum! Brands (NYSE:YUM) for longs and Wal-Mart (NYSE:WMT) and Halliburton (NYSE:HAL) for shorts.
Right now, we like the looks of Deere and Yum! Brands. Both stocks have shown good relative strength despite market weakness. YUM had a very strong report that has helped put in a strong support line for the stock while DE looks ready to bust out higher into their earnings report in mid-November. We like going long DE into that report. Agricultural stocks have been one of the stand outs in earnings season as higher prices have increased production, which has increased demand for DE goods. The company is expecting 10%+ growth in earnings and in sales for the quarter. The stock has continued to move in a nice uptrend, completely ignoring the market's downtrend.
Additionally, we like what YUM is doing right now. They have seen solid growth in China and India, and their latest report put in a very strong support line at 69. We like looking at the 66-67 area as those prices are below the 20-day, 50-day, and 200-day MA as well as a strong support line at 68. The company has not failed that area despite a lot of market pressure, and that aspect makes us excited to do a bull put spread in this stock.
Trade #1: Long, DE
Breakout: 85.75
Trade #2: YUM, Nov17, 67.50/65 Bull Put Spread
Max Gain: 17%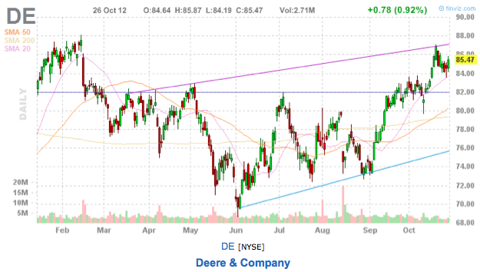 Click to enlarge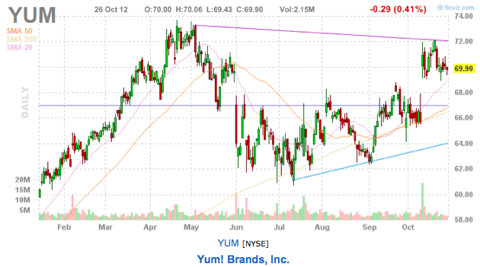 Click to enlarge
For bearish trades, we like the looks of Wal-Mart and Halliburton. WMT has held support recently with its 50-day MA holding up for now. Yet, if this market turns anymore, WMT could be one of the stocks to lose that support level. Earnings are still a few weeks away, but with the market looking pretty weak, WMT would be a great short on a technical breakdown. The stock has been coiling for some time and looks ready to break out. A weak market would definitely mean a weak move for WMT.
HAL has looked awful as of late, and with oil services companies reporting weak earnings, we do not see much upside for HAL. The company just broke its 200-day MA, and it's looking like a falling knife right now. Until oil prices can show a bottom and reverse higher, HAL is going to remain weak. For that reason, we believe one can feel comfortable with a conservative bearish position on the company. The stock has yearly resistance at 38, and we can make 12% with the 36/38 Dec options bear call spread.
Trade #3: Short, WMT
Breakout: Failure of 50-day MA
Trade #4: HAL, 36/38 Bear Call Spread, Nov17
Max Gain: 12%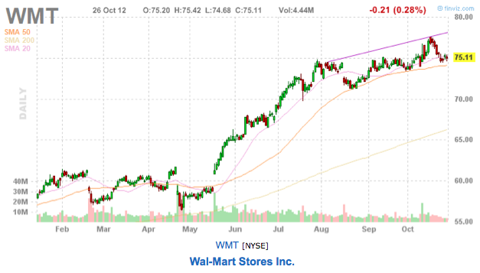 Click to enlarge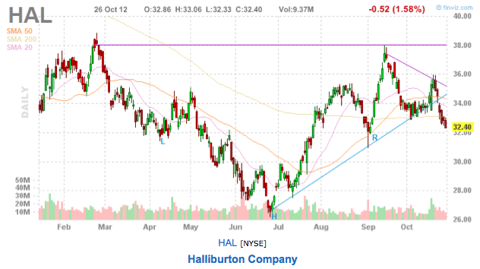 Click to enlarge
We have the following positions:
In our Short-Term Equity Portfolio we are long CBRE Group (NYSE:CBG).
In our Options Portfolio, we are long Intuitive Surgical (NASDAQ:ISRG), Urban Outfitters (NASDAQ:URBN), Discover (NYSE:DFS), Wal-Mart, and ExxonMobil. We are short United States Oil (NYSEARCA:USO).
In our Earnings Alpha Portfolio, we are long Allstate (NYSE:ALL), Michael Kors (NYSE:KORS), Disney (NYSE:DIS), Continental Resources (NYSE:CLR). We are short Polo Ralph Lauren (NYSE:RL). We have a reverse iron condor in Chipotle (NYSE:CMG).
In our Goldman Sachs Up/Down Paper Portfolio, we are long CSX (NYSE:CSX), Teradata (NYSE:TDC), Host Hotels (NYSE:HST). We are short Royal Dutch Shell (NYSE:RDS.A).
Chart courtesy of finviz.com.
Disclosure: I have no positions in any stocks mentioned, and no plans to initiate any positions within the next 72 hours.
Business relationship disclosure: The Oxen Group is a team of analysts. This article was written by David Ristau, one of our writers. We did not receive compensation for this article (other than from Seeking Alpha), and we have no business relationship with any company whose stock is mentioned in this article.