Last Thursday, Deckers Outdoor (NASDAQ:DECK), the name behind the popular UGG brand, reported its fiscal third quarter earnings. Deckers has been one of the worst performing stocks over the past year, as the company's growth prospects have come into serious question. I've followed Deckers' fall from grace quite extensively, and you can find all of my Deckers articles here.
During mid to late September, Deckers shares started dropping again as a number of analysts became worried that second half sales were going to fall short of expectations. It appeared that some of Deckers' products were on clearance websites, and the company did announce it was cutting prices on some product lines. Investors were spooked and the stock fell from the high $40s to the mid $30s. The company's third quarter numbers were not great, and the company warned for the fourth quarter and full year. This is the fourth straight quarterly warning for Deckers. It appears that the sales concerns were justified, and shares hit a new 52-week low on Friday, falling nearly 17%. I'll discuss the third quarter results and then show you why Deckers is in more trouble than we originally thought.
Third Quarter Results:
Deckers reported net sales of $376.4 million, a 9.16% decline over last year's third quarter. The sales number widely missed analyst expectations for $413.46 million. Not only were sales down nearly 10%, management had forecasted a 1% increase. In fact, analyst estimates for Q3 going into their second quarter report were for $447 million, or 8% growth. So Deckers missed the original analyst estimate by $70 million.
On the earnings per share front, Deckers posted a profit of $1.18. This number actually beat estimates for $1.04, although if you exclude the giant stock buybacks (more on that later) that have taken place over the past year, the number would have been $1.10, based on 2011's third quarter diluted share count. Deckers roughly guided to $1.10 at the third quarter report, although analysts were expecting $1.44 at that time.
Margin analysis:
The following table shows Deckers' margins for Q3 over the past four years, and I can use these numbers to further analyze the quarter.

Despite a 9.16% decline in quarterly revenues, the cost of those goods sold actually rose by 2.64%. Gross margin dollars fell by 21.5%, with this year's Q3 representing the lowest third quarter margins since 2009. Overall, gross margins fell by 663 basis points.
Selling, general, and administrative expenses did fall by 11.15% over last year's period. As I've mentioned in the past, Deckers' SG&A expenses can be uneven throughout the year, so this quarter, they were only 26.5% of revenues. In Q2, for example, SG&A expenses were 58.6% of revenues. Because SG&A expenses fell faster than revenues, the company did see some margin recovery on the operations line. Operating income did fall more than 34% for the period, but operating margins only declined by 604 basis points. However, percentage wise, that's a sharper drop than the decline in gross margins.
Deckers did manage a lower tax rate in the quarter, an effective rate of 27.02% this year compared to last year's Q3 rate of 31.19%. Overall, net income fell by 30.8%, a drop of $19.15 million. Profit margins plunged by 357 basis points, to levels lower than 2009.
Terrible guidance:
When Deckers reported 2011 Q4 results, the guidance for Q1 was below expectations. When they reported Q1, guidance for Q2 was terrible. When they reported Q2, Q3 guidance was bad. Notice a pattern here? Well, it continued.
When Deckers reported Q2, they provided 4th quarter guidance that was above current expectations at that point. The theory was that Q3 would be light, but business would pick up in Q4. Well, that isn't the case. At that point, Deckers gave revenue guidance of 19% growth, implying about $718.6 million in sales, well above the roughly $690 million analysts were expecting. Deckers also stated that diluted earnings per share would be up 22% over last year. That implied $3.88 in earnings, well above the $3.37 analysts were expecting.
But Deckers revised its Q4 guidance, expecting revenue guidance of just 6%, and analysts were expecting 12.7% growth. In terms of earnings per share, analysts were looking for $3.38, compared to 2011's $3.18. Deckers new guidance was for a drop of 14%, which implies about $2.73, well below expectations.
Deckers also revised a ton of guidance for the full year, as taken from the company's report:
The company now expects 2012 sales to increase approximately 5% over 2011 levels, compared to previous guidance of approximately 14%.
The company now expects 2012 diluted earnings per share to decrease approximately 33% from 2011 levels, compared to previous guidance for diluted earnings per share to decrease approximately 9% to 10%.
This guidance assumes a gross profit margin decline of approximately 430 basis points from 2011 levels compared to previous guidance which assumed a decline of 250 basis points. The year over year decline is due primarily to an increase in cost of goods sold driven by higher sheepskin costs and lower European margins, partially offset by increased contribution from retail sales, and the addition of the Sanuk brand for the full year.
This guidance also assumes SG&A as a percentage of sales of approximately 32% versus prior guidance of approximately 30% due to the lower sales projections partially offset by lower compensation expense. Fiscal 2012 guidance includes $16 million, or $0.30 per diluted share associated with amortization and accretion expenses related to the Sanuk brand acquisition.
UGG brand sales are expected to be flat with 2011 levels compared to previous guidance of a 10% increase. Teva brand sales are expected to be slightly down and Sanuk brand sales are still expected to be approximately $95 million. The Company acquired Sanuk in July 2011. Combined sales of other brands are expected to be down approximately 10% to approximately $22 million, driven by the closure of the Simple brand at the end of 2011.
The earnings per share / valuation issue:
Those that are bullish on Deckers point to the low valuation for the name, in terms of price to earnings. However, in my opinion, using a trailing price to earnings multiple for this company is wrong, because of the situation with earnings. Just look at the following chart, showing the analyst history for Deckers earnings over time. The chart shows the average analyst estimates for 2012 and 2013, going back to last December. They've come down a lot.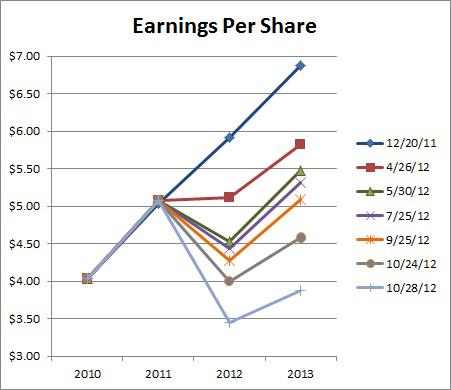 Now, the worst part isn't even that analysts currently project 2013 earnings per share to be down about 10% from 2011 levels. Oh, that includes the buyback by the way. Net income is falling much faster.
You can't just say that Deckers is trading at a low valuation and therefore it is a buy. The reasoning is simple. If conditions get worse, expected earnings could continue dropping. What if things get really bad and Deckers only does $2 of earnings in 2013? That would imply a forward P/E of nearly 15 currently.
Balance sheet weakening:
Deckers' balance sheet metrics have gotten worse over the past year, as seen in the following table. Dollar values in thousands.

Deckers' cash position declined from $114 million at the end of Q2 to $62 million at the end of Q3. Additionally, the company had $275 in short term borrowings under its credit facility, compared to $45 million a year ago. The company used a lot of cash, and even its credit facility, to buy back stock. That was not a wise decision, and I'll show why in the next section. Inventories rose from $346 million at the end of Q2 to $486 million at the end of Q3. Obviously, they need more product because Q4 is a busier quarter, but at the same time, they probably have too much inventory because Q3 sales were light.
Failing Buybacks:
When Deckers announced its fourth quarter and full year results for 2011, it announced a $100 million stock repurchase plan. At that time, Deckers was falling because of poor guidance, so investors thought that the buyback could help cushion the fall. Well, the stock kept falling, and the company kept buying back shares. They spent all $100 million in just two quarters. When they announced the second quarter results, they announced another $200 million was approved for buybacks. The following table shows what they've done in three quarters with the buyback plan.

So the company is buying back more shares, but the stock is going lower and lower anyway. The company has now spent $185 million on shares, and while it has reduced the share count, Deckers is now trading under $29.50. The fact that they also used money from their credit facility to buy back shares is troubling. Just think how far the buyback would have gone if they started using that $185 million with shares under $30, not with them over $50.
We saw this same story with Netflix (NASDAQ:NFLX). During 2011, Netflix was buying back shares at prices well over $200. When Netflix started struggling, the company was forced to suspend its buyback. Things got bad enough, that in the same year they were buying back stock at over $200 a share, they were forced to sell stock at $85 a share. Now, I can't say that Deckers will have those kinds of problems just yet, because Deckers is still a profitable company. However, if conditions continue to deteriorate, anything is possible.
Conclusion - Conditions worse than expected:
It seems that all of those analysts who were so negative on Deckers in September were right. Sales for the third quarter widely missed expectations, and the company's fourth quarter forecast was pretty bad as well. With four straight quarterly warnings, it's not a surprise that shares are at 52-week lows.
I've criticized Deckers in the past for blaming the weather, and that excuse is getting old. In fact, if you reference the conference call transcript, there are roughly 3 dozen mentions of the word "weather". First, it was too warm a winter, then it was too warm a summer. This company doesn't seem to adjust very well, and that's a problem.
I applauded the company for the Sanuk acquisition, which has helped soften some of the revenue declines. The Sanuk line is expected to do $95 million in revenues this year, after $26.6 million in 2011. Without the Sanuk acquisition, the revenue falloff would have been much larger. I stated in the past that Deckers should have used funds to make another acquisition, and perhaps they should of, instead of using $185 million over three quarters for stock buybacks.
As for the stock, it's hard to recommend shorting a name like this at a 52-week low after such an extended decline. However, it remains in my "short ideas" bin because of the problems the company seems to have right now. That doesn't necessarily mean you should run out and short it today, but it is a name to keep in the back of your mind. Maybe if Deckers pops again, you'll want to short it then. Those that shorted in the high $40s last month are very satisfied right now.
Disclosure: I have no positions in any stocks mentioned, and no plans to initiate any positions within the next 72 hours. I wrote this article myself, and it expresses my own opinions. I am not receiving compensation for it (other than from Seeking Alpha). I have no business relationship with any company whose stock is mentioned in this article.
Additional disclosure: Investors are always reminded that before making any investment, you should do your own proper due diligence on any name directly or indirectly mentioned in this article. Investors should also consider seeking advice from a broker or financial adviser before making any investment decisions. Any material in this article should be considered general information, and not relied on as a formal investment recommendation.