Last week, I wrote an article, REITs to Hold Forever, Most Likely, and in the opening paragraph, I suggested a long-term perspective to REIT investing and one in which the legendary investor Ben Graham described as follows:
A long-term investor is the only type of investor there is. Someone who can't hold on to stocks for more than a few months at a time is doomed to end up not as a victor but as a victim.
To me, Graham's insight into investing "for the long haul" is a fundamental attribute to "intelligent investing" and accordingly Graham considered a stock to be a piece of a business and, by focusing on the cash the business generates (and on its balance sheet) as opposed to the opinions of other investors in the market, companies enjoy more lasting differentiation. By focusing on long-term investing fundamentals, Graham believed that companies built on vivid and hardy form of differentiation would generate better performance measured by sustainable dividend durability.
As discussed in chapter 4 of The Intelligent Investor, Graham screened stocks in order to narrow the focus of securities based on sufficient safety and also to qualify for the intelligent investor to then consider more closely. Accordingly, Graham utilized a filter (of sort), not a selection mechanism. Then, surveying the list of filtered (or "vetted) investment opportunities, the value investor considered which (if any) of the remaining companies were worthy of ownership.
Accordingly, this involves some considerations of the company's industry, its current competitive position within that industry, and as Charlie Munger characterized it, the "economic moat" around the company; that is, a sustainable competitive advantage that helps preserve long-term, pricing power and profitability. Buffett defined this well in 1993, when describing the Gillette Company (since merged with Procter & Gamble (NYSE:PG)) and Coca-Cola (NYSE:KO), both important holdings of Berkshire Hathaway:
The might of their brand names, the attributes of their products, and the strength of their distribution systems give them an enormous competitive advantage, setting up a protective moat around economic castles. The average company, in contrast, does battle daily without any such means of protection. As Peter Lynch says, stocks of companies selling commodity-like products should come with a warning label" "Competition may prove hazardous to human health.
The Dividend Machine
A dividend machine is capable of paying out dividends for long periods of time without interruptions. In addition, these stalwart companies have also increased dividends for decades (as Seeking Alpha's David Fish describes in his DRiP Investing Resource Center). Among the list of so-called dividend machines include Chevron (NYSE:CVX), Clorox (NYSE:CLX), Coca-Cola, Consolidated Edison (NYSE:ED), Procter & Gamble, and Sonoco Products (NYSE:SON).
All of these companies have built their strategies on unique ingredients; however, the common thread for all of these companies is that they have developed a prime source of competitive advantage. In other words, each of these dividend paying machines have been able to sustain and endure by turning the sources of differentiation into routines and more lasting profitability. As Ben Graham wrote (in The Intelligent Investor):
It is the consistency in the products that creates consistency in a company's profits. Consistency and durability are attributes for competitive advantage.
Realty Income: Open the Hood of the Dividend Machine
As mentioned above, Ben Graham believed companies should be filtered in order to narrow the selection of a particular stock choice. Companies - much like automobiles- should be inspected frequently to ensure that the engine is running soundly or that the tires don't need to be aligned. Even if you are content with owning a "hold forever" stock, you should often examine the reliability and performance in making sure that your portfolio is running smoothly.
Last week, Realty Income (NYSE:O) announced its third quarter results and although the company has historically performed exceptionally well, I wanted to "check under the hood" by examining the repeatable sources of income that have led to the company's successes to date. Much like the other "dividend machines" (referenced above), I intend to explore the inner workings of Realty Income's "economic moat" to determine the sustainability of the long-term dividend paying brand.
To start with, Realty Income's latest results include the announced acquisition of 87 new properties with increased investments totaling $496.1 million. In addition, the company recently announced the merger of American Realty Capital Trust (NASDAQ:ARCT), a portfolio of 501 properties valued at approximately $2.95 billion. Although the ARCT deal has not yet closed (see article here), the most recent closings by Realty Income have propelled the company to over $5 billion in assets under ownership.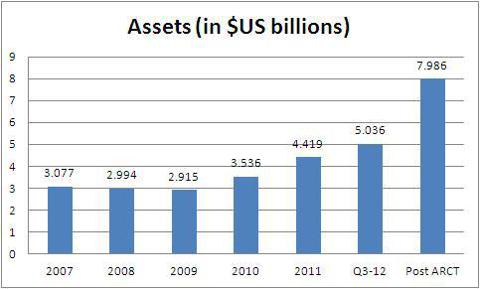 The ARCT deal, which is still subject to shareholder approval and is expected to close by the first quarter of next year, will create the world's largest net-lease real estate investment trust and the 18th-largest publicly traded REIT. The combined company will have a $7.6 billion market capitalization and an enterprise value of $11.4 billion, a size that makes it a candidate for inclusion in the S&P 500.
Turning to the latest revenue results, Realty Income reported third quarter income of $120.2 million, up 13.2 percent from the quarter a year ago. On an annualized basis, the latest revenue is around $480 million, reflecting a significant increase in acquisitions over the past year.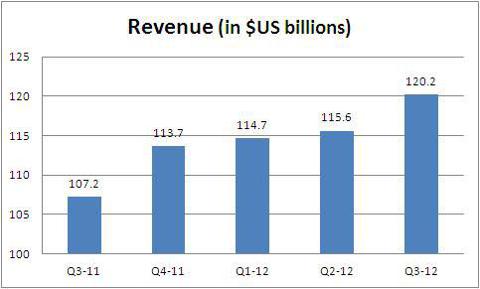 Adjusted funds from operations (AFFO) per share, the actual cash available for distribution as dividends, was $.52 per share for the latest quarter, a 2 percent increase versus a year ago. Year-to-date AFFO was $1.52 per share, also a 2 percent increase.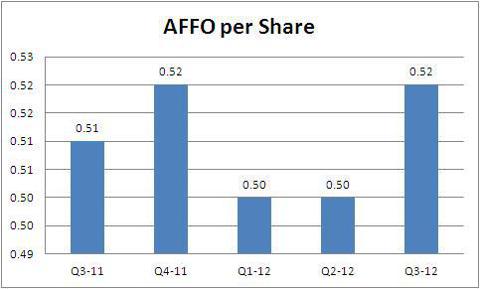 Turning to the balance sheet, Realty Income continues to maintain a conservative and safe capital structure. As I wrote in a previous article, Realty Income recently raised $800 million of 2.00 percent unsecured fixed-rate notes due in 2018 and $450 million of 3.25 percent unsecured fixed-rate notes due in 2022. As mentioned on the earnings call by the company's CEO, Tom Lewis, the average weighted 2.5 percent "pricing is absolutely outstanding and historic in the REIT industry and certainly for us on that transaction."
With the bond offering proceeds, Realty Income was able to completely payoff the borrowings on the $1 billion unsecured acquisition facility, which now has a zero balance. In addition, the company has around $160 million from the bond offering proceeds that will be deployed for more closings during the fourth quarter. As CEO Lewis adds,
We're in very good shape there with plenty of dry powder to execute on acquisitions as they present themselves. Obviously the $1 billion credit facility is very helpful for that and that is fully available. We also have $160 million in cash on the balance sheet. So a lot of capital to do what we need to do.
Realty Income's total debt to market cap is around 30 percent and the company's preferred stock outstanding is only 7 percent of the capital structure. The only debt maturity in the next three years is a $100 million bond maturity in March of 2013.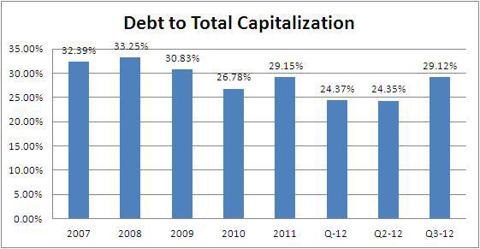 Realty Income: Plenty of Horse Power
So for a company that started out over around 43 years ago with one Taco Bell and today boasts over 2,838 properties spanning around 34.33 million square feet, the "dividend machine" appears to be firing on all cylinders. The Escondido-based company began as a private sale-leaseback operator with a portfolio of fast food and day care properties and today the triple-net REIT has a one of the most diversified stand-alone portfolios in the world.
As noted in the last quarter conference call and as explained by CEO Tom Lewis,
Diversification in the portfolio continues to widen. 2,828 properties; 44 different industries; 144 different tenants that footprint in 49 states. From a geographic standpoint, there are no meaningful concentrations around the country. And probably, more important, industry exposures are very well diversified.
Clearly one of the primary drivers for Realty Income's repeatable model lies in the way it turns its well-balanced income into enduring sources of dividends. As the old saying goes, "don't put all your eggs in one basket," Realty Income has become an exceptional, stalwart brand of diversification.
Accordingly, diversification offers two distinct benefits to investors. First, it helps reduce risk by avoiding the "all of the eggs in one basket" scenario and, second, you could increase your return at the same time.
In order to diversify your portfolio, you want to try to find investments that don't always move in the same direction at the same time. Although diversification can't completely eliminate market risk, it can help reduce the risk to a level where you feel comfortable enough to sleep well at night.
So let's first start by breaking down Realty Income's 2,828 property portfolio. As the snapshot illustrates below, most (85.5 percent if revenue) of the assets are "retail" related properties and the remaining non-retail assets are comprised of agricultural (4.3 percent), distribution (3.8 percent), manufacturing (2.3 percent), office (2.5 percent), and industrial (1.3 percent).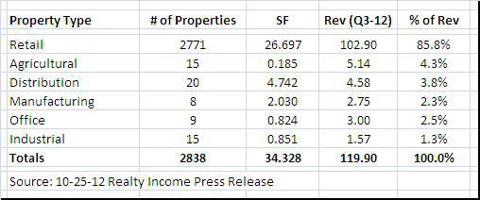 It is interesting to see that the company's exposure to retail-based assets has decreased from around 98 percent in 2008 to a level of 86.7 percent today (Q3-12).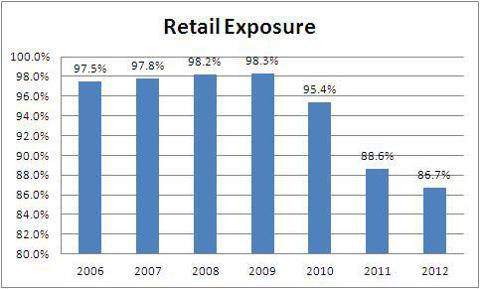 Conversely, the company's non-retail exposure has increased from an insignificant level of around 1.7 percent in 2009 to a healthier 13.3 percent today (Q3-12).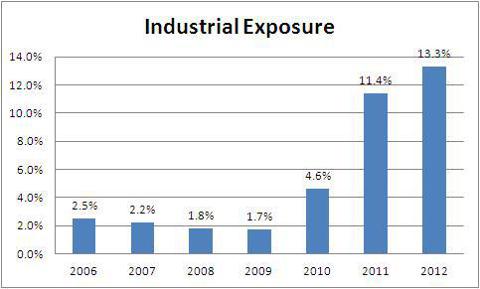 With 44 industry classifications now and because of concentrations in the larger industries, Realty Income has continued to reduce industry exposure. For example, convenience stores - the company's largest industry - is now 16.3 percent - down 60 basis points from the last quarter and 200 basis points versus a year ago. Also, restaurants, if you combine both casual dining and quick service, are now down to about 13.2 percent, off 60 basis points from last quarter and 410 basis points versus a year ago.
During the last quarter, Realty Income added six new industries to the portfolio (a first), and the company added dollar stores to its line-up of retail tenants. As part of the dollar store inclusion, Tom Lewis, CEO, stated in the earnings call:
As part of the strategic review, one of the things we did is, obviously take a look at the consumer and really divided up the upper income, middle income, and lower income. And then divided further between the discretionary and non-discretionary spending to try and pick what retailers we wanted to be with and we think in kind of the middle income, the lower income; it's a good idea if you could be with non-discretionary spending. And even with that, that's a really stressed consumer, which I think, leads retailers in that space today. …and I think our movement into dollar stores is a reflection of exactly that…we think we will have more and you'll see that grow over the next few quarters.

As part of the company's enhanced diversification strategy, Realty Income has added five new non-retail industries, including consumer appliances, consumer goods, diversified industrial, insurance, and machinery.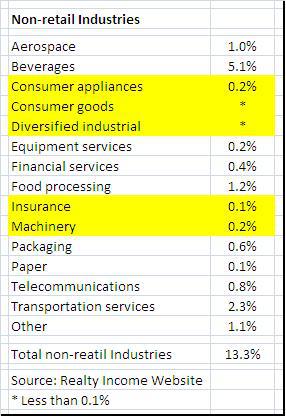 From an individual standpoint, Realty Income now has no one tenant that represents more than 5 percent or more of overall revenue. This is the first time (in Realty Income's 43-year history) that the company has leased to any one tenant with more than 5 percent of exposure. Here is a snapshot of the company's largest tenants: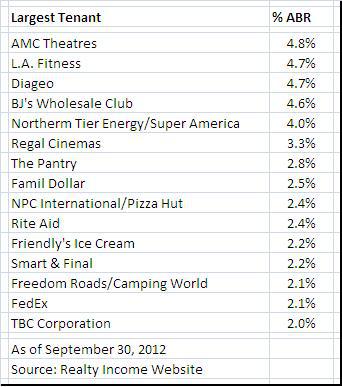 Also, as the tenant concentration levels are decreasing, Realty Income's overall tenant credit profiles are increasing. Three years ago, essentially zero rent came from investment grade tenants and as of the latest quarter around 20 percent was generated by investment-grade tenants. And upon closing the ARCT portfolio, that number will go to around 35 percent.
Also, in addition to diversifying industries and tenants, Realty Income has enhanced its geographic diversification. California, Texas, and Florida are the top 3 states (out of 49) and here is a snapshot of the top 10 markets (by state):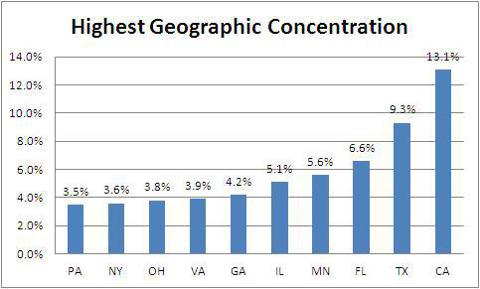 Realty Income also enjoys a very well-balanced lease portfolio with average remaining lease term of around 11 years. Because of the nature of these contractual lease obligations, same-store rent should accelerate and provide investors with a very well-balanced and stable revenue stream.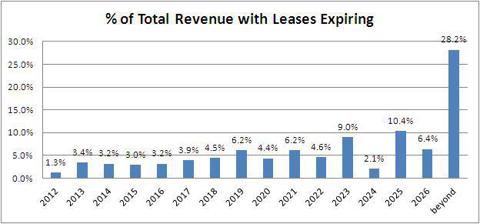 Realty Income ended the quarter with 97 percent occupancy and 84 properties available for lease out of 2,838 owned. Interesting to note that Realty Income uses three methods of calculating occupancy with the physical occupancy being the highest measure (at 97 percent). The other measures, square footage model (97.9 percent) and rental income model (98.3 percent), are mentioned but Realty Income often uses the lowest measure (physical occupancy) in its press releases.
Here is a snapshot of Realty Income's historical occupancy and note that the company has never dropped below 95 percent in its history.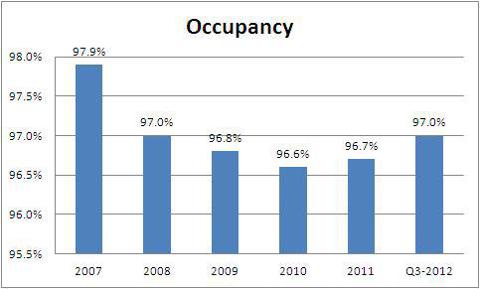 Realty Income: Plenty of Spark Left
In speaking to analysts during the most recent quarter earnings call CEO, Tom Lewis stated:
We remain optimistic that our activities will support the ability to continue to increase the dividend…we raised the dividend in fairly equal amounts each quarter and then really looked in our August Board meeting to see if a fifth larger increase in the dividend is warranted, in order to keep our payout ratio at about 85 percent to 87 percent or so of FFO, which is our target.
In regards to the proposed ARCT, Lewis commented,
We think we paid a bit of a premium to capture this large portfolio and did so with an attractive issuance of equity. But for us, the price that we're paying here is we think full price in and yes, we would walk away (if the ARCT shareholders vote no).
On a historical basis, Realty Income has outperformed the S&P 500, and even as the "dividend machine" continues to churn out monthly dividends, the company has built an even more powerful platform of dividend repeatability. Here is a comparison of Realty Income's dividend yield (now 4.59 percent) compared with the average dividend yield of the S&P 500: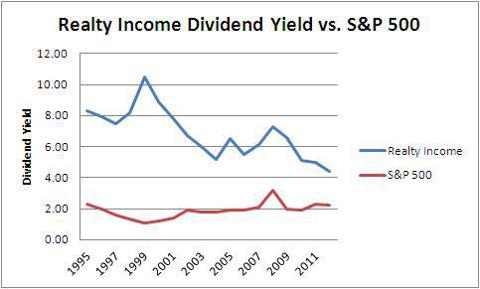 In addition, from 1995 through YTD Q3 2012, Realty Income has returned an average of 17.7 percent vs. 8.5 percent for the S&P 500. Here is a snapshot: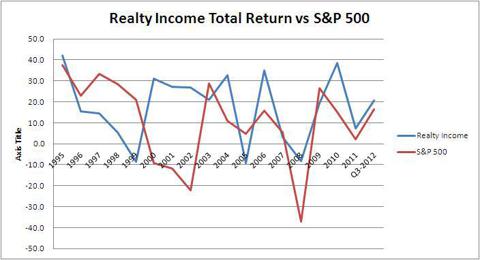 Here is a comparison of the same total return results for Realty Income (17.7 percent), FTSE NAREIT Equity REIT Index (11.0 percent), DJIA Index (9.6 percent), S&P 500 (8.5 percent), and the NASDAQ Composite (8.3 percent):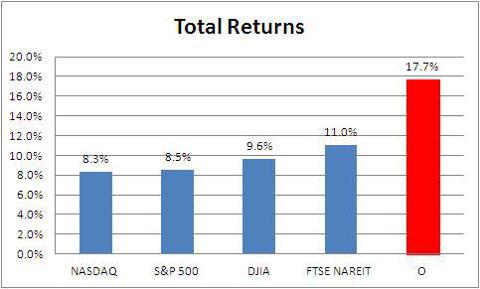 Realty Income's monthly dividend was increased in September for the 68th time and for the 60th consecutive quarter to an annualized amount of $1.81725 per share. Dividends paid per common share increased 1.8 percent. Here is a snapshot of the decade of dividends.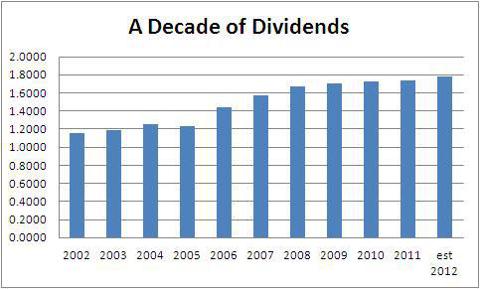 As Ben Graham believed, "diversification is the simplest and cheapest way to widen your margin of safety," and in the case of Realty Income, the $5 billion enterprise has continued to develop a remarkably well-balanced record of both generating returns and controlling risk. As Graham also believed, "consistency and durability are attributes for competitive advantage," and the essence of Realty Income's differentiated strategy has been its powerfully well-balanced income stream made up of 2,828 properties, with 144 different tenants, and in 44 different industries.
As I started this article, I mentioned the concept of owning "hold forever" stocks, and by utilizing Graham's so-called filtering process, I have concluded that the enduring sources of repeatable income is what "separate the best from the rest." Now that I have examined the "dividend machine"- in greater detail - I conclude that the elements that make up the repeatable brand are fundamentally sound and collectively superior to most other REITs. Furthermore, I consider the current price of $39.61 to be fair and the 4.59 percent dividend yield appears to be well positioned, especially when compared to the risk-adjusted returns of competing "dividend machines" mentioned in the article above.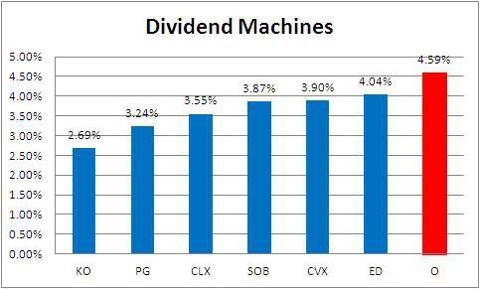 With the anticipated (and likely) merger with ARCT, Realty Income will have a $7.6 billion market capitalization and an enterprise value of around $11.4 billion, a size that makes it a candidate for inclusion in the S&P 500. This index is one of the most commonly used benchmarks for the health of the stock market and a bellwether for the U.S. economy. In less than two years, Realty Income will be included in the Dividend Aristocrat list (see article I wrote here), an acknowledgement that the company will have increased its annual regular cash dividend for at least 20 consecutive years (down from the prior requirement of at least 25 years).
Realty Income's dividend record is exceptional and the legendary investor, Ben Graham, often found that "intelligent" stocks were widely recognized for their defensive characteristics among them "the shares of important companies with a long record of profitable operations." The most intelligent investors often manage to acquire that necessary "trace of wisdom" that Ben Graham calls for and that includes the ability for outstanding investors to distinguish how to "separate the best from the rest."
In the inspirational children's novel and best selling film, Willy Wonka & The Chocolate Factory, candy maker, Willy Wonka, described his tightly guarded chocolate "castle" by saying,
If you want to view paradise, simply look around and view it.
Ben Graham would have likely described Realty Income's "fortress-like" dividends like "paradise" when he wrote (in The Intelligent Investor):
One of the most persuasive tests of high-quality is an uninterrupted record of dividend payments going back over many years. We think that a record of continuous dividend payments is an important plus factor in the company's quality rating.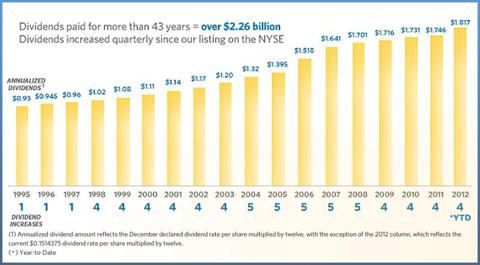 Willy Wonka: But Charlie, don't forget what happened to the man who suddenly got everything he always wanted.
Charlie: Bucket: What happened?
Willy Wonka: He lived happily ever after.
So yes, the "Great Repeatable Dividend Machine" is a "hold forever" stock and given the recent decline in price (below $40.00), I would recommend investing in (or holding) the shares. There is nothing more enjoyable than watching the "great repeatable dividend machine" spit out monthly checks, especially since the power of compounding is the secret ingredient that helps you sleep well at night!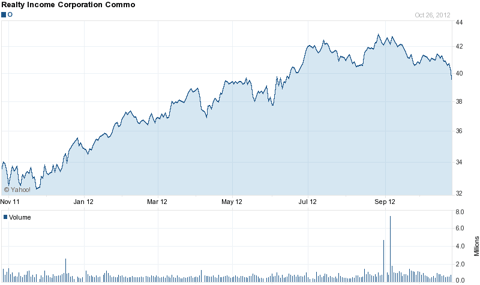 Source: SNL Financial, Realty Income Website
Disclosure: I have no positions in any stocks mentioned, and no plans to initiate any positions within the next 72 hours. I wrote this article myself, and it expresses my own opinions. I am not receiving compensation for it (other than from Seeking Alpha). I have no business relationship with any company whose stock is mentioned in this article.