"The hard part about playing chicken is knowing when to flinch"

-The Hunt For Red October
Investment markets have been awash in a sea of red this October. But unlike most pullbacks over the last several years, declines have not been limited to the stock market. Instead, almost every major asset class across a broad spectrum of categories has fallen for the month. This fact alone raises an important question. Have we reached the point where capital markets across the board are finally defecting from the artificial policies that have inflated asset prices higher for so many years? And where does the hunt go from here following this red October?
The declines across various asset classes have been particularly notable in October. A focus on five distinct categories in particular provides a broadly diversified base view of U.S. investment markets: U.S. stocks (NYSEARCA:SPY), U.S. bonds (NYSEARCA:AGG), U.S. TIPs (NYSEARCA:TIP), gold (NYSEARCA:GLD) and U.S. short-term Treasuries (NYSEARCA:SHY). The correlation of returns between each of these specific asset classes are low if not negative. This is important because it suggests that if capital flows are moving out of one particular category at any given point in time, they are likely to be flowing into another either to seize potential returns opportunities or protect against certain types of risk.
For the first time since the outbreak of the financial crisis back in early 2007, each of the five major categories above are in decline for the month. The following lists the month to date return of each asset class below through October 25:
U.S. Stocks: -1.80%
U.S. Bonds: -0.45%
U.S. TIPs: -0.44%
Gold: -3.41%
U.S. Short-Term Treasuries: -0.15%
In any past month over the last five years, at least one of these categories would be rising, usually at a healthy rate, even if all of the others were falling. For example, when the crisis exploded in October 2008, U.S. short-term Treasuries managed to rally by over +1% as investors scurried to safety. And when most markets were plunging to their final lows in early 2009, Gold was rallying by over +7% as a safe haven store of value. And when markets began their descent into the turbulence of the summer of 2011, U.S. TIPS rallied by +5%. In other words, even if most other major markets were in decline, at least one of these categories would end up the net beneficiary. But this has not been the case thus far in October, which is particularly notable since it comes in the wake of the Fed announcing its latest open-ended QE3 stimulus program that was designed in theory to lift all asset class boats.
The fact that all categories are down for the month raises an important question. Have we finally reached the point where asset prices have been fully inflated by monetary stimulus and markets are now exhausted? Has the diminishing marginal benefit from policy stimulus converged to zero? And have we arrived at an inflection point where the future direction of the markets is now lower instead of higher?
The answer to all of these questions is the following: while we are approaching a potential inflection point for some categories like stocks, we are not likely finished to the upside just yet. And for other asset classes like bonds, gold and TIPS, the latest declines appear to only be a pause before the next move higher.
Stocks have not likely reached the end of the road in their current rally for the following key reasons.
click to enlarge images
Click to enlarge
First, the uptrend in stocks remains in tact and technical indicators are still supportive despite recent weakness. Most significantly, stocks as measured by the S&P 500 Index are still trading well above support at its 200-day moving average. It should be noted, however, that the recent break of its 50-day moving average as well as support at the previous highs of 1422 over the last week have been troubling developments. Thus, holding support at the 200-day M.A. is critical in keeping the current uptrend in tact.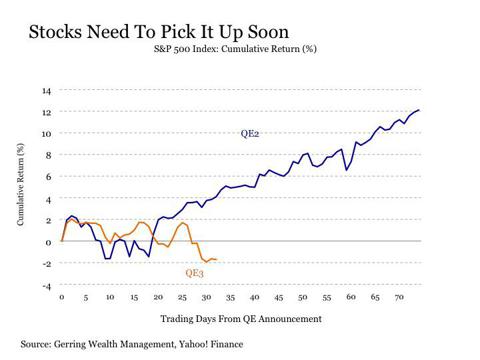 Click to enlarge
Second, it has not been unexpected that stocks have struggled initially following the official announcement of QE3. The market experienced a similar consolidation phase following the launch of QE2 back in November 2010. And while the magnitude of the initial decline is now comparable to what was experienced following the launch of QE2, the duration of this grinding phase is beginning to stretch on much longer than it had during the previous episode. Thus, stocks will need to begin moving to the upside sooner rather than later to maintain the confidence of so many investors whose investment thesis has been wholly reliant on more monetary stimulus from the Fed over the last several years.
Third, since the beginning of the financial crisis, a sustained decline in the stock market has always been either preceded by or accompanied by a similar decline of lesser magnitude in the high yield bond (NYSEARCA:HYG) market. This is due to the fact that the returns of high yield bonds, just like stocks, are more dependent on the operating performance of the underlying companies. And given the relatively higher price volatility, both asset classes have been more sensitive to the injection of monetary stimulus in recent years. Thus, these two asset classes have had a high correlation of +0.76 since the outbreak of the financial crisis. But while stocks have been down for October, the high yield bond market has rallied by a healthy +1%. This suggests that the recent pullback in stocks does not suggest that the ping has finally sounded for investors about the fundamental realities underlying the current market. Such a day of reckoning will almost certainly arrive someday, but it does not appear to be at the present juncture.
It is some of the additional uncertainties in the current environment that may help explain why some of the other major asset classes such as U.S. bonds, U.S. TIPs, gold and even short-term Treasuries are also declining at the same time as stocks.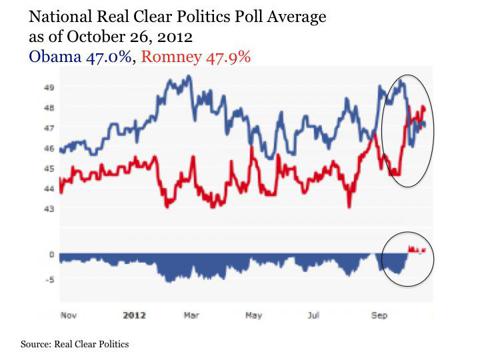 Click to enlarge
The first is the upcoming Presidential elections. Coming into the month of October, many investors likely assumed based on the prevailing polling data and momentum in the race that President Obama was more than probable to be reelected come November. But then the debates arrived starting on October 3 and with it a sharp reversal in the fortunes of Governor Romney. And for most of the month since, the outcome of the election has become highly uncertain with both candidates now running with even odds of winning the White House. Given that markets typically do not like uncertainty regardless of whether the candidate they support is likely to win or not, at least some investors are likely moving the sidelines and waiting to see how things play out with the election before redeploying capital into the markets. Thus, it would not be surprising to see a broad rally across asset classes once the election is over regardless of who wins, as investors can begin pricing in with greater certainty any perceived benefits and drawbacks on markets from the next administration.
Another added uncertainty is the U.S. fiscal cliff at the end of the year. While the consensus view remains that policy makers will likely come up with a resolution to prevent roughly $500 billion, or 3.5% of GDP, being extracted from the U.S. economy at the start of the New Year. But exactly how this compromise is reached and exactly what spending cuts and tax increases will remain is still unknown. And we are unlikely to even begin getting a sense for this answer only after the elections in early November. But for those investors looking ahead to the coming year and the potential for a meaningfully higher tax bill on their investments including an increase from 15% to 20% on realized long-term capital gains and from 15% to as high as 39.6% on qualified dividends, many are likely making strategic tax management decisions in their portfolio now including selling securities to lock in capital gains at today's lower rates.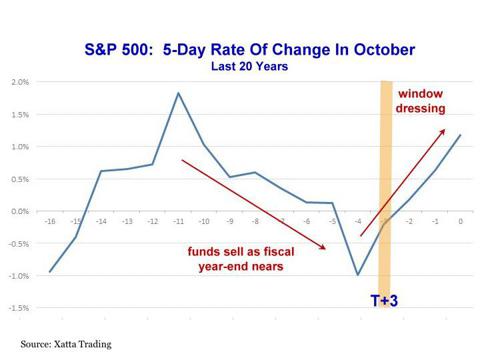 Click to enlarge
Lastly, we are currently in the midst of the final stretch before the end of the mutual fund fiscal year on October 31. During this time period, it is not unusual for markets to trade lower as portfolio managers realize gains and harvest losses both for portfolio window dressing and also in preparation for distributions that occur for many funds in December. For example, the stock market has been known to drop by nearly -3% on average over the last two decades in the weeks leading up to the end of the mutual fund fiscal year according to Xatta Trading. And many portfolio managers may be in less of a rush to fully reinvest the proceeds from these sales this year in particular given some of the added uncertainties facing the market.
Many of the above uncertainties will begin to be resolved in the coming days. The mutual fund fiscal year will end on Wednesday, and the Presidential election will be over the following Tuesday. Not long after the election, policy makers will be forced to move swiftly to resolve the fiscal cliff before the end of the year, for if they do not the markets have the potential to riot. And still lurking in the shadows behind all of these unfolding events remains the U.S. Federal Reserve, as rumblings emerged in recent days that the current $40 billion a month QE program may soon be more than doubled provide yet another goose to the economy and markets.
The resolution of these uncertainties in an environment of a fresh round of money printing from the Fed and potentially other global central banks has supportive of a rally across numerous asset classes at least in the near-term. Of course, none of this begins to consider the ongoing threat of financial crisis in Europe, the fact that global economic growth is decelerating with many parts of the world already in recession and lackluster corporate earnings. More on this and its longer term implications on markets in a moment.
For stocks in the near-term, the timing is particularly favorable given the fact that the November and December period is historically a very seasonably strong performance period. But given the fact that a variety of long-term geopolitical and economic risks will remain even in the wake of these events, it remains worthwhile to maintain a more cautious approach with stock allocations. This includes holding stocks in proportion to other asset classes and focusing on higher quality and lower volatility areas of the market. Representative allocations include the S&P 500 Low Volatility PowerShares (NYSEARCA:SPLV), the Utilities SPDR (NYSEARCA:XLU) and Hormel Foods (NYSE:HRL). The opportunity also exists to add high quality names that are now oversold following recent pullbacks including McDonald's (NYSE:MCD) and Nike (NYSE:NKE). The commodities sector also offers appeal in the current environment due to the spillover effects resulting from ongoing money printing from the Fed and other global central banks. Higher quality names under this thesis include BHP Billiton (NYSE:BHP), Occidental Petroleum (NYSE:OXY) and Potash Corporation (NYSE:POT). And emerging markets such as China (NYSEARCA:FXI) and Brazil (NYSEARCA:EWZ) warrant consideration under this same commodities theme.
More attractive investment opportunities continue to exist outside of the stock market. This is particularly true for both gold and silver (NYSEARCA:SLV), both of which have been in the process of consolidating recent gains during October. Both metals continue to enjoy technical support at current levels and provide the dual benefit of protection against both ongoing global currency debasement and the threat of a full-blown geopolitical and/or economic crisis moving forward. The Central GoldTrust (NYSEMKT:GTU) and Central Fund of Canada (NYSEMKT:CEF) provide particularly appealing ways to maintain exposures to gold and silver. And despite recent weakness, U.S TIPS and Agency MBS (NYSEARCA:MBB) remain attractive for their consistently strong returns performance over time regardless of what is happening on the global economic or policy front at any given point in time.
In the current market environment, any investment allocations should be viewed with a relatively short-term time horizon. Unlike the submarine in the Hunt For Red October that managed to successfully escape pursuit from the Soviet Northern Fleet and find safe harbor in Norfolk, Virginia, a comparably positive ending is not likely for many segments of investment markets. While stocks and other related risk assets have the potential to rally further to the upside in the near-term, the underlying fundamentals remain chronically weak with decelerating global economic growth and deteriorating corporate earnings. And with corporate profit margins already at post WWII historical peaks and valuations running well above levels anticipated at this stage of the secular bear market, it is likely that the stock market rally that began several years ago in March 2009 is now entering its final stages, particularly now that much of the policy stimulus that has supported the rally to this point has now been either deployed or exhausted. For all of these reasons, allocations to the stock market and other categories that are highly correlated should be monitored closely for potential action once it appears the tide may have finally turned, as other categories including precious metals and high quality bonds including long-term U.S. Treasuries (NYSEARCA:TLT) are likely to provide a far more attractive shelter from the storm in the end.
Disclosure: I am long FXI, EWZ, BHP, MCD, OXY, NKE, POT, SPLV, XLU, CEF, GTU, HRL, HYG, MBB, TIP, AGG. I wrote this article myself, and it expresses my own opinions. I am not receiving compensation for it (other than from Seeking Alpha). I have no business relationship with any company whose stock is mentioned in this article.
This post is for information purposes only. There are risks involved with investing including loss of principal. Gerring Wealth Management (GWM) makes no explicit or implicit guarantee with respect to performance or the outcome of any investment or projections made by GWM. There is no guarantee that the goals of the strategies discussed by GWM will be met.