Microsoft Corporation (NASDAQ:MSFT) is one of my favorite dividend stock ideas. I focus upon the financial data to support this conclusion. The quantitative data is key in assessing potential future dividend growth. As a conservative dividend investor, I will highlight the rationale to buy Microsoft today. The equity currently offers a 3.3% dividend yield.
click to enlarge images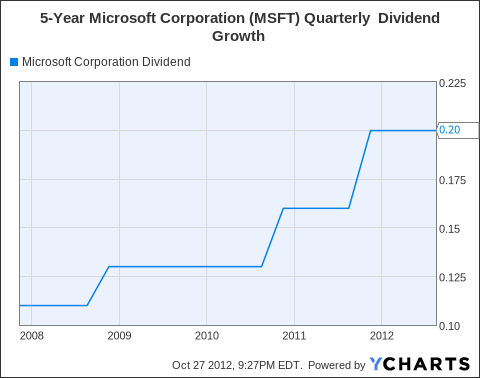 MSFT Dividend data by YCharts
Revenue and Earnings:
Microsoft recently reported results for its 1st quarter. The company reported revenue of $16 billion. This figure was down 8% from the year ago quarter. The cost of revenue rose 10% to $4.2 billion from $3.8 billion in the year-ago quarter. Gross profits decreased by 13%. Per the below table, the revenue decrease reflects consumers waiting for the Windows 8 release.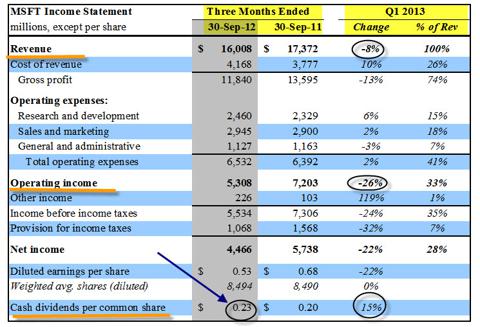 Operating expenses, largely in line with last year, were up 2% to $6.5 billion. Operating income dropped 26% to $5.3 billion. Net income for the quarter was down 22% to $4.5 billion from $5.7 billion last year. Diluted earnings per share also dropped 22% to 53 cents per share.
Looking ahead, Microsoft confirmed its 2013 operating expense guidance of $30.3 billion to $30.9 billion.
Dividend Growth:
For the quarter, Microsoft announced a cash dividend of 23 cents per common share. The 23 cent dividend growth is up 15% from 20 cents compared to the year ago quarter. The dividend amounts to a payout ratio of 44% compared to 30% last year.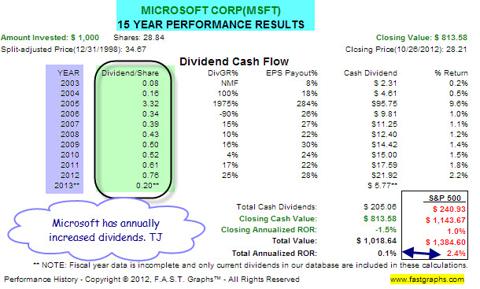 As of October 26, 2012, Microsoft shares closed at $28.21. The 92 cent annual dividend amounts to a yield of 3.3%. The company has a price to earnings ratio of 15x and a market capitalization of $237 billion.
Balance Sheet:
Microsoft ended the quarter with cash, cash equivalents and short term investments of $66.6 billion, up 5.7% over the past year. In addition, equity and other investments totaled $10 billion, up 2.7%. Total assets were up marginally to $121.9 billion.
The company's larger liabilities included short term unearned revenue of $18.3 billion (down 1.9%) and long term debt of almost $12 billion.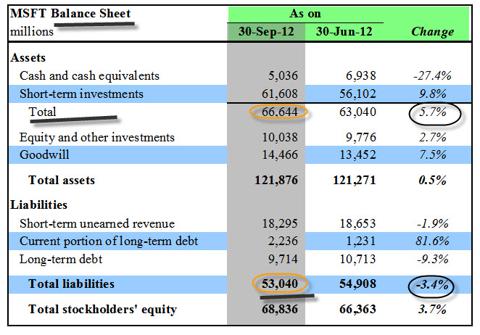 Cash Flow:
Microsoft reported cash from operations of $8.5 billion, unchanged from last year. Management used $2.7 billion in cash for financing activities (stock buybacks and dividends) and $7.7 billion, net, for investing activities. Overall, in the quarter, Microsoft used $1.9 billion of cash versus an addition of $3.3 billion in 1st quarter of 2011.
Windows 8 Launch:
Windows 8 is Microsoft's latest operating system - which will be integrated across many computing devices. These devices include PCs, tablets and smartphones. Microsoft's tablet, Surface, is a core product for anticipated revenue growth.
The new products were available as of Friday, October 26, 2012. Expectations and reviews for Windows 8 are mixed based upon the competition. Skeptics believe the product will not substantially boost future financial results.
In the 1st quarter, revenue was down 8% on a Generally Accepted Accounting Principles (GAAP) basis because $1.36 billion in revenue was deferred due to the impending launch of Windows 8 and related pre sales and upgrade offers. Adjusted for the launch of Windows 8, revenue in the quarter was $17.4 billion, just slightly lower than the year ago quarter. On an adjusted basis, diluted earnings per share were 65 cents.
Typically, when Microsoft launches a new operating system, purchases get pushed off until after the new OS hits the market. As a result, operating income also declined in the quarter.
Segment Information:
Microsoft has six reporting segments of which Microsoft Business accounted for 34% of revenue, Server and Tools for 28% of revenue, and Windows & Windows Live for 20%. However, revenue dropped 33% for Windows & Windows Live and 2% for Microsoft Business. Revenues rose 8% for Server and Tools, and 9% for Online Services.

The Server and Tools division saw double digit revenue increases from its SQL server and Systems Center offerings. More recently, in September 2012, Microsoft launched Windows Server 2012 which should contribute to future revenue and profits.
While Microsoft Business revenues were more or less flat, its Lync, SharePoint and Exchange servers saw double digit revenue growth.
For its Online Services division, advertising revenues were up 15% driven by higher revenue per search. Microsoft's Xbox entertainment console continues to be a top seller, with a 49% market share in the US.
Microsoft Business contributed 69% to operating income, Server and Tools contributed 33% and Windows & Windows Live brought in 31%. Online Services registered an operating loss of $364 million, a 29% decrease from a loss of $514 million last year. Corporate level activity reduced operating income by 26%.

Acquisitions:
On October 4th Microsoft acquired PhoneFactor for its secure mobile authentication solutions. In October 16th Microsoft acquired StorSimple for its cloud integrated storage solutions. Earlier, on July 30th, Microsoft acquired Perceptive Pixel Inc., for its large scale multi-touch technology. Microsoft did not disclose terms for any of these acquisitions.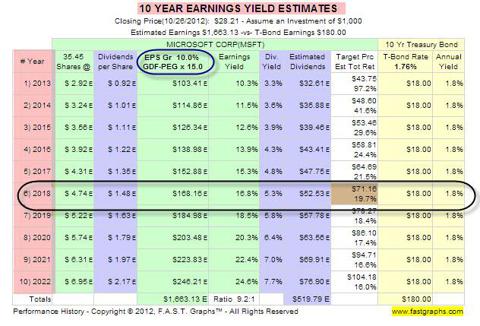 Summary:
The company's free cash flow provides the funding for future dividend growth. Revenue has weakened, but cash flow provides capital for a dividend growth story. The company owns a pristine balance sheet for acquisitions and product development.
The dividend yield is 3.3% per year. The dividend should continue to increase. I like this equity for the dividend growth.
Disclosure: I am long synthetic long MSFT positions. I sell covered calls against these synthetic longs. I wrote this article myself, and it expresses my own opinions. I am not receiving compensation for it (other than from Seeking Alpha). I have no business relationship with any company whose stock is mentioned in this article.