For a while there, investors were pretty fired up about the emerging Swan Hills / Beaverhill Lake light oil play in Western Canada. Something has now changed, and I'm not 100% sure what. Check out the stock price performance of the only two pure play Swan Hills players Arcan Resources (OTCPK:ARNBF) and Second Wave Petroleum (OTC:SCSZF) over the past few months: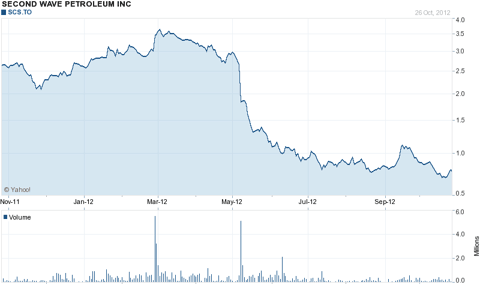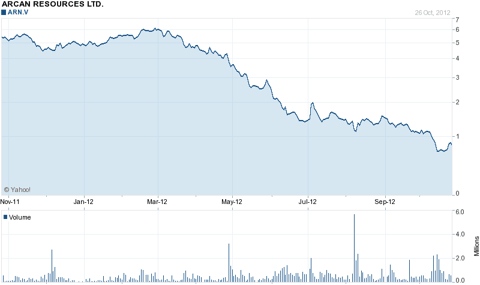 Both companies have leveraged up pretty aggressively and their debt to cash flow levels are concerning. But that isn't exactly new information, since back in March prior to the matching stock price collapses those balance sheets really weren't much different than they are now. The severity of the collapse in these stock prices on little news from the companies has made me wonder if the economics of the Swan Hills play isn't as appealing as originally advertised.
There is one company that does still seem quite bullish on the Swan Hills play. That company is Crescent Point Energy (CSCTF.PK), which has a lot of exposure to Swan Hills:
Holds 280 net sections of land
Owns 19% of the previously mentioned Arcan Resources
Has a joint venture agreement in the play with the previously mentioned Second Wave Petroleum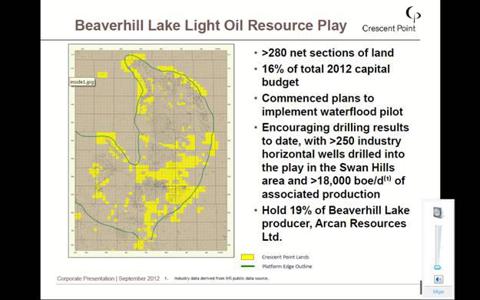 While investors are fleeing the pure play Swan Hills companies Arcan and Second Wave, Crescent Point is headed against the grain. This week Crescent Point made another Swan Hills acquisition by buying property from Whitecap Resources:
"The non-core assets being disposed of are located in the Swan Hills area of Alberta, southeast Saskatchewan and our heavy oil assets in Alberta for total cash proceeds of $56.4 million, subject to normal closing adjustments. On a combined basis these assets have current production of approximately 680 boe/d (based on field estimates)."
For those keeping score and interested in how various oil properties are valued, this one went down at $56.4 million / 683 boe = $82,500 per flowing barrel. But as per usual, numbers can be misleading.
The production that was disposed of by Whitecap apparently (according to analyst reports) relates to the Southeast Saskatchewan and heavy oil properties referred to in the press release. The Swan Hills acreage (36 net sections) is non-producing and doesn't seem to have cost much (assuming most of the $56.4 million was for the producing properties).
What interested me most about this transaction was that Crescent Point bought this Swan Hills acreage from Whitecap Resources. Whitecap Resources (OTC:SPGYF) picked up this Swan Hills acreage only in February of this year, when Whitecap acquired Midway Energy. That means Whitecap has already given up on Swan Hills and is selling it to Crescent Point.
We have a common theme here:
Investors do not like Swan Hills focused Second Wave Petroleum as evidenced by its stock price drop from well over $3.00 to $0.70 today. Crescent Point likes Second Wave's property though as it is a joint venture partner with Second Wave on much of Second Wave's acreage
Investors do not like Swan Hills focused Arcan Resources as evidenced by its stock price drop from over $6.00 to $0.80 today. Crescent Point likes Arcan though as evidenced by the fact that it owns 19% of the company.
Whitecap

Resources wasn't overly enamoured with the Swan Hills assets acquired in its takeover of Midway Energy, as evidenced by the fact that it divested those assets within months of acquiring them. Crescent Point Energy clearly felt differently though, as it was the acquirer of the property.
When you piece all this information together I am certain I'm not the only one wondering how long it will be until Crescent Point takes a shot at acquiring all of Arcan and Second Wave? Crescent Point bought 19% of Arcan at prices at least three times where the stock is trading today and Second Wave is similarly depressed. If Crescent Point does try and acquire one or both of these companies, the intelligent way to do it would be by using its richly valued stock.
Crescent Point Enterprise Value (at $41 per share) - $15.7 billion
Crescent Point 2012 Exit Rate Production - 100,000 barrels per day (97% oil)
Crescent Point Valuation is $15.7 billion / 100,000 = $157,000 per flowing barrel
At $157,000 pre flowing barrel, Crescent Point commands a premium valuation to most other producers in Canada. At current stock prices both Arcan and Second Wave are trading at less than half of this valuation and have very large undeveloped land positions to offer in addition to current production.
Second Wave has one large controlling shareholder (Brookfield Asset Management (NYSE:BAM)) which turned down an unsolicited offer for the company earlier this year, when the stock price was over $3.00. I would doubt that any offer today with the depressed level of Second Wave's stock would interest Brookfield.
So that leaves Arcan as the more likely candidate to be acquired. Arcan has a much more stressed balance sheet than Second Wave, and since Crescent Point already owns almost 20% of the company, it is a much easier takeover target.
Despite the increased likelihood of takeover, I'm avoiding Arcan as I do not like its debt position. I do however own some Second Wave, which has Brookfield behind it as a source of capital in tough times.
Disclosure: I am long OTC:SCSZF. I wrote this article myself, and it expresses my own opinions. I am not receiving compensation for it (other than from Seeking Alpha). I have no business relationship with any company whose stock is mentioned in this article.