Just as the Federal Reserve is now in "wait-and-see" mode after launching another round of money printing last month, precious metals investors are also awaiting fall developments to provide some direction for languishing markets. But, unfortunately, the week ahead is not likely to offer much in that regard.
The good news, however, is that the seasonally favorable month of November starts on Thursday, and with it come a bevy of positive factors for gold and silver in the weeks that follow that should have these metals resuming their upward path they began over the summer.
After briefly dipping below the important $1,700/ounce level on Wednesday, gold ended lower for the third straight week, down 0.5% from $1,720.50 an ounce to $1,711.10. And, surprisingly, while the price of nearly every other risk asset was falling, silver rose 2 cents to $32.09 an ounce. Gold is now up 9.2% for the year, down 11.0 percent from its 2011 high, and silver is 15.2% higher in 2012, down 35.2% from its high last year.
As shown below, the market action of the last few weeks has had the effect of bringing the ongoing gold price correction back in line with other major corrections in recent years (actually, slightly below their pace).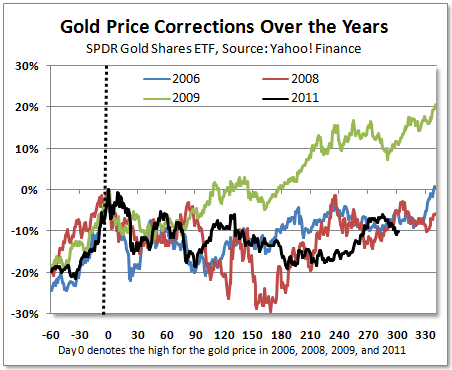 If the 2006 correction is used as a guide (rather than the more extreme conditions seen in 2008), we should see the previous high of over $1,920+ an ounce recaptured in less than two months, meaning that, we could still see a gold price at or near $2,000 an ounce by year-end. Of course, this all depends upon what happens in the weeks ahead where the possibilities are nearly endless, but mostly favorable for precious metals.
Clearly, the launch of the Fed's QE3 bond buying program is now priced in for gold and silver. However, the central bank could again move markets in mid-December if, as many expect, it announces that, following the conclusion of its "Operation Twist" maturity-swap program, it begins outright buying of U.S. debt, taking its money printing effort to $80+ billion per month. Much depends upon what the U.S. economy looks like in six weeks time. But, absent a dramatic improvement, simply letting "Operation Twist" run out seems unlikely as markets will view this as a form of tightening and this is not the kind of message the Fed wants to send.
But, before the next Fed meeting, there's an election to be decided and a "fiscal cliff" to be debated, the outcome of both being quite uncertain.
Though it's possible a Romney win could be a negative development for gold and silver (since he seems to favor less aggressive monetary policy), it is hard to imagine how attention turning to budget woes in the U.S. could be anything but negative for the dollar and positive for precious metals. That is, save for the shocking development that elected officials in Washington in a lame-duck session quickly formulate a credible long-term budget plan while extending short-term stimulus in order to avoid a recession.
That simply won't happen…
At best, some portion of the tax hikes and spending cuts will be forestalled and that will kick the can down the road once again, much to the chagrin of ratings agencies like Moody's and Fitch who will have a fresh look at the U.S. credit rating and, at minimum, begin warning about a downgrade.
As always, the Bank of Japan can be counted on to print more money for the greater good and their next round of quantitative easing could come as soon as Tuesday. Events in Europe merit close watching as well as a bailout request from Spain in the weeks ahead should bolster the common currency, making the dollar weaker and clearing the way for higher gold and silver prices.
Should metal prices retreat further over the very near-term, look for central banks to step in and provide solid support. Last week, the International Monetary Fund reported that Brazil increased their gold holdings for the first time since December 2008 as countries such as Turkey and the Ukraine also added to their gold reserves. Emerging market central banks bought over 250 tonnes of the metal in the first half of the year and are believed to have maintained that pace.
Gold reserves owned by Germany's central bank were in the news last week as government auditors want the 2,300 tonnes of gold stored outside the country checked in on from time to time - see The Significance Of The Row In Germany About Inspecting Their Gold Reserves Held Abroad for more on this.
Simply put, it's one thing for Venezuela's Hugo Chavez to bring his nation's gold reserves home, but the same thinking in Germany has a much more profound meaning.
A recently stronger rupee in India has set the stage for a possible surge in gold buying there in November when the festival season peaks with Diwali and reports of big increases in demand for silver in China may boost silver prices.
All told, there are so many positive factors aligning for precious metals during the last two months of the year that it's hard to imagine how prices will do anything but rise.
This renewed bullishness is clear to see in Kitco's weekly survey, shown below, and respondents to a Bloomberg poll were even more optimistic at 54 percent bullish.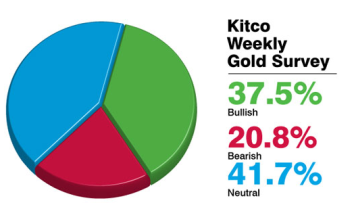 Holdings of metal ETFs remain at or near record levels, the SPDR Gold Shares ETF (NYSEARCA:GLD) adding two tonnes last week while the iShares Silver Trust ETF (NYSEARCA:SLV) added 35 tonnes and the premium for the Sprott Physical Silver Trust (NYSEARCA:PSLV) was steady at 4.6 percent.
Since early in the summer, I've been pointing to the last two months of the year as having great potential for precious metals and nothing that has occurred since that time has dissuaded me from that view. What we've seen in recent weeks has been a healthy correction following an impressive surge that was clearly inspired by major new rounds of money printing by central banks on both sides of the Atlantic and, in my view, it's about run its course.
In just a few months, investors who have failed to spot the looming developments detailed above will likely end up kicking themselves for not taking action now, looking back at a gold price of just over $1,700 an ounce and silver at $32 an ounce to think of what could have been.
It seems clear that we're quickly coming to an end of what, in early-2013, will probably be seen as "the pause that refreshes."
Disclosure: I am long GLD, SLV, PSLV. I wrote this article myself, and it expresses my own opinions. I am not receiving compensation for it (other than from Seeking Alpha). I have no business relationship with any company whose stock is mentioned in this article.
Additional disclosure: I also own gold and silver coins and bars.