On the left is the internet champion, with 222.16 billion of capitalization, a technology company that maintains an index of Web sites and other online content for user. The company comes from Mountain View and has been accused of patent infringement-- Google Inc (NASDAQ:GOOG).
On the right, the contender for the title, with 128.62 million of capitalization, a company that develops and provides software products for mobile video entertainment, personalization, and mobile social applications. Comes from New York and claims patent infringement-- Vringo Inc (VRNG).
The combat is very tight in the first movements. Remember that the contender for the title, Vringo Inc, claimed that the internet champion, Google Inc, had infringed on a patent filed by Ken Lang in 1998. In respect thereof, Vringo declared that the patents are at the core of Google's AdWords and AdSense systems, which account for nearly 97% of Google's revenue. The contender of the title, Vringo is thought to be seeking damages of between $500 million and $1 billion.
However, the opponent Vringo is not dodging all the blows. Vringo insiders' shares sold are very high for the month of October, which shows a weakness to its rival, Google Inc. Is it maybe due to the fear of losing the battle? Or is simply using movements to mislead its opponent? I do not know. But I am really sure and I can state to those who are enjoying this battle that the insiders of Vringo have sold 1,113,259 shares in October. In my opinion, this fact is a clear symptom of weakness. Below, you can see the latest insider transactions in Vringo: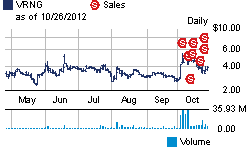 (Source: Nasdaq.com)
I initially thought that these sales of shares could be the typical automatic sales, but if you look at the SEC filling you can see that these are sales of shares on the open market.
If Vringo had hopes of winning this figh, it would not have carried out these sales of shares. Take into account that Vringo has made a multimillion-dollar claim and if the company wins the trial, itsshares could be multiplied. We may know the winner of this combat next week. As Julius Caesar said: "Alea iacta est." (Latin: "The die has been cast")
Disclosure: I have no positions in any stocks mentioned, and no plans to initiate any positions within the next 72 hours. I wrote this article myself, and it expresses my own opinions. I am not receiving compensation for it (other than from Seeking Alpha). I have no business relationship with any company whose stock is mentioned in this article.