Since their IPO in mid 2011, shares of health and wellness retailer GNC Holdings Inc (NYSE:GNC) are up more than 131%. However, there are three reasons why GNC can continue to rally.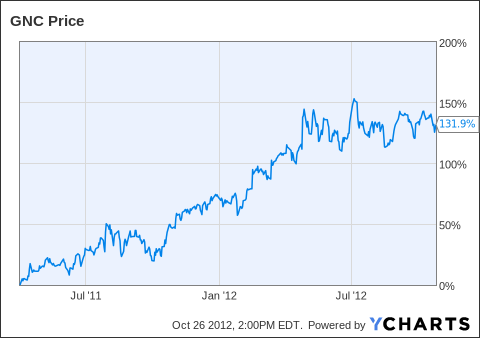 Options Activity
Option Monster reported on the high level of bullish options activity recently: investors purchased more than 5,000 March 40 calls. Volume at this strike was more than 7 times open interest which means these are new positions. In total, during the session, call volume outnumbered put volume by a ratio of 6 to 1. The large block trades likely represent institutional money. Institutional money is usually smarter, thus worth following. In summary, the recent options activity points to more upside ahead for GNC over the medium term.
Short Interest
Currently, short interest in GNC stands at 7.9 million shares or 13.5% of the float. The high short interest indicates that, despite trading at all-time highs, many investors are still skeptical about GNC. If the stock continues to move higher, shorts will likely feel pressure to cover which can lead to a short squeeze.
Valuation
Despite trading at an all-time high, as shown by the chart below, GNC is actually trading at an all-time low valuation based on the P/E ratio. This means that, based on historical valuation, GNC is cheap.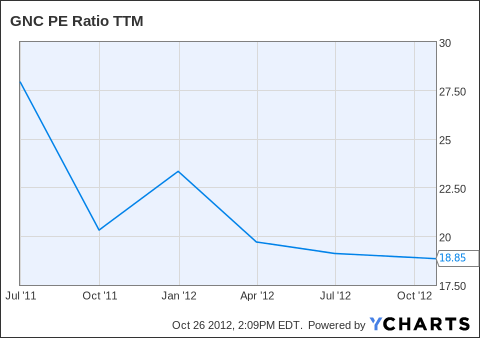 GNC PE Ratio TTM data by YCharts
Are Vitamins Good For Us?
One of the most important issues facing GNC is the medical research on the impact of vitamins. As pointed out by Seeking Alpha contributor Dutch Trader in his post Interesting Opportunitites In The Vitamin Market a majority of Americans are now taking at least one supplement a day. However, the medical community has expressed something of a lukewarm feeling about vitamins in recent history. Researches have on many occasions raised questions about the benefits of vitamins. However, it should be noted that the most recent study released in mid October showed that multivitamin use can be linked to lower risk for cancer.
Of course, more research will be coming out in the months and years ahead and GNC investors should play close attention to the findings. I think it is safe to say that, given the high percentage of people taking some form of a supplement, currently the medical field believes collectively that vitamins do more good than harm. However, this could change and GNC investors should be aware that such a change in view from the medical community would be a major problem for GNC.
Conclusion
While GNC shares have done extremely well since their IPO, I believe there is more upside to come. The bullish options activity, high short interest, and valuation are all reasons why GNC can continue to rally. That being said, investors should keep an eye on all medical research regarding the use of vitamins as this has the potential to be a major negative for GNC.
Disclosure: I have no positions in any stocks mentioned, and no plans to initiate any positions within the next 72 hours. I wrote this article myself, and it expresses my own opinions. I am not receiving compensation for it (other than from Seeking Alpha). I have no business relationship with any company whose stock is mentioned in this article.