Johnson & Johnson (NYSE:JNJ) is the world's largest and most diverse health-care company, which comprises three divisions: pharmaceutical, medical devices and diagnostics, and consumer. JNJ's primary focus has been on products related to human health and well-being and JNJ stands alone as a leader across the major health-care industries by maintaining a diverse revenue base, a robust research pipeline, and exceptional cash flow generation, which together create a wide economic moat. Despite its slow growth, JNJ will continue to provide strong cash throughout the economic downtime due to its defensive nature in the healthcare sector and will be a great holding with its solid fundamentals for conservative investors seeking stability and consistent dividend yield.
Recent Development
On Oct. 16, 2012, JNJ reported stronger-than-expected third-quarter earnings and raised its fiscal 2012 outlook as drug sales ramped up in the U.S. JNJ's full-year earnings outlook to a range of $5.05 to $5.10 a share, up from its earlier view of $5.00 to $5.07, as reported from Fox Business. Excluding one-time charge of $553 million related to research and development and other costs due to the discontinuation of a late-state trial and acquisition, JNJ earned $1.25, topping analysts' estimates of $1.21, which was accompanied by revenue beat of $17.1 billion as compared to the expectation of $16.98 billion. 4.3% decline in consumer division was offset by 7% increase in pharmaceutical sales and 12.5% jump in medical devices.
In drug division, JNJ improved its position during the quarter to better compete with generics, boosting its pipeline due to regulatory approvals for new products and submission of several new drug applications. As published in my last article for Teva Pharmaceutical Industries Ltd (NASDAQ:TEVA), drug shortage and aging baby boomers are the big trend for the next decade and JNJ is another mega company to take advantage of these trends, while supported by its solid fundamentals.
Fundamentals Overview
A quick comparison will be reviewed below for JNJ as compared to the average in the industry of drug manufacturers. It is important to keep in mind that JNJ is not a pure drug manufacturer with its other medical devices and diagnostics division and consumer division. While JNJ's 3 year average revenue and EPS growth are both lower than the industry average, its operating margin of 24.6% and net margin of 13.5% should give investors strong confidence in its operation and management. Despite JNJ's higher valuation with higher P/E and P/B of 22.6 and 3.2, as compared to the industry average of 17.0 and 2.8, it can be reasonably justified with JNJ's diversified product lines and solid cash flow and balance sheet, highlighted by its 0.2 debt/equity comparing to the industry average of 6.0.
| | | |
| --- | --- | --- |
| Key Stats | Johnson & Johnson | Industry Average |
| Price/Earning ttm | 22.6 | 17.0 |
| Price/Book | 3.2 | 2.8 |
| Price/Sales ttm | 3.0 | 2.7 |
| Revenue Growth (3 Yr Avg) | 0.7 | 6.9 |
| EPS Growth (3 Yr Avg) | -8.6 | 7.4 |
| Operating Margin % ttm | 24.6 | 22.7 |
| Net Margin % ttm | 13.5 | 16.0 |
| ROE ttm | 14.3 | 17.6 |
| Debt/Equity | 0.2 | 6.0 |
Source: MorningStar
Short-term Technical
JNJ closed at $70.90 with 0.34% drop on last Friday's trading. The volume of 8.97M was blow the 30-day average of 12.26M. After Q3 earnings, JNJ had climbed up and reached its 52-week high of $72.74 on Oct. 18. Since then, the stock had been trading near $71. From trend perspective, the MACD (12, 26, 9) had been showing a bullish sign since Oct. 17, 2012, one day after the Q3 earnings. Earlier, JNJ's share price started to rebound from its 50-day MV of $68.76 on Oct.15, and is currently well above its 200-day MV of $65.54. Despite its recent jump, JNJ is current trying to break its resistant point (R2) at $71.18. If MACD difference can diverge, accompanied with increasing buying momentum (where RSI (14) going above current 59.2), it is very possible for JNJ to challenge its 52-week high of $72.74. Major support will be at its 50-MV of $68.76, followed by S1 point at $67.37, as seen from the chart below.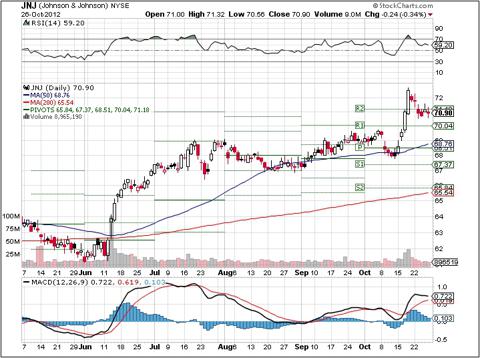 Click to enlarge
Source: StockCharts.com
Purchase Through Options Play
With the objectives of capital preservation and cash flow in mind, our plan is to acquire JNJ gradually through options play to further reduce the overall acquisition cost. A credit put spread options play will be reviewed for investors who share the same long-term view toward JNJ.
Short 1x Jan. 19, 2013 Put at the strike price of $67.5 for the credit of $0.63
Buy 1x Jan. 19, 2013 Put at the strike price of $65 for the cost of $0.29
The net credit received is $0.34 and the acquiring cost for JNJ would be $67.16, if JNJ falls below $67.5 on Jan. 19, 2013. At $67.16 cost, it gives us an edge of 4.8% over the current price of $70.90 for the 3 month investing period. It is better than the current projected 3.44% annual dividend yield while the downside risk is also limited through this options play. If JNJ stays above $67.5 on Jan. 19, 2013, $0.34 maximum potential will be gained without acquiring the share, which would be 15.74% return for the margin used to setup this options play ($0.34 credit received divided by $2.16, $2.5 maximum loss - $0.34 credit received).
Note: All the prices are based on Oct. 26's closing and all calculations are before fees and expenses.
Disclosure: I have no positions in any stocks mentioned, but may initiate a long position in JNJ, TEVA over the next 72 hours. I wrote this article myself, and it expresses my own opinions. I am not receiving compensation for it (other than from Seeking Alpha). I have no business relationship with any company whose stock is mentioned in this article.