The golden cross is a tool used by many market watchers and is a rudimentary method to identify a trend change. The most common measures are the 50 day moving average and 200 day moving average. A golden cross is generated when the 50 day crosses above the 200, and a negative cross is given when the 50 day crosses below the 200 day moving average.
In mid April 2012, gold had a negative cross and recently we have seen a golden cross in late September. Of course, moving averages are lagging indicators and any analysis should be done with this in mind. In a previous article, I discussed more evidence supporting an argument that a significant move up is in process within the precious metals space, possibly to new highs.
In this article, I will be examining previous positive golden crosses in the last 12 years and performance over subsequent timeframes for gold to gauge the efficacy of this widely followed tool and how these findings apply to gold.
Gold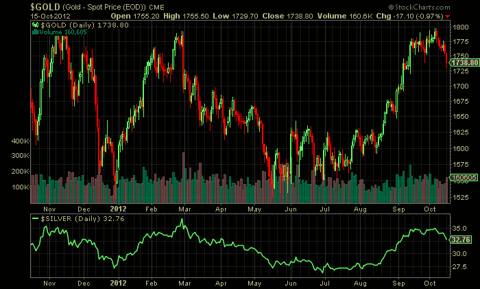 Gold and silver have both recovered all losses from the summer months and have backed off after testing 2012 highs. It can be certainly argued that gold remains range bound rather than in an uptrend by solely focusing on price. However beyond price, there are many strong signs of liquidity and risk taking in the space that are illustrated by the performance of Market Vectors Gold Miners ETF (NYSEARCA:GDX) and Market Vectors Junior Gold Miners ETF (NYSEARCA:GDXJ). This risk appetite is a necessary ingredient for a new high in the SPDR Gold Trust ETF (NYSEARCA:GLD) or the iShares Silver Trust (NYSEARCA:SLV).
Many are making the argument that this is merely a bounce rather than a new leg up. Until gold does make new highs, this argument should be considered. One's stance on this question would yield either a splendid low risk opportunity on the short or long side. In addition to the liquidity measures previously discussed, I think the recent golden cross is another piece of evidence supporting the bullish argument. Currently, we sit about 10% below all time highs in gold.
Golden Crosses
In the table below, I will be looking at all instances of golden crosses with subsequent performance over various timeframes to test the validity of the signal. Additionally, I will look at a simple system of buying at a golden cross and selling at the next negative cross.
| | | | | | |
| --- | --- | --- | --- | --- | --- |
| Date | 1 Month | 3 Months | 6 Months | 1 Year | Neg. Cross |
| 9/19/12 | (3.4%) | - | - | - | - |
| 2/12/09 | (2.6%) | (2.6%) | 0.0% | 14.9% | 70.1% |
| 12/18/07 | 1.7% | 5.9% | 6.8% | 30.7% | 30.8% |
| 8/12/05 | 0.5% | 3.9% | 41.6% | 41.6% | 29.1% |
| 9/16/04 | 2.7% | 7.8% | 9.3% | 14.0% | 7.9% |
| 6/14/01 | (3.2%) | 5.8% | 0.1% | 15.7% | 41.8% |
Take Aways
Recently, the golden cross has presaged big moves in gold on an intermediate scale
The golden cross is a SIGNAL and not NOISE due to only occurring 6 times in the last 12 years
It is a poor short term trading tool but excellent over intermediate time frames
The recent golden cross seems to be following typical price action of previous golden crosses
The bulk of the gains could have been captured with the golden cross and bulk of the drawdowns avoided
Conclusion
As the table above demonstrates, the golden cross has been an effective and rare buy signal over the last 12 years. One criticism of this study would be that any bullish signal looks brilliant in a secular bull market, where as long as you hold long enough the overall trend bails you out. However, I would defend the golden cross by pointing to the numerous corrections of 10-40% in the last 12 years.
Even in a secular bull market, there is the potential for significant drawdowns. By sidestepping the bulk of these brutal corrections, the golden cross outperforms a buy and hold strategy with less overall risk. Another important consideration is that the fundamentals of the gold market only continue to strengthen. Central Banks all over the world are embarking on aggressive programs to monetize debt and most governments are running deficits on the fiscal side.
Since the fundamentals of the gold bull remain intact, I think it is reasonable to expect the golden cross to remain a valid signal. Further, in the US election, neither candidate has presented a credible plan to deal with the deficit or debt based on studies of both candidates' proposals by nonpartisan, independent entities. Although Governor Romney has pledged to replace Chairman Bernanke, his most likely choices - N.Gregory Mankiw and Glen Hubbard - have publicly pledged support for the Chairman's policies.
My expectation is that whoever wins the election, there will be no significant change in terms of US fiscal or monetary policy. Of course, in the long term central bank policy will be determined by inflation or unemployment. Clearly, the Fed expects both to be supportive of easing as low interest rates have been pledged through 2015.
With the primary drivers of the secular bull market intact, I believe the golden cross will continue to be an effective buy signal and help traders and investors stay on the right side of the market while minimizing risk. At the time of the golden cross, gold was at $1773, today it is at $1712.
Due to the fundamentals listed above and impressive abundance of liquidity in the precious metals space, I am anticipating a strong reaction to the golden cross. However, even if we only match the weakest rally of 9% from golden cross to negative cross, that would put us at all time highs in gold. Of course, the environment is much different from 2004 with bigger deficits, trillions in liquidity unleashed by central banks, and weaker economic fundamentals.
Disclosure: I have no positions in any stocks mentioned, and no plans to initiate any positions within the next 72 hours. I wrote this article myself, and it expresses my own opinions. I am not receiving compensation for it (other than from Seeking Alpha). I have no business relationship with any company whose stock is mentioned in this article.