We recently met with Minefinders Corporation Ltd.'s (MFN) management at the Denver Gold Forum and discussed their Dolores project scheduled to move into production in October of 2008.  While Minefinders commenced mining nearly one year ago, timely commissioning and production have been delayed due to illegal blockades. Minefinders has since received written assurance by government authorities, resumed commissioning, and is soon to begin leaching and/or commencing production. Given the disruption to the mine schedule and uncertain credit markets with stable to declining metal prices, shares of Minefinders are now trading at a significant discount (pdf file) to third party economic studies.
The 2007 base case assumed metal prices of $675 per ounce gold and $13.00 per ounce silver and concluded a $831 million 0% NPV, suggesting a price of $17 per share at par. The study did not include the potential upside of adding a 3,000 tpd flotation circuit to boost recoveries. This would be important when mining higher grades within, below, and parallel to the identified reserve. The study also does not include Minefinders' prospective precious and base metal targets in Sonora, Mexico. Minefinders remains unhedged and exposed to benefit from increases in metal prices.
The market is currently challenged in recognizing value in exploration and potential for production (not to mention even actual production). The current environment may provide an exceptional buying opportunity. Should gold prices rebound in the fall and winter, as they have done in each of the last seven years, we suspect that investor confidence will resume, followed by selective buying (at very least we may anticipate a good opportunity for short positions to close). In addition to seasonality, we consider the fundamentals for precious and base metals to be strong in the long run. We consider Minefinders' cost structure to be favorable on a stabilized basis, and should the industry potentially have difficulty raising capital, operating costs including equipment and labor may moderate.  The combination of these events may draw attention to Minefinders in the months ahead as investors seek both value and upside.
Dolores Project Update
Minefinders is working to initiate leaching with initial production in 4Q08.  Remaining construction necessary to initiate commissioning has been completed.  The initial drain liner and overliner with the radial stacking system is in place and ready for the first panel for leaching. Minefinders has corrected issues with the crusher and screens and has resumed commissioning. 
Ore Stacked on Leach Pad at Dolores Project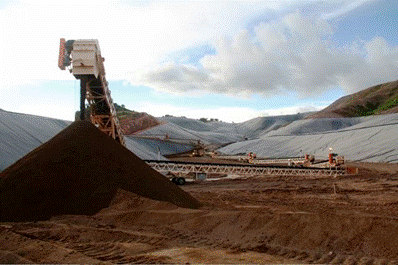 Source: Minefinders
Given the anticipated production levels, the company anticipates cash costs to average between US$400 and US$450 per gold equivalent ounce in 2008. The average cash cost is expected to decrease, as production increases and stabilizes in 2009, to a forecasted average cash cost of US$297 per gold equivalent ounce over the life of the project. Based on the delays due to the illegal blockade, the company has revised its production estimate downward for 2008, with production in 2009, 2010 and beyond relatively unchanged.

Source: Minefinders
Minefinders responded to the blockade by suspending the commissioning of the mine to allow local authorities the opportunity to uphold the law. Members of the local Ejido have actively supported the opening of the mine. Having received written assurance by government authorities, Minefinders has resumed commissioning, and without further disruptions should commence leaching ore and producing gold-silver in 4Q08. 
Dolores Project Schedule Upset by Illegal Blockades
The road to the Dolores project has been intermittently blockaded since May of 2008. This basically consists of blockaders placing a cable across the road and making threatening actions. Rather than resort to direct physical confrontation, the company suspended operations out of concern for workers' safety and sought protection from state and federal government authorities. The company has pursued a comprehensive response to the blockaders. They report having received written guarantees for safe access from the government, and an increased police presence, which followed intense lobbying by the company, Ejido members, local community representatives, as well as employees and outside contractors.
Management reports that the government has become increasingly aware of the economic importance of the mine for the village of Dolores and State of Chihuahua. We believe the government is coming to appreciate the contribution of an additional legitimate employer in its overall campaign to maintain order in the State of Chihuahua. They believe that an ongoing dialogue with the government and local community will be important to reach and maintain an equitable solution to allow operations to proceed without interruption.
Minefinders has already completed a number of its obligations as required in its agreement with the Ejido, such as making compensation payments to the residents of Dolores and constructing a new village which includes electrical, water and sanitary services not previously available. In addition to building new residences for residents of Dolores, they have constructed public facilities including a primary school, community center, town offices, medical facility and a church.
Village of Dolores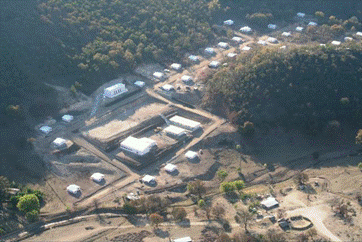 Source: Minefinders
When we visited the project in the spring of 2008, most of the new residences appeared to be occupied and classes in the new school were in session. In addition, Minefinders has also completed improvements to roads leading to the project and provided capital to local entrepreneurs to provide support services to the project and local village. There are presently about 600 employees and contractors at the Dolores project. It is clear that the safe continuation of an operating mine at Dolores is in both Minefinders' and the local Ejido's best interests.
In our opinion, we see the actions by blockaders to be without substance. We have visited the Dolores project on multiple occasions and have found management's conduct in public and private to be consistent. It is clear to us that management intends to keep its word to operate the Dolores project in a safe and environmentally sound manner. In addition, it is clear that Minefinders has made the greatest improvement in the quality of life for the residents of the mining village of Dolores in the last century. While we have listed many improvements, the one which ranks the highest, in our opinion, is the availability of indoor plumbing. We consider clean water to be the most fundamental human need, and to increase availability of potable drinking water is laudable. In general, we continue to maintain that the mining industry is the most positive influence on the developing world (superior to government distribution and public works programs), which increases the availability of the Internet and wireless communication, and developing and sustaining capital investment in projects in remote areas.
Minefinders' management should be applauded for pursuing a course of action dependent upon Mexican authorities to uphold the law that would allow us the opportunity to qualify Mexico as a "mining friendly and stable political jurisdiction."  Clearly, the anticipated benefits of management's actions should benefit shareholders, the local Ejido, and the mining industry in Mexico. Dolores should become the financial engine for development of their other projects in Mexico as Minefinders advances to mid-tier producer status. It is now up to Mexico itself to decide whether it desires to proceed to a Venezuelan model of government or to nations more friendly and desirous of rule of law important for foreign investment.
Disclosure: The author is long MFN. An affiliate of the author's employer provides corporate advisory services to MFN.