Sprint Nextel (NYSE:S) is continuing its long-term evolution as a telecom company. Sprint's progress in overcoming the strategic and operational mishaps of the Nextel merger have impressed us so much that we added to our position last month. We think that SoftBank saw the same positive momentum and progress that we have seen at Sprint. Revenue growth on the Sprint platform (excluding Nextel run-off) was 15% year-over-year for the third straight quarter and this exceeded the collective growth of Verizon (NYSE:VZ) and AT&T (NYSE:T). Moreover Sprint Nextel's wireless platform (including Nextel run-off) grew by 7% last year, which was close to Verizon's 7.3% growth and edged out AT&T's 6.6%.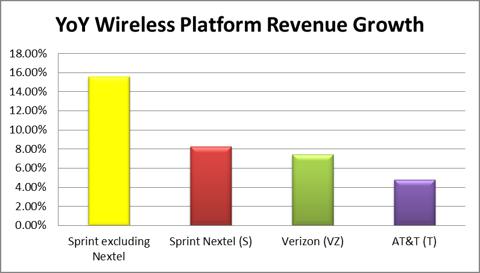 Sources: MRQ Earnings press releases for Sprint, Verizon and AT&T
AREAS WE WOULD LIKE TO SEE IMPROVEMENTS ON
We were disappointed that Sprint has incurred a free cash flow deficit of $268M for the YTD 2012 period. However this was primarily due to increased capital investment expenditures relating to its 4G-LTE Network Vision Project and these elevated costs will decline in 2014 and beyond. The company incurred $22M of lease termination costs and $294M of accelerated depreciation related to the company's planned shutdown of the Nextel iDEN platform during the quarter and $1.38B year-to-date. Sprint accelerated its Nextel site shutdown program and shut down 9600 Nextel sites as of July, which was six months ahead of schedule. We are glad to see that this program is succeeding ahead of schedule.
We also rationalized the increased capital expenditures were due to Sprint's Network Vision Program. In Q1 2012, the company brought 600 sites on air and added another 1400 in Q2 2012 and 2300 in Q3 2012. Sprint expects to bring approximately 12,000 sites on air by the end of Q1 2013. Sprint launched 4G LTE in five major cities (Dallas, San Antonio, Atlanta, Houston and its home territory of Kansas City) on July 15th. We are intrigued with Sprint launching 4G LTE in Dallas, San Antonio, Atlanta, and Houston, as we like to stress how three of those cities have served as the headquarters for AT&T, its predecessor Southwestern Bell and its wireless business. Sprint has 4G LTE coverage in 32 cities and towns and is catching up to the 77 cities and towns covered by AT&T, though it is still far behind Verizon's 419 cities and towns. Also the increased CapEx has helped support Sprint's iPhone sales efforts and its emerging 4G-LTE presence helped Sprint land the iPad.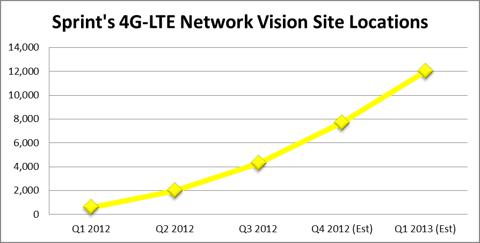 Sources: Sprint's 2012 Earnings Releases and Our Estimates
We are displeased that the postpaid Churn rate is still higher than AT&T and Verizon's. However its Q3 2012 churn has slightly improved to 1.88% for this quarter, versus 2.21% for Q3 2009 and 1.91% for Q3 2010 and Q3 2011. We continue to expect improvements in voluntary churn longer-term, driven by the ongoing improvement in Sprint's customer experience, the build-out of Sprint's 4G-LTE and the iPhone.
We are disappointed that even though Sprint has the least expensive data plan, Sprint, only sold 1.5M iPhone devices versus Verizon's 3.1M or AT&T's 4.7M. We were disappointed that Sprint had a flat linked quarter sales growth, while Verizon and AT&T had linked quarter sales growth in iPhone sales volumes. We are consoled that Sprint is continuing to prove its detractors wrong and it is on track to meet its $15.5B 4 year purchase commitment to Apple (NASDAQ:AAPL)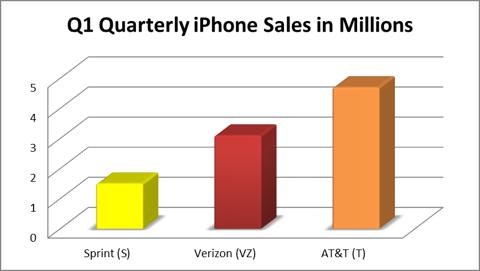 Sources: MRQ Earnings press releases for Sprint, Verizon and AT&T
AREAS WE CAN SEE THAT PROGRESS IS BEING MADE
Despite selling 1.5M iPhones from Apple which carry $450 subsidies per phone, Sprint actually would have generated positive operating income of $85M in Q3 2012 excluding previously identified Network Vision related expenses. It would have been nice to exclude the $615M increase in equipment costs due to Sprint carrying the iPhone however we don't expect Sprint's quarterly equipment cost of $2.4B to increase at a faster rate than revenue in future years. 40% of iPhone sales were to new customers and over 16% of its postpaid client base now has Apple's cutting edge, easy to use iPhone smartphone. We find that this compares favorably to the 25% for Verizon and 18% for AT&T. Earlier this year, analysts raised concern that Sprint won't be able to satisfy its purchase commitment of $15.5B over a four year period to Apple.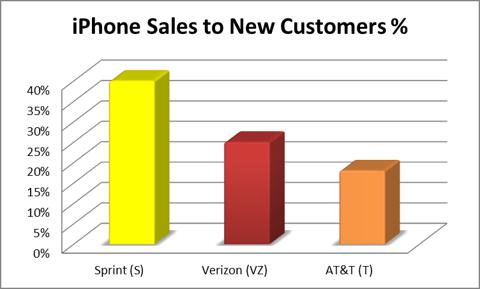 Sources: MRQ Earnings press releases for Sprint, Verizon and AT&T
On September 21st, Sprint joined Verizon and AT&T in selling the iPhone 5, which is Apple's newest smartphone device. While Sprint did not give any commentary with regards to sales of the iPhone 5, we could see that the iPhone 5 with 16GB of storage capacity is on a 3 week back order at the Sprint Website and the 32GB and 64GB devices is on a 1 week back order. This compares with the 3 week back order for all iPhone 5 devices by AT&T and Verizon. We are expecting iPhone sales will steadily increase in Q4 2012 and FY 2013 as people see Sprint's improvements in customer service. Furthermore, now that the company is selling the iPhone device to its Virgin Mobile customers, we have greater confidence that iPhone sales volumes continue to show growth. Speaking for ourselves, we have considered getting an iPhone through Sprint Virgin Mobile when our wireless contract expires if Sprint Virgin Mobile gets the iPhone 5.
Sprint began reporting connected devices as a separate business operating metric earlier this year. Though Sprint's 3.36M in connected devices customers is smaller than AT&T's 14M, we believe that Sprint has the potential to improve its results here as well. On a linked-quarter basis, Sprint's 6% growth in connected devices was more than double AT&T's 2.3% growth. Sprint was able to achieve this without the benefit of the hot selling iPad device. Now that Sprint will be crashing the AT&T/Verizon duopoly's iPad party, we expect these statistics to improve further.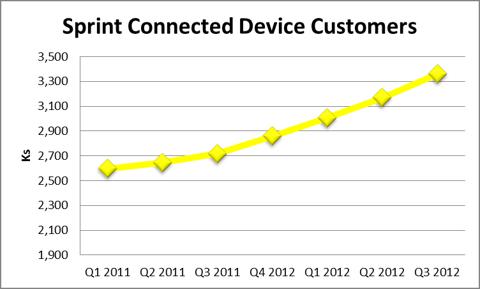 Sources: Sprint's 2012 Earnings Releases
While the company has a significant level of outstanding indebtedness ($21.3B) in relation to its equity base ($8.5B), we take comfort in the fact that only $1.65B is due over the next two years. Earlier in the year, Sprint bulked up its cash position with a $2B bond sale on March 1, 2012 at a weighted average coupon of 8.0625%. Even though the company has only generated a free cash flow deficit of $268M this year, we think it was prudent for the company to tap the credit markets for financing earlier in the year rather than wait until they desperately need it and are unable to get it. Sprint also used a portion of the proceeds from its $2B March bond sale to prepay $1B of outstanding bonds in Q2 2012 that were maturing in 2013. Gross cash and short-term investments were $6.3B as of Q2 2012 and the company also has a $1.2B bank line of credit and has borrowed $77M on a $1B equipment purchase credit line from Ericsson (NASDAQ:ERIC).
We're glad Sprint's Board of Directors vetoed Dan Hesse's $8B proposed acquisition of MetroPCS (PCS) back in February. We felt it wasn't the right time to do a deal and we would have preferred Sprint to have considered looking at deals after Network Vision was completed. Although MetroPCS will be merging with T-Mobile USA, we weren't concerned because Sprint has the iPhone and now the iPad whereas T-Mobile USA does not. Although we would have preferred Sprint remain an independent company instead of joining up with SoftBank, we believe that Sprint will be able to utilize SoftBank's resources to bolster its position as the best positioned carrier to take on the AT&T/Verizon duopoly.
Though Sprint saw a quarterly decline in postpaid subscribers by 456K we noticed that the net decline came mainly from the Nextel platform. The Sprint postpaid platform added 410K net subscribers, primarily from retaining Nextel customers. Sprint reported that it was able to retain 59% of Nextel's postpaid churn during the quarter, up from 27% in the prior year period. We were disappointed in that Sprint appeared to have lost 110K legacy Sprint customers (excluding Nextel run-off) Even if all these customers added to the Sprint platform were previously Nextel clients, we find that to be positive because Sprint only has four more quarters of Nextel run-off to go through. Thanks to the addition of the iPhone, postpaid ARPU has increased by 6.6% year-over year.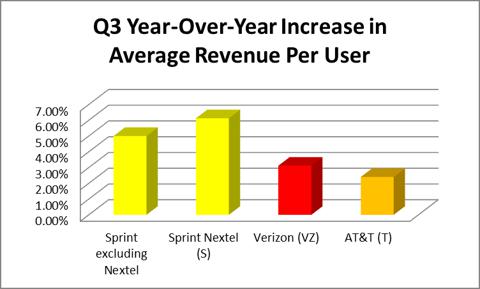 Sources: MRQ Earnings press releases for Sprint, Verizon and AT&T
We can see that Sprint's majority owned affiliate Clearwire (CLWR) had reduced losses versus the year ago period as Sprint's equity investment losses declined by nearly $150M (58%) versus the prior year period. Clearwire also signed Leap Wireless's (LEAP) Cricket Wireless brand to a 5 year wholesale LTE network agreement earlier in the year. We were disappointed that Clearwire's revenue has been soft but it has been able to reduce its cash burn from $1B in the YTD 2011 period to $255M in the YTD 2012 period. Clearwire has $1.29B in gross liquidity and $4.25B of debt, of which $2.95B due in 2015.
In conclusion we are glad that we added to our position in Sprint and we believe that investors should steadily accumulate shares of the company, especially during down days in the market. We are mindful of the terms of the deal with Softbank in that Softbank is getting $8B worth of Sprint's shares at $5.25 and paying $7.30 for $12B of Sprint's shares. We have mixed feelings about the structure of the deal because in our opinion, we believe the shares are worth more than the $7.30 offered for existing shares. Sprint's improved customer service experience has yielded positive, tangible results, especially with regards to retaining legacy Nextel customers. We don't even think of the company as Sprint Nextel any more, we think of the company as Sprint and we expect the company to change its holding company name back to Sprint next year when Sprint completely shuts Nextel down. Finally, the reason why we are recommending investors purchase Sprint versus any other wireless company, particularly Verizon and AT&T, is because the Sprint platform offers the lowest cost for postpaid smartphone customers due to AT&T and Verizon's new "shared data plans."

Source: Smartphone Websites for Sprint, AT&T and Verizon
Disclosure: I am long S, AAPL. I wrote this article myself, and it expresses my own opinions. I am not receiving compensation for it (other than from Seeking Alpha). I have no business relationship with any company whose stock is mentioned in this article.
Additional disclosure: This article was written by an analyst at Saibus Research. Saibus Research has not received compensation directly or indirectly for expressing the recommendation in this article. We have no business relationship with any company whose stock is mentioned in this article. Under no circumstances must this report be considered an offer to buy, sell, subscribe for or trade securities or other instruments.