All of Facebook's (NASDAQ:FB) stockholders let up a loud, collective cheer that could be heard all the way from San Francisco to Boston in the wake of Facebook's better than expected earnings. While Facebook generated adjusted EPS that was better than anticipated, we believe that some proper perspective should be considered. While the company generated adjusted EPS that was slightly better than anticipated, it was still flat relative to last year. Although the company still enjoys strong adjusted operating margins at 42% as of Q3 2012, operating margins have declined by 9% versus the prior year's comparable quarter. Although Facebook's stock jumped by nearly 25% on October 24th before it settled down with a 19% gain, we believe that Facebook shareholders are not out of the woods quite yet. We believe that part of the reason why Facebook's stock jumped so high after it reported its results is because 15-20% of the company's shares are held by shorts and a good portion of the pop in FB's stock was short-covering.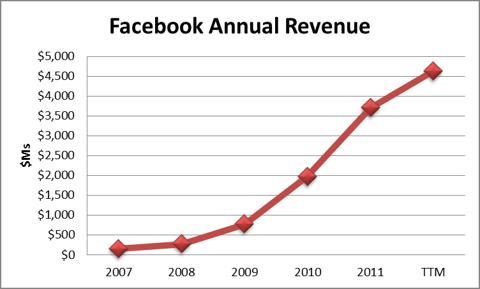 Click to enlarge
Sources: Morningstar Direct and Facebook's S1 Filing
Facebook's Corporate Highlights: Good News and Bad News
The good news for Facebook is that it saw its revenue grow by 32% year-over-year in Q3 2012, which was comparable to its year-over-year growth in Q2 2012. The bad news is that the growth rate is still down versus the 45% revenue growth enjoyed in Q1 2012. While Facebook's operating income growth adjusted for stock-related compensation expense grew by 9%, that was quite underwhelming considering that it was the most-touted IPO since Google's (NASDAQ:GOOG) 2004 offering. We can take in stride the fact that the company booked a reported loss of $59M in the quarter due to a $222M non-recurring, discrete income tax expense payment due to the non-deductibility of certain stock-related compensation expenses. While Facebook's adjusted operating margins were an otherwise healthy 42% in the quarter, we have to point out that its adjusted operating margins were 51% in the prior year's third quarter and 43.5% in Q2 2012. Facebook's Monthly Active Users were 1.01BM as of Q3 2012, up from 955M in Q2 2012. This represented an increase of 26% year-over-year in Q3 2012 versus Q3 2011, which was slightly lower than the 29% year-over-year growth achieved in Q2 2012 versus Q2 2011. Nearly 60% of Facebook's MAUs used a mobile device to access Facebook and Facebook's Mobile MAUs increased by 61% year-over-year.
Outlook
We think that the company still has a way to go before it stabilizes. We can certainly see that Facebook and Zynga (NASDAQ:ZNGA) had too much hype when each company was in the process of filing its IPO. Facebook and Zynga also had to deal with the impact of "Facebook hype" because it generates over 80% of its revenue from the Facebook platform and Facebook got 7% of its revenue from Zynga in Q3 2012, although this is down from 12% in Q3 2011 and 14% in Q2 2011. The good news for Facebook is that it seems to be weaning itself away from its dependence on Zynga. We also believe that because of the "unique" corporate structure that Mark Zuckerberg set up, investors will have to realize that there is a similar mindset in business operations that Mark Zuckerberg and Jeff Bezos at Amazon share. We would increase our outlook on the company based on how the company performs in Q4 2012 and once the November 14th lock-up expiration date passes. Although Facebook generated $153M in mobile revenue in Q3 2012 and Stifel is targeting $247M in Q4 2012 and $1.6B in 2013, that pales in comparison to the $8B that Google generates.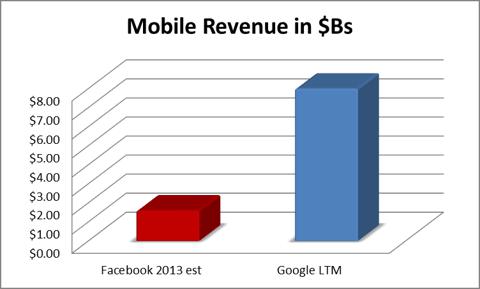 Click to enlarge
Corporate Asset Management & Valuation
The good news for Facebook is that it has $10.45B in gross liquidity, no bonded debt and only $902M in capital lease obligations on its balance sheet. Facebook only burned through $1.4B during the first nine months of the year, which included $575M in acquisitions of patents from Microsoft (which acquired those patents from AOL) and $715M in cash and stock to acquire Instagram.
Facebook's stakeholders can take solace in the fact that Facebook's shares are at a more reasonable level now. Because of the proceeds raised from its IPO in May as well as the rapid decline in its price, Facebook is trading at 3.5X book value and 5.25X net cash. While the company's P/S ratio is lower than the ungodly 22.5X it reached at its peak, it is still trading at 10.75X P/S.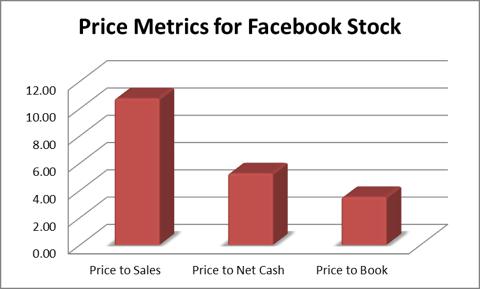 Click to enlarge
Source: Morningstar Direct
CONCLUSION
In conclusion, we are glad to see that Facebook's share price of $23 is at a more reasonable and rational valuation relative to the irrationally high price of $45 reached in its first day of trading on May 18th, 2012. Based on the fact that the company has seen its free cash flow trend turn negative as well as the fact that it is seeing its operating margins steadily erode and its growth rate decelerate we believe that it is too early to establish a long position in the company. Facebook bulls can point to the money raised in its IPO and its massive liquidity as well as its beaten down stock price relative to its widely anticipated IPO. We think that this IPO has been an IPU and that Facebook is overvalued at 50X adjusted 2012 EPS. So far, we can see that Facebook's IPO was a great deal for the selling shareholders and the I-Bankers but not for the investors who bought into the story. We also like to remind investors that the third tier of Facebook's five-tier IPO lockup is expiring on November 14th and that 1.2B shares of Facebook stock will be available for sale, including 60M from Mark Zuckerberg himself.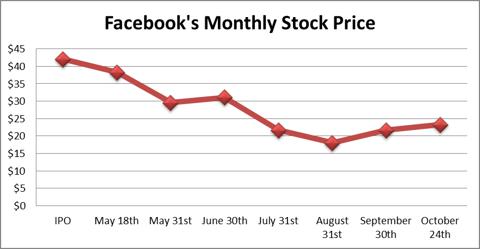 Click to enlarge
Source: Morningstar Direct
Disclosure: I have no positions in any stocks mentioned, and no plans to initiate any positions within the next 72 hours. I wrote this article myself, and it expresses my own opinions. I am not receiving compensation for it (other than from Seeking Alpha). I have no business relationship with any company whose stock is mentioned in this article.
Additional disclosure: This article was written by an analyst at Saibus Research. Saibus Research has not received compensation directly or indirectly for expressing the recommendation in this article. We have no business relationship with any company whose stock is mentioned in this article. Under no circumstances must this report be considered an offer to buy, sell, subscribe for or trade securities or other instruments.