Altria Group (NYSE:MO) and its successor companies continue to generate massive levels of free cash flows that can be distributed to shareholders. We believe that Altria Group is a great investment for investors seeking dividend income. Due to the cornucopian economic model of the tobacco industry, Altria Group offers an above average dividend yield of 5.5% (as of October 26th, 2012) and is a dividend growth champion (Altria has increased its dividend per share (adjusted for the Philip Morris International (NYSE:PM) and Kraft/Mondelez (NASDAQ:MDLZ) spin-offs) 46 times in the last 44 years. We even wrote about how Altria's per share dividend increases are like clockwork around the August/September period, kind of like the Back-to-School season. Looking back on that, we wish our teachers had taught us about the bountiful economic model that tobacco makers enjoy, rather than demonizing them for providing a legal product that consumers wanted.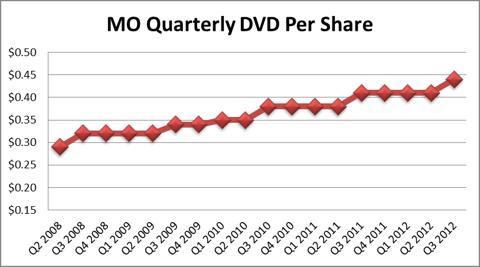 Click to enlarge
Source: Altria's Dividend Schedule and History
Altria Group keeps on producing consistent performance for its shareholders, which probably explains why it can comfortably pay out about 80% of its adjusted EPS as a dividend and buy back shares on the open market. Altria's smokeable tobacco product segments (Philip Morris USA and John Middleton cigars collectively) maintained a stable shipment volume versus the prior year's quarter. Altria's most recognizable and profitable product is the Marlboro cigarette. Marlboro cigarette volume increased by 1% in the prior year's period and it was complimented by a 14% volume increase from Philip Morris USA's portfolio of discount level cigarettes and partially offset by an 8% decrease in volumes from PM USA's other premium brands. Marlboro's volume growth was higher than that of the US tobacco market and enabled it to pick up 100bp of market share. Philip Morris USA's cigarette products picked up 120 basis points in market share, largely due to growth amongst Marlboro and its discount brands. This enabled the smokeable product line to generate 3.2% net revenue growth and 4.3% operating income growth in Q3 2012 vs. Q3 2011.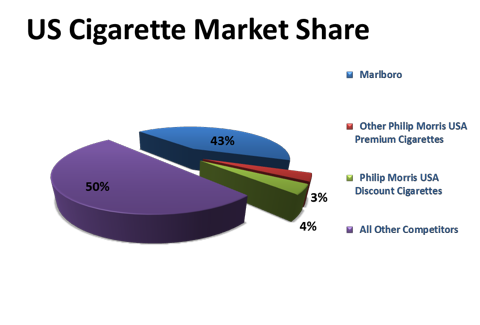 Click to enlarge
Source: Altria Q3 Earnings Release
Altria's smokeless tobacco segment (U.S. Smokeless Tobacco) enjoyed stronger revenue and profit growth in comparison to the smokeable tobacco product segment. Total smokeless tobacco volume grew by 5.9% during the quarter on the strength of new products introduced by the company recently under the Copenhagen brand. Copenhagen's volume grew by 12.1% versus the prior year's period and Skoal saw its volume grow by 2.8%. This volume growth was able to offset volume declines in other areas of UST's product portfolio. Revenues grew by 2.5% and the division enjoyed positive operating leverage enabling its operating income to grow by 3.3% in the period. U.S. Smokeless Tobacco's market share grew by 40bp as a 230bp increase in Copenhagen's market share offset market share decline by Skoal and other smokeless tobacco products in U.S. Smokeless Tobacco's product portfolio.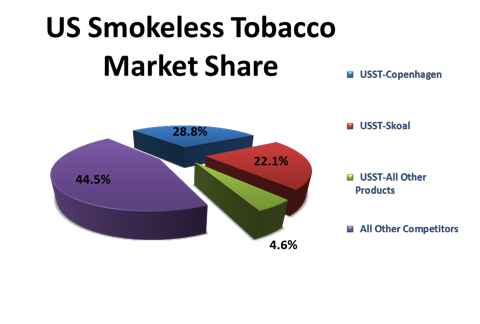 Click to enlarge
Source: Altria Q3 Earnings Release
Altria's fastest growing segment is its smallest segment (Ste. Michelle premium wines). The wine segment enjoyed a 3.7% increase in cases shipped and increased pricing enabled this segment to generate a 6.3% increase in revenue in Q3 2012 versus Q3 2011. This segment enjoyed positive operating leverage during the quarter to generate an 8.3% increase in operating income during the quarter and 8.6% year-to-date. Although Columbia Crest shipment volumes have declined by 8.2% year-over-year in the quarter and 12% year-to-date, these declines have been more than offset by increased shipments in its Chateau Ste. Michelle and other wine products. Chateau Ste. Michelle has enjoyed 16.4% volume growth in the quarter and 8.3% volume growth year-to-date and the division's other wines savored 1.2% volume growth in the quarter and 11.7% volume growth year-to-date.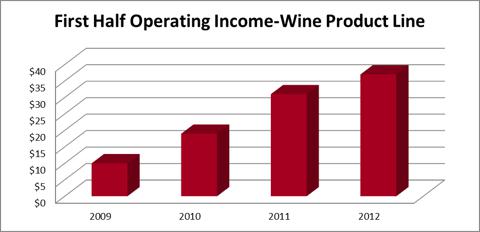 Click to enlarge
Source: Philip Morris Q2 Earnings Reports: 2009-2012
Altria also owns Philip Morris Capital Corporation, which is its leveraged lease and direct finance lease investment portfolio. PMCC was formed in 1982 and it is in run-off mode. The portfolio saw a 4.8% decrease in adjusted operating income due to a $35 million decrease in the allowance for losses in the third quarter of 2011 that favorably impacted OCI in that year, partially offset by $33 million in recoveries during the third quarter of 2012 related to PMCC's lease investment with American Airlines, Inc. Altria also saw a 10.6% increase in its equity method earnings from its plurality stake in SABMiller (OTCPK:SBMRY).
The company took an $874M pre-tax charge for the early extinguishment of $2B of two of its high interest expense senior unsecured medium term notes as part of a tender offer in September. This tender took place after the company raised $2.8B in lower cost debt and was also able to push out the maturity due dates on these bond issues. In addition to increasing its dividends per share by 7.3%, Altria repurchased $260M worth of its stock during the quarter and expanded its share repurchase program by $500M.
In conclusion we are pleased with the performance from Altria Group. Altria has shown itself to be a solid high-dividend yielding company and a dividend growth champion in terms of quantity (44 years of consecutive dividend increases) and quality (8.7% CAGR since 2008). We like that tobacco is such a cash generator and doesn't require much in the way of capital expenditures. This allows Altria Group to service its debt, pay dividends, buy back shares and reinvest in the business. Altria's Chairman and CEO Michael Szymanczyk retired from the company after 23 years, including 12 as President and CEO of Philip Morris USA and we don't believe that the company will skip a beat with its new Chairman and CEO Martin Barrington.
Disclosure: I am long MO, PM. I wrote this article myself, and it expresses my own opinions. I am not receiving compensation for it (other than from Seeking Alpha). I have no business relationship with any company whose stock is mentioned in this article.
Additional disclosure: This article was written by an analyst at Saibus Research. Saibus Research has not received compensation directly or indirectly for expressing the recommendation in this article. We have no business relationship with any company whose stock is mentioned in this article. Under no circumstances must this report be considered an offer to buy, sell, subscribe for or trade securities or other instruments.