Since the landfall of Hybrid Storm Sandy is imminent, it would be useful to go through some of the data in regard to the potential effects of this dangerous storm on the U.S. Oil Infrastructure. As so often happens, there are a couple of potential trading opportunities for investors, keeping in mind that there are a lot of unknowns as of this moment.
The bulk of this data comes from the Energy Information Administration Weekly Petroleum Status Report, as well as some other sources.
1. Major Refineries in the Expected Landfall Zone
| | | |
| --- | --- | --- |
| Refinery | Operator | BPD Throughput |
| Bayway, New Jersey | Phillips 66 | 230,000 |
| Paulsboro New Jersey | PBF Energy | 160,000 |
| Delaware City, Delaware | PBF Energy | 210,000 |
| Philadelphia Refinery | PES | 335,000 |
| Sub-Total | | 935,000 |
| Total Operable Capacity PADD-1 | | 1,200,000 |
This short list of four refineries represents more than 80% of the PADD-1 US Northeast Operable Capacity. As of the October 19, Weekly Petroleum Status Report, the US PADD-1 refineries were only operating at about 81% utilization.
The US Northeast refinery utilization has been running lower than in the rest of the country anyway, because of the unfavorable crude oil pricing situation, which we have discussed at length in this article.
2. Local Production
| | | |
| --- | --- | --- |
| US PADD-I | Oct 19 Production | |
| Finished Gasoline | 2.8 | mbpd |
| Distillates | 0.36 | mbpd |
| Jet Fuel | 0.06 | mbpd |
| Residual Fuel Oil | 0.06 | mbpd |
Note that according to the EIA, local "production" of finished gasoline, which includes blending with ethanol and other components, was greatly in excess of the actual refining capacity. This is because of blending components that arrive in this region from Europe, as well as via the Colonial Pipeline from Houston, which are counted in the production totals.
Actual "refinery production" in this area was probably more in line with the crude oil inputs, which are about 1 million barrels per day, and of those, about 400,000 barrels per day were probably attributable to distillates and jet fuel, per the EIA breakdown:
| | | |
| --- | --- | --- |
| US PADD-I | Oct 19 Production | |
| Finished Gasoline | 2.8 | mbpd |
| Distillates | 0.36 | mbpd |
| Jet Fuel | 0.06 | mbpd |
| Residual Fuel Oil | 0.06 | mbpd |
| Total Non-Gasoline | 0.48 | mpbd |
Using a typical 50/50 gasoline to distillate ratio for production, and a 1 mbpd crude oil refining input implies actual local production of gasoline is probably not too much more than 500,000 barrels per day, the rest arriving from elsewhere.
| | | |
| --- | --- | --- |
| | US PADD-1 | |
| Refinery Inputs (Crude Oil, Oct 19) | 1.024 | mbpd |
| Est. Local Gasoline Production | 0.7 | mbpd |
| Gasoline Refinery and Blending Production (Oct 19) | 2.8 | mbpd |
| Distillates and Jet Fuel Production | 0.48 | mbpd |
| Crude Oil Imports (Oct 19) | 0.888 | mbpd |
| Crude Oil Stocks (Oct 19) | 10.92 | Million Barrels |
| Gasoline Stocks (PADD-1) | 48.09 | Million Barrels |
| Distillate Stocks | 39.521 | Million Barrels |
| | | |
| Local Production Days in Inventory (Gasoline) | 68.7 | Days |
| Local Production Days in Inventory (Distillates) | 81.99 | Days |
Based on these estimates, and using the current stockpiles of finished products reported by the EIA for last week, there are plenty of finished products around to accommodate even a major disruption of local production facilities.
3. Distribution
This is the big question mark at this point. Even if there are big stockpiles of finished products in the area there is no assurance that they can get to the local distribution points, such as service stations. The flip side of this, of course, is that if the trucks cannot make it to the distribution point, the customers are unlikely to make it to the distribution points either.
4. Utilities
This is also a question mark. Typical oil refinery installations are normally engineered to withstand greatly more than the types of wind that we are likely to see with Sandy. However, local utilities such as electricity may be down for extended periods. If you want to look at the worst-case scenario for this, consider what happened to the U.S. Gulf Coast during Hurricane Rita, which struck the refinery-heavy area around Port Arthur Texas on September 26, 2005, directly on the heels of the more famous Katrina, which hit New Orleans earlier in the month. U.S. Gulf Coast production the week before Rita hit was 3.3 million barrels per day, and it took about 5 weeks for production to return to that level.
For a more recent and local example, Hurricane Irene in 2011, which struck the area at the end of August 2011, only caused a loss in refining production of 83,000 bpd. Since this occurred near Labor Day, when refinery production is curtailed anyway because of the seasonality, it is possible that the actual effects of the storm were minimal.
Conclusion
What are we to make of all of this? Based on the current stockpile situation, and the fact that most of the production in this region is done elsewhere, the actual effects of this storm on the US Northeast energy infrastructure will probably be pretty minimal.
Trading Opportunities
1. Phillips 66 Corporation (NYSE:PSX)
Shares of this company went up over $2 on Friday the 26th in advance of this storm. The company has announced the shutdown of its refinery in New Jersey, plus unloading infrastructure.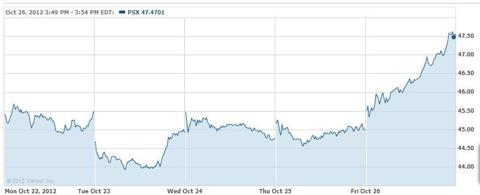 We've been watching this stock for awhile, and have projected previously that the stock is probably correctly priced in the mid-50s. However, this unusual movement suggests a little fear in the marketplace, and there is an opportunity to "sell on the news" and take profits (if you have any) and get a lower entry price than the current $47.50 when the situation calms down a little.
PBF Energy is not publicly traded, but owns two refineries in the path of this storm. We have identified this company as a potential change agent in this industry, which is consolidating, but there will be no short-term action in this case.
2. Kolberg, Kravits Roberts & Co. (NYSE:KKR)
It's a bit of a long shot, but this company is one of the owners of, among other things, the Colonial Pipeline.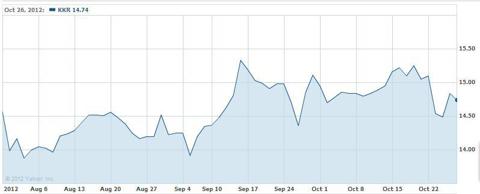 There is a 3.5% dividend and the stock is relatively stable, but in the grand scheme of things, the Colonial Pipeline is far from a pure play. More logical might be Royal Dutch Shell (NYSE:RDS.A) whose Shell Pipeline company is also a part owner.
Keeping in mind that in weather, as in the rest of life, the world is full of chaos and there are no guarantees on anything. However, whatever price movement that happens in the finished products in this region is likely to be speculative, and a trader would be better off trying to play the short side, after the likely short-lived excitement dies down.
Do with this information what you will.
Disclosure: I am long PSX. I wrote this article myself, and it expresses my own opinions. I am not receiving compensation for it (other than from Seeking Alpha). I have no business relationship with any company whose stock is mentioned in this article.