In this article, I will be discussing the long-term prospects for Tata Motors (NYSE:TTM), which is a good investment option in my opinion.
Tata Motors, which began operations in 1945, is currently among the largest automobile manufacturing companies in the world by volume, with a presence across a range of passenger cars and commercial vehicles. Tata Motors is also India's largest automobile company having a leading position in the commercial vehicle industry. Tata also figures among the top three in passenger car players in the country. Further, Tata is the world's fourth largest truck and bus manufacturer. Tata Motors had consolidated revenues of USD32.5 billion in 2011-12.
Tata Motors global association involves Jaguar Land Rover, the business comprising two marquee British brands - Jaguar and Land Rover. Today, through its subsidiaries and associate companies, Tata already operates in the UK, South Korea, Thailand, Spain and South Africa. Also, Tata Motors acquired (in 2004) the Daewoo Commercial Vehicles Company, South Korea's second largest truck maker. The rechristened Tata Daewoo Commercial Vehicles Company has launched several new products in the Korean market, while also exporting these products to several international markets.
Domestic Growth Drivers
Coming back to the domestic markets, Tata Motors is one of the largest automobile players in India and is well positioned to take advantage of the robust expected growth in the automobile sector in the foreseeable future.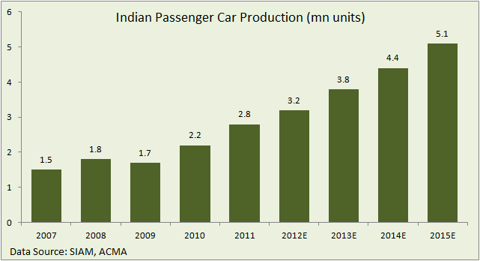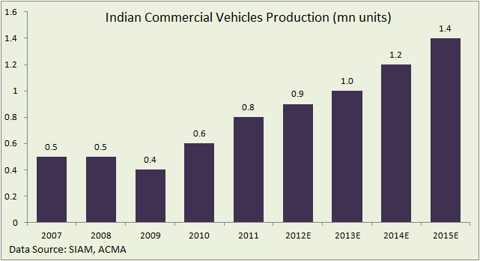 The Indian passenger car production is expected to grow at a CAGR of 16.5% from 2012 to 2015, while the commercial vehicle production is expected to grow at a CAGR of 17.2% during the same period to keep up with the demand. With over 15% growth expected in both the segments, Tata Motors can benefit from being among the largest players in the industry.
Diversified Product Offerings
Tata Motors has a diversified range of product offering in the passenger as well as commercial vehicle segment.
In the passenger vehicle segment, the offerings range from the world's most affordable car (Tata Nano) to luxury cars such as the Jaguar. Currently, TTM has three models in the hatchback segment, four models in the sedan segment, one model in crossover segment and five models in the utility vehicle segment. Further, with Jaguar and Land Rover in its portfolio, Tata Motors seems well positioned to cater to India's growing middle-class as well as the high-income group. Jaguar Land Rover's operations have shown impressive growth in sales and profitability for 2011-12. Sales have increased by 37% and 29% respectively in value and volume over the previous year. Clearly, the demand is meaningful even in a sluggish global economic growth. As local and global economic activity picks up, sales and profitability will get a bigger boost.
In the commercial vehicle segment, Tata Motors is already the leading brand in India. In this segment, the company's offerings are broadly classified into goods carriers and passenger transportation. With the significant impending growth in India in the transport and logistics sector, Tata Motors is best positioned to take advantage of the growth. With medium and heavy commercial vehicles, intermediate commercial vehicles, light commercial vehicles and small commercial vehicles in its product offering, the product diversity ensure that Tata retains its top position in the segment. It is also worth mentioning here that Tata Motors has a presence in the defense vehicle sector with logistics vehicles, tactical vehicles, armored vehicles and buses. Going forward, the defense sector will also serve as a prominent revenue driver in the commercial vehicle segment.
Stable Volumes Growth
Even with increased competition and a slowdown in India, Tata Motors has maintained stable volume growth in all segments of business.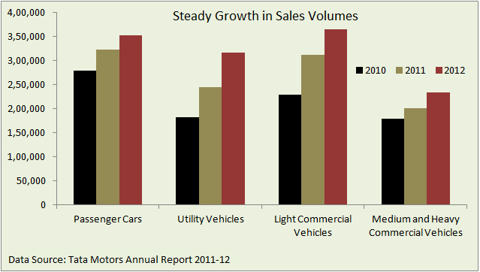 With the above discussed factors, it is very likely that volumes growth will sustain in the medium to long-term leading to growth in revenue for the company. Also, with interest rates having peaked out in India (in all probability), the auto sector should witness an increasing growth trend as lower interest rates prop up demand for vehicles. At the same time, reforms push in India will help growth across sectors (including logistics and transportation). I had discussed the reform push in India in an earlier article. All these factors combined will ensure stable growth for Tata Motors.
Sound and Improving Financials
The market strength and gains from product diversity and the acquisition is reflected in improving financials for Tata Motors.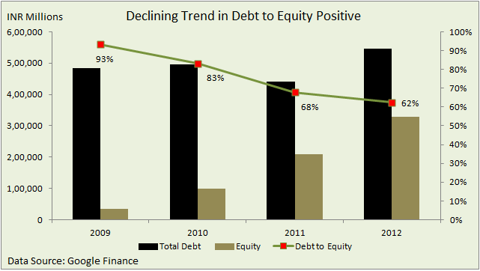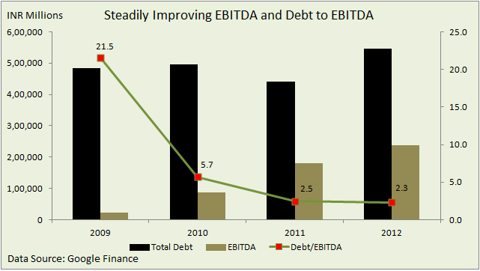 Besides a steady growth in revenue in the last four years, EBITDA has also improved significantly leading to an improvement in the debt to EBITDA metric. Further, the debt to equity has improved from a high of 93% in 2009 to 62% in 2012 giving Tata Motors more financial flexibility. Strong and improving operating cash flow is also a positive factor in overall robust financials for Tata Motors.
Challenges
Tata Motors' predominance in commercial vehicles will be challenged by the entry of international brands like Mercedes-Benz, Volvo and Navistar which have all entered, or are in the process of entering India. However, Tata Motors is taking a proactive approach by developing a new line of very competitive, fuel-efficient vehicles to meet the competition.
Further, in the Jaguar segment, Tata Motors will be offering cars with new higher-powered, more fuel-efficient engines to meet the customer preferences. New models of the Range Rover as well as a competitively-priced new line of rugged, lifestyle vehicles under the Land Rover brand are also scheduled to be launched. These new product launches will ensure steady market share and revenue growth.
Conclusion
Tata Motors looks attractive at current levels for long-term investment. The huge impending growth in India coupled with Tata's plans to expand into new Asian regions will fuel long-term revenue growth for the company. Tata Motors is currently trading at a PE of 5.9 with a five-year expected PEG of 1.4. I expect the forward PEG to look more attractive as the global economy gets back on track. It is difficult to assign any particular price target for the stock. However, investors can consider Tata Motors for their portfolio and the stock (in all probability) can be a catalyst for boosting portfolio returns.
Disclosure: I have no positions in any stocks mentioned, and no plans to initiate any positions within the next 72 hours. I wrote this article myself, and it expresses my own opinions. I am not receiving compensation for it (other than from Seeking Alpha). I have no business relationship with any company whose stock is mentioned in this article.