I will confess that I am somewhat a contrarian at heart. As such, the more something gets beaten down with the ugly stick, the more attractive I tend to find it. There is no question in my mind that one of the single most hated sectors in today's marketplace is steel - so naturally this is a sector that peaks my interest.
Steel - when I say the word my immediate thought is growth. I think of trains, planes & automobiles. I think of bridges, commercial construction and economic strength. I think of China. You can go ahead and say it - are you crazy? None of these things are working right now. In addition, steel producers are fighting a longer than expected economic US recovery, profits are impacted by higher raw material costs and whippy iron ore pricing and there is utter uncertainty in regards to macro global events. China is responsible for half of the worlds steel consumption and that does not exactly give steel investors the warm fuzzies. The steel sector was absolutely ravaged, and is now simply overlooked in favor of easier, less cyclical trades.
I think this is a mistake. I think the equity markets have forgotten that steel producers are willing to regulate their own market by choosing to increase and decrease available supply - meaning supply plays a larger role in pricing than in the past. I don't think there's been an announcement that we're suddenly going to have a glut of iron ore production, and I don't think the world is coming to an end anytime soon. I believe the US is in recovery process, and the global economies will follow and slowly recover. I think the steel stocks have been left for dead - and therein lies opportunity.
Let's take a look at the Market Vectors Steel (NYSEARCA:SLX). After the waterfall that was 2011, it has stabilized and has been trading in a range for the past 5 months without violating the low established in October 2011.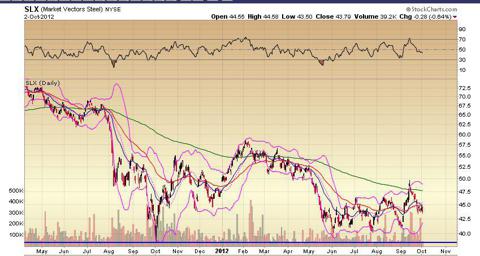 Bottoms are a process, and it appears to me that we are trying to put one in as we tested the 200ema, were rejected, but did not make a new reaction low. In fact, since that low we have entered into consolidation and have made a series of higher lows as we travel in the price channel. The price action within this channel has been predictable making for an easy trade if you are patient - buy the tag of the bottom bollinger band, sell the top of the band, rinse and repeat.
Most of the steel stocks share this chart pattern, so the choice of trading vehicle comes down to stock price and reliability of pattern. I favor A.K. Steel (NYSE:AKS) as not too much else can happen to it. It has been punished for having European exposure and has already eliminated its dividend. At $5.19, the bad news is definitely priced into this stock and sans bankruptcy it has pretty much nowhere to go but up.
A.K. Steel is one of those stocks that is small enough to hold in quantity, and it has a predictable trading range making it an attractive trading vehicle.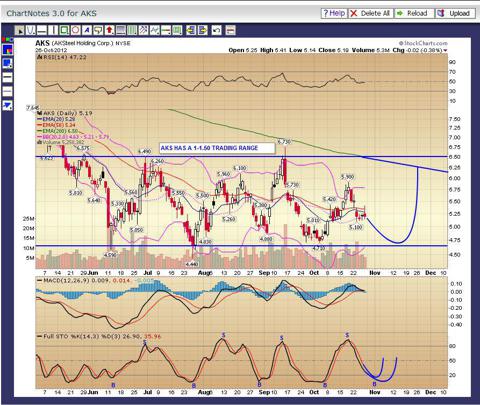 The trade is simple. Buy the stock when it is at the bottom of the range, or anywhere between $4.75 & $5.00 in multiples of 100, then add an odd lot of the size of your choice. For the multiples of 100 we are creating a covered call by selling the $4.50 calls of the current month (or next month if the premium warrants) generally taking in a premium of .60-.85 or better. As the stock has a pretty solid bottom in the $4.75 range, these generally get assigned or called away. For the odd lot, watch the stochastic cycle - as it peaks and crosses down breaking the plane of 80 (when red crosses black), sell the odd lot stock for a cash gain and buy again at the bottom.
I've notated the buy and sell signals on the full stochastic on the chart above - its been a pretty reliable little trade. To grow your position, you could also opt to sell front month puts in the $4.50 - $5.00 range which bring a decent entry and income - just remember that you sell the puts at the BOTTOM of the stochastic cycle, and NEVER SELL PUTS AT A STRIKE YOU DONT WANT TO OWN!!
Now, I won't presume to attach any political outcome to a sudden surge in steel prices, but there is the possibility that our elections will stir up interest again and China is not going to close up business and blow away in the wind...The patient investor will be rewarded with both stock price appreciation and monthly option income - a win-win situation for your portfolio.
Plan your trade, trade your plan & always use stops!
Suz
Disclosure: I am long AKS. I wrote this article myself, and it expresses my own opinions. I am not receiving compensation for it (other than from Seeking Alpha). I have no business relationship with any company whose stock is mentioned in this article.
Additional disclosure: MSCM and/or I may or may not have a position in this stock which may or may not be exited without advance notice. Data is provided for informational and educational purposes only and is not offered as investment advice. Timing of transactions can be critical to the success of a position. MSCM, its employees or owners shall not be liable for any errors or delay in the content, or for any action taken in reliance on any content provided within. Opinions expressed here are the sole opinions of the author and not representative of any firm view.