Philip Morris International's (NYSE:PM) recent quarter performance reflects that the company is being affected by rising regulations, health concerns and depressed consumer spending due to the recession. Sales volume of the company fell by 1.3%, however, to some extent, price increases offset the impact of the decline in sales volume.
Philip Morris International is a leading tobacco company and the second largest cigarette retailer of the world, after China National Tobacco Corp. which is a state owned company. It has revenues of around $31 billion. PM has a well diversified geographical revenue base and brand portfolio. The company's brand portfolio includes seven out of 15 popular international brands. The company sells cigarettes in more than 180 countries. It held approximately 16% share of the total international cigarettes market outside the US in 2011.
The company reported its financial performance for the third quarter of 2012. Earnings per share for the quarter were $1.32, down 2.2% compared to last year, and slightly missing the earnings estimates. Net income for the company fell by 6%, from $2.38 billion last year to $2.23 billion in the recent quarter. As the company has international exposure, strengthening of the dollar had a significant impact on the company's revenues and earnings. Excluding currency impact, adjusted diluted earnings per share for the quarter were $1.45, up by 5.8%. The company reported net revenues of $7.9 billion, down 5.3%. Net revenues for the quarter missed analyst expectations of $8.21 billion. Decrease in net revenues was mainly associated with a fall in volume and currency exposure. Excluding the currency impact, net revenues were up 3.5%, mainly driven by price increase. European Union net revenues were down 1.9%, whereas net revenues of Asia and Eastern Europe, and Middle East & Africa (EEMA) were up 2.4% and 9.4%, respectively, excluding the currency impact.
Operating income margin for the company experienced slight improvement in the quarter and increased to 46.7%, from 44.8% in 3Q 2011. This improvement was due to EEMA, for which reported operating income improved by 13%.
Cigarette shipment volume was down 1.3% for the quarter to 236.53 billion, as compared to 239.54 billion in 3Q 2011. The European Union experienced the highest volume decline of 8.1%, followed by Latin America and Canada, with a decline of 4.9%. On the other hand EEMA and Asia volume increased 3% and 0.6%, respectively.
Guidance:
The company narrowed its 2012 earnings guidance at a current exchange rate to $5.12- $5.18 per share, from previous guidance of $5.1-$5.2 per share.
Dividend and Share Repurchase:
The stock offers an attractive dividend yield of 3.8%. The regular quarterly dividend was increased by 10.4%, to $0.85 last month. Based on new quarterly dividends, the annual dividend rate is $3.4 per share.
The company is sharing its success with its shareholders via dividends and a share repurchase program. Recently, the 3 year share repurchase program, of $12 billion, concluded, and in August this year, the company initiated another 3 year share repurchase program of $18 billion. For 2012, the share repurchase target is $6 billion. Despite the fact that the company has strong cash flows, its aggressive dividend and share repurchase programs exceeded the free cash flow of the company in the recent past.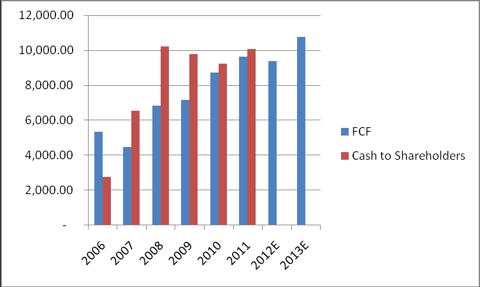 Click to enlarge
Source: Bloomberg and Qineqt's estimates .
Tobacco companies worldwide are facing hard times in terms of sales volume due to regulations and health concerns. Russia is expected to submit a bill on advertising and sponsorships. Along with that, the European Union crisis has depressed consumer spending which has had an adverse impact on cigarettes sales. This is evident by the fact that the company's sales volume in the European Union declined by 8%. To be able to deliver strong long term financial results, PM will have to work on alternatives to traditional cigarettes in order to cater to this potential market as regulations and health concerns for traditional cigarettes grow.
Disclosure: I have no positions in any stocks mentioned, and no plans to initiate any positions within the next 72 hours.
Business relationship disclosure: The article has been written by Qineqt's Staples Analyst. Qineqt is not receiving compensation for it (other than from Seeking Alpha). Qineqt has no business relationship with any company whose stock is mentioned in this article.