Novartis AG ADR (NYSE:NVS), based in Basel, Switzerland, provides healthcare solutions through researching, developing, manufacturing and marketing of a range of healthcare products led by pharmaceuticals. NVS has five main operating segments: branded pharmaceuticals, generic pharmaceuticals (through Sandoz), diagnostic and vaccines, eye care (through Alcon), and consumer health products. Despite the stagnant growth in the drug manufacturing industry, NVS is well positioned with diversified operating platforms and an industry-leading number of new potential blockbuster drugs. NVS enjoys a wide economic moat through strong intellectual property combined with an abundance of late pipeline products. NVS' near-term growth was impacted by patent loss on Diovan and manufacturing problems in the consumer division. However, the company's strong strategic position will support a steady long-term growth and it might be a good time for long-term investors to review this buying opportunity.
Recent Development and Fundamental Overview
On Oct. 25, NVS reported lower-than-expected third quarter sales due to the loss of a U.S. patent on its top-selling blood pressure drug Diovan and lower sales at its Sandoz unit, as reported by Reuters. Sales of Diovan, which went off patent in the U.S. on September 21, fell 32 percent in the third quarter to $969 million. NVA is banking on sales of its newest products, such as multiple sclerosis pill Gilenya and breast cancer drug Afinitor, to offset declines in Diovan. Recently launched products accounted for 29 percent of group net sales in the quarter, up from 25 percent a year ago. Another factor contributed to the sales decline was the manufacturing problems at the Lincoln manufacturing site in Nebraska, which continued to weigh on the Consumer Health division with 16 percent decline in sales to $938 million. Despite the short-term sales decline due to patent expiration of Diovan, NVS' plentiful pipeline should enable it to continue the solid growth. Strategically, NVS also produced its own generic through Sandoz unit to compete with the branded drug Diovan and had thus far held onto more than half of sales of the drug in the initial months of Diovan patent expiration, as reported by Bloomberg. By 2018, NVS might overtake Pfizer (NYSE:PFE) to become the leading drug maker by revenue due to its robust generics operation.
Long-term investors should also be aware of the aging baby boomers trend and increased drug shortage, where NVS is well positioned to ride the trend and to benefit from the increased demand, as written in my last article about Teva Pharmaceutical Industries (NYSE:TEVA).
From a fundamental perspective, with its current P/E of 17.2 and P/B of 2.3, as compared to the average of 17.0 and 2.8 in the drug manufacturer industry, NVS is currently fair valued. While the operating margin of 17.6% and the net margin of 14.8% are lower than the averages of 22.7% and 16.0%, we are optimistic about its revenue growth (3 year average) of 11.7, comparing to the average of 6.9. NVS' debt/equity of 0.2, comparing to the average of 6.0, along with its strong free cash flow, is providing strong support for its dividend yield of 4.08% at the current price of $60.84.
Short-Term Technical Analysis
As of Oct. 26, 2012, NVA closed at $60.84 with a 0.47% drop, with the volume of 1.53M, which was slightly lower than the 30 day average of 1.61M. Since Oct. 18, NVS had been declining from $64.07, a 52-week high, with a 5.04% drop. From a trend perspective, MACD (12, 26, 9) had been showing a bearish sign since Oct. 22 with increased MACD difference and by closing at $60.84, NVS had dropped slightly below its 50-day MV of $60.91. If NVS cannot hold above its 50-day MV, it should find further support levels at $59.17 (S1, pivot point) and $57.08 (S2, pivot point), as well as $56.36, 200-day MV. From a momentum perspective, RSI (14) of 42.26 is showing increased selling pressure. In the short-term, if NVS can hold onto its 50-day MV, we should see a technical rebound. Otherwise, investors will need to be patient for NVS' price to stabilize before setting up the long-term position.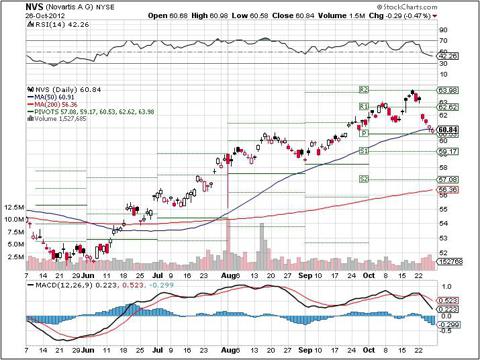 Source: StockCharts.com
Options Play
Long-term investors should definitely take a look at NVS' strategic advantages with its diversified operations in branded and generic drugs. For short-term traders, the near-term trend is still under pressure while NVS is trading at its 50-day MV. If NVS can hold above its 50-day MV, long-term investors who are positive about the outlook for the drug makers and confident about NVS' fundamentals can review the following credit put spread to establish positions for NVS at a further discounted price.
Short 1x Jan, 2013 Put at the strike price of $57.5 for the credit of $0.65
Buy 1x Jan, 2013 Put at the strike price of $52.5 for the cost of $0.20
The net credit receive will be $0.45 and the maximum risk/margin requirement is $4.55 (maximum $5 loss - $0.45 credit received), which yields 9.89% for the margin used if NVS closes above $57.5 on Jan. 19, 2013. If NVS falls below $57.5, our acquisition cost for NVS will be $57.05, which gives us a 6.23% edge as compared to the current price of $60.84. While the current annual dividend yield for NVS is 4.08%, long-term investors should review this approach through the above options play to purchase NVS' share with 6.23% discount and limited downside risk for the investing period of 3 months, provided if we do not achieve 9.89% return for the margin.
Note: All the prices are based on Oct. 26's closing and all calculations are before fees and expenses.
Disclosure: I have no positions in any stocks mentioned, but may initiate a long position in NVS over the next 72 hours. I wrote this article myself, and it expresses my own opinions. I am not receiving compensation for it (other than from Seeking Alpha). I have no business relationship with any company whose stock is mentioned in this article.