Stocks To Trade
Today, we are looking at an earnings trade in EOG Resources (NYSE:EOG), longs in Colgate-Palmolive (NYSE:CL) and Amgen (NASDAQ:AMGN), and shorts in Union Pacific (NYSE:UNP) and Cliffs Natural Resources (NYSE:CLF).
For an earnings trade, we like the looks of EOG Resources. The company has been very strong despite weakness in the market, and we believe it looks strong to break higher into earnings. The stock has a nice bottom at $110 that has held over the past couple weeks, and it is in a nice upward moving wedge. The company is expecting to see a nice 25% increase in earnings. The stock has been building a nice base off the bottom of that wedge, and looks good to test 117.50 before earnings. With weak oil prices, the strength in EOG is something to take note of, and we see that strength as due to earnings. We like going long over 115 and holding into earnings.
Trade: EOG, Long
Breakout Point: 115.00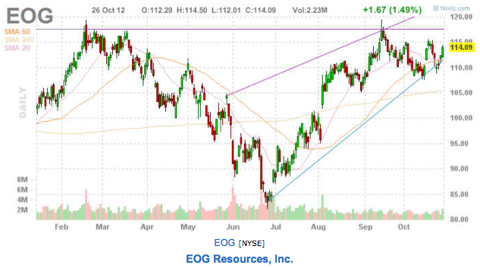 For longs, we like the looks of Colgate-Palmolive and Amgen. Two sectors that will do well in tougher market conditions are consumer staples and healthcare. We like the looks of CL. The company broke an upward channel, but stayed near it after earnings, and we believe the weakness may be an opportunity. The company met expectations, and said gross margin should meet expectations. Further, the company said that it believes its restructuring this year will be very beneficial to 2013. As the market comes under pressure, we will look for cash flow to move back into CL, and we like buying it on a break above 50-day MA.
Along with consumer staples, we have to expect strength will move into healthcare as well. One stock that continues to perform very well is Amgen. The company reported good earnings, beating expectations with an EPS report of 1.67 vs. 1.47 expectated. The company increased its FY12 view as well for EPS above consensus estimates, and we expect the stock to remain strong moving forward. The company has a nice upward channel with support at 85. We like a conservative options play for Amgen, as we expect it to remain strong for the rest of the year with the announced expectations above consensus.
Equity Trade: CL, Long
Breakout Point: 50-day MA
Options Trade: AMGN, Nov17, 82.50/80 Bull Put Spread
Max Gain: 11%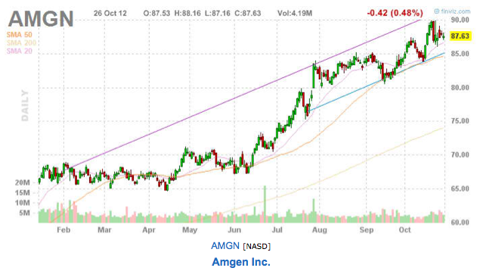 For shorts, we like the looks of Union Pacific and Cliffs Natural Resources. If the market is really ready to correct, transports and metals will be two of the key areas that will see continued outward cash flow. For UNP, we believe the stock could be a solid shorting opportunity on the break of 120. The company has an upward moving channel, as well as a downward moving channel converging together. The company had a decent earnings report in mid-October, but it has not gained since then and continues to weaken. With a weak market, transports tend to move lower, and we believe that below 120 is a nice spot to short UNP. UNP has been the strength in transports this year, and we believe that while the long-term execution of the company is solid, if the market gets sold off and it loses 120, it could be in for a large dip.
Additionally, CLF is looking very weak. The stock is in a strong downward channel after a very weak earnings report that saw the company miss expectations by nearly 50%. The company cut expectations for the year, and we do not foresee a lot of strength for it moving forward with a weak market and no company-specific catalyst. 45 has been a strong resistance line, and we like using it for a conservative bearish spread.
Stock Trade: UNP, Short
Breakout point: Break of 120.00
Options Trade: CLF, Dec22, 45/47 Bear Call Spread
Max Gain: 10%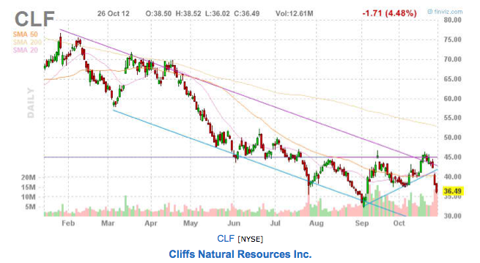 Tomorrow's Outlook:
Market closed tomorrow due to inclement weather.
Our Moves/Holdings:
We have the following positions:
In our Short-Term Equity Portfolio, we are long Deere (NYSE:DE) and Cree (NASDAQ:CREE). We are short Texas Instruments (NYSE:TXN).
In our Options Portfolio, we are long Capital One Financial (NYSE:COF), Intuitive Surgical (NASDAQ:ISRG), Urban Outfitters (NASDAQ:URBN), Discover (NYSE:DFS), and Wal-Mart (NYSE:WMT). We are short SPDR S&P 500 (NYSEARCA:SPY) and Proshares Ultra S&P (NYSEARCA:SSO).
In our Earnings Alpha Portfolio, we are long Allstate (NYSE:ALL) and Michael Kors (NYSE:KORS). We are short SPDR S&P and Salesforce.com (NYSE:CRM). We have a reverse iron condor in Chipotle (NYSE:CMG) and Netflix (NASDAQ:NFLX).
In our Goldman Sachs Up/Down Paper Portfolio, we are long CSX (NYSE:CSX), Teradata (NYSE:TDC), and Expeditors International (NASDAQ:EXPD).
Chart courtesy of finviz.com.
Disclosure: I have no positions in any stocks mentioned, and no plans to initiate any positions within the next 72 hours.
Business relationship disclosure: The Oxen Group is a team of analysts. This article was written by David Ristau, one of our writers. We did not receive compensation for this article (other than from Seeking Alpha), and we have no business relationship with any company whose stock is mentioned in this article.