Using Covered Calls to replicate dividends in a portfolio is a well understood and often used mechanism to increase yield. As part of my year-end planning, I will use Covered Calls to help protect key positions in my portfolio. This might seem counter-productive since a Covered Call demands that shares be sold if the option strike price is reached. However, 2012 is such a strange year, with too many threatening variables to sit idle and not take at least some protective action. Portfolio gains have been solid this year and I need to insure that I keep as much of those gains as possible. Adding Covered Calls to my year-end planning does put shares at risk for assignment, but in exchange I receive a premium. With the unknown tax situation and the looming fiscal cliff, selling profitable shares and taking some profit while getting paid a premium for doing it seems prudent and an acceptable risk.
To execute this trade I went through my portfolio and selected stocks that have had a sizable gain over their basis. I then calculated their yield and went to work evaluating Call options with strike prices that paid a reasonable premium but provided some measure of security for being called away. This trading tactic is not limited to dividend payers, but those are the stocks I want to protect the most. The second tier group of stocks that I am considering are those that have had big gains this year. My thesis is simple, I cannot judge the direction or impact of the pending market variables, so making money on key holdings is acceptable. If there is no fiscal cliff and taxes in 2013 are not significantly different, I have the proceeds from each stock sold to reallocate.
The table below shows the stocks and calls selected. I selected Call expiration dates based on premium and profit per company as well as technical trending and earnings estimates. There is not any reliable method I know of to project share pricing into the future. Setting the date of expiration out a few months is designed to leverage my assumption that pricing for these companies could decline as they react to various pressures. The basic assumption with the Covered Call Strategy is that there is not a known catalyst to drive stock pricing up for the companies selected within the time frame restriction.

EV Energy Partners LP: (EVEP)
EV Energy Partners, L.P. engages in the acquisition, development, and production of oil and natural gas properties in the United States.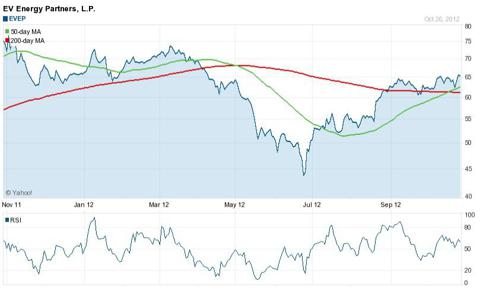 EV Energy Partners yields 4.7% and the Covered Call Option selected yields 3.84% the strike price is a 15.94% premium to the last trade price of $64.69 and the Call Option pays a premium of $2.25. Using a Covered Call will generate $2.25 for each option in 100 contract increments so for every 100 shares I covered, I get paid $225.
The objective of these trades is not to scale out of positions so I am not planning on covering more than 25% of the shares in any position.
Kinder Morgan Energy Partners, L.P: (NYSE:KMP)
Kinder Morgan Energy Partners, L.P. operates as a pipeline transportation and energy storage company in North America. Its Products Pipelines segment delivers gasoline, diesel fuel, jet fuel, and natural gas liquids to various markets.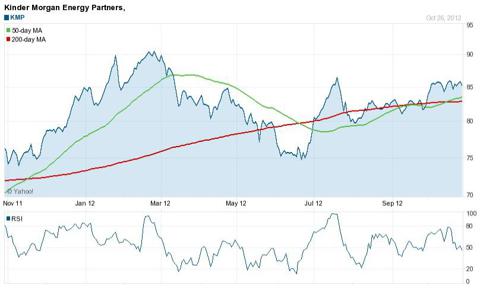 Kinder Morgan yields 5.67% and the Covered Call yields 2.2%. The strike price was set at a 5.26% premium to the last trading price of $85.50 and pays a premium of $1.90.
iShares Barclays 20+ Year Treasury Bond: (NYSEARCA:TLT)
The investment seeks investment results that correspond generally to the price and yield performance, before fees and expenses, of the Barclays U.S. 20+ Year Treasury Bond Index.
This ETF investment yields 2.83% and the Covered Call yields .74%. The strike price is set at a 5.61% premium to the last trading price of $122.15 and pays a premium of $.91 with an expiration date of January 2013.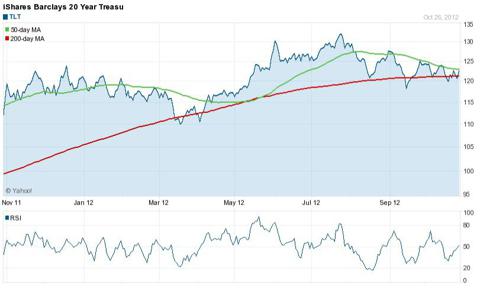 Weyerhaeuser Co: (NYSE:WY)
Weyerhaeuser Company, a forest products company, grows and harvests trees, builds homes, and manufactures forest products worldwide.
Weyerhaeuser yields 2.47% and the Covered Call yields 7.15%. The strike price is set close the last trading price of $27.29 reflecting a 1.06% premium of $1.95.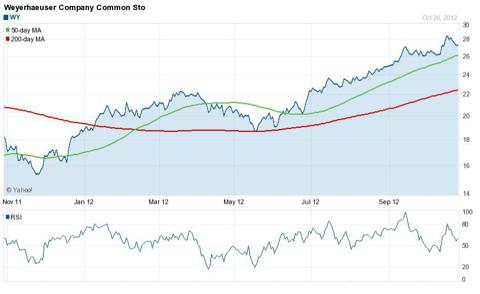 Freeport-McMoRan Copper & Gold Inc. (FCX)
Freeport-McMoRan Copper & Gold Inc. engages in the exploration, mining, and production of mineral resources. The company primarily explores for copper, gold.
Freeport-McMoRan yields 3.22% and the Covered Call trade yields 4.40%. The strike price is set at a 23.46% premium and pays $1.71 per share.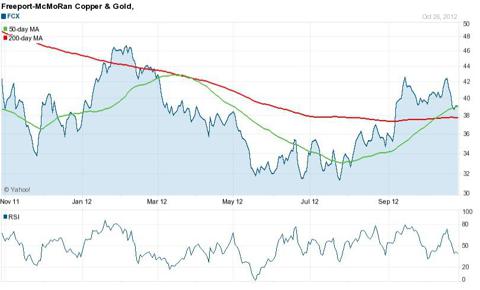 The end result of this Covered Call tactical execution is a total yield collected of 3.60% If all the selected stocks are called away, profits would be calculated per stock using the basis and the strike price, times the shares sold as the formula. My preference would be that none of the shares would be called away as I prefer to maintain current exposure and weight in the companies selected. The risk with Covered Calls is that precious shares will get called away reducing exposure in companies that I would rather not sell. With the uncertainties ahead, this is a risk that I view as acceptable.
Disclosure: I am long EVEP, KMP, TLT, WY, FCX. I wrote this article myself, and it expresses my own opinions. I am not receiving compensation for it (other than from Seeking Alpha). I have no business relationship with any company whose stock is mentioned in this article.