Note from dshort: In response to a request, I've updated this commentary with data through October 26th.
---
Here is a quick look the Nikkei 225 with an overview of the cyclical rallies and their duration during Japan's secular bear market, now well into its 22nd year. I've also included an overlay of nominal and real Nikkei performance and the pattern of inflation/deflation. And finally, we'll have a look at Japan's 10-year yield.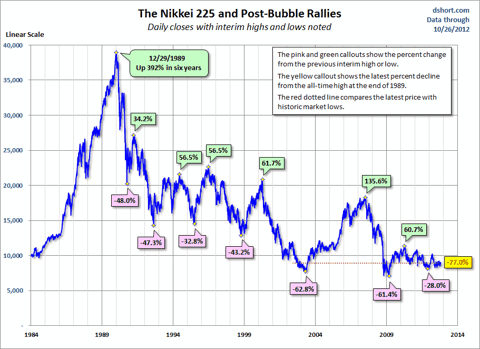 Click to enlarge
The table below documents the advances and declines and the elapsed time for the major cycles in the Nikkei.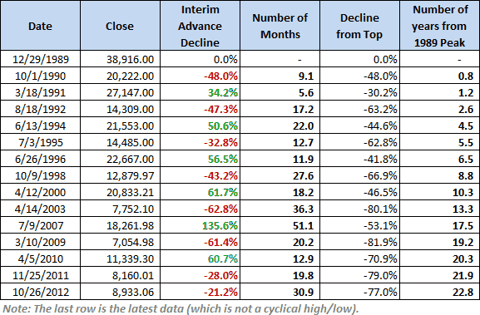 Click to enlarge
The Nominal versus Real Nikkei 225
For most major indexes, we expect to see a significant difference between the nominal and real price over a multi-decade timeframe. But Japan's chronic bouts of deflation have kept the two metrics rather tight. Note that I've used a log vertical axis for the index price to better illustrate the relative price changes over time.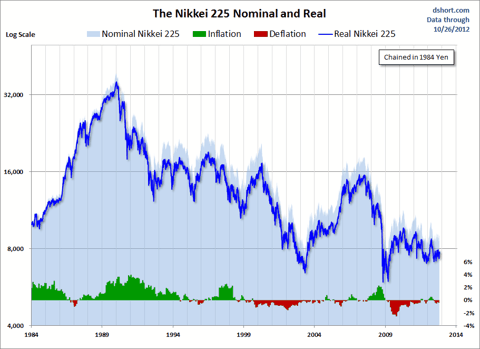 Click to enlarge
Japanese Bond Yields: How Low Can They Go?
Government bond yields in the safe-haven countries have been plunging of late. The lesson from Japan is that the trend toward lower yields can last a very long time. Here is an overlay of the nominal Nikkei (linear scale) and the 10-year bond along with Japan's official discount rate.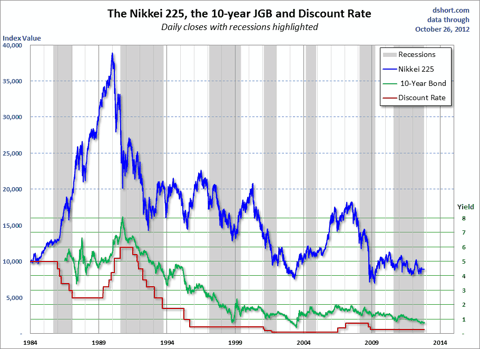 Click to enlarge
And here is a closer look at the 10-year yield over time.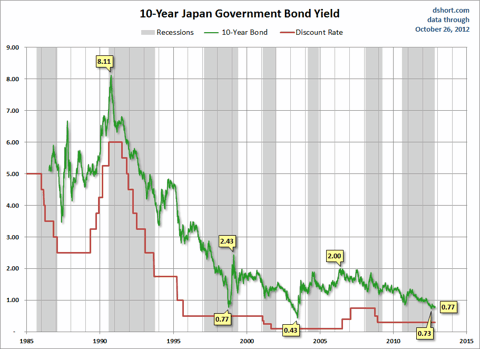 Click to enlarge
---
Note: The "recessions" highlighted in the third chart above are based on the OECD Composite Leading Indicators Reference Turning Points and Component Series. I use the peak-to-trough version of data (peak month begins the gray, trough month is excluded), which is conveniently available in the FRED repository. As we can readily see, the OECD concept of turning points is much broader than the method used by the NBER to define recessions in the U.S.