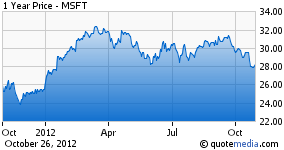 Microsoft (NASDAQ:MSFT) has not been the darling of the investment world over the past two years. After peaking close to $30 at the end of 2009, the stock price has remained relatively unchanged, selling today for a mere $28. Meanwhile the broader market has rallied, making Microsoft look like a bad investment. The good news is that now, the company represents an attractive investment in an otherwise overvalued market.
What Microsoft does best, if nothing else, is generate cash. The company's net profit margin is over 30%, and it's return on equity is over 30% as well, even though the company has very little debt. In 2011, the company spent just .28 a share on capital expenditures, while earning 2.69 a share in net income, according to Value Line. This gives Microsoft a lot of flexibility in the use of its 23B annual profit.
Rather than sit on this cash, as some of its high tech competitors tend to do, Microsoft returns this money to shareholders through generous dividends and share buybacks. The math becomes attractive when the valuation is combined with the payout policy. The company is cheap. At roughly 10x 2013 earnings, Microsoft sells far below the value of the S&P 500 which currently sells at close to 14x earnings. Because of this, the company payouts - dividends and share buybacks - represent significant yield for the shareholder at a time when yields are falling across the board. For the fiscal year ended June 30, 2012, Microsoft returned over 11B to shareholders, giving it an effective yield of over 4.5% based on its current market cap of 237B. It should be noted that the 4.5% doesn't do justice to the true yield, as fewer shares outstanding ever year means a higher effective dividend payout over time. A payment stream like this is known in finance as a growing perpetuity. This could increase the company's yield long-term, although more likely, it will support a continually rising stock price. With over 60B of extra cash on hand, this payout is very well covered for the foreseeable future, making the company resistant to economic shocks and downturns. If nothing else, Microsoft offers solid and stable income.
But the company does offer something else, and that is a strong platform for future growth. It has a virtual lock on the office market, with Word, PowerPoint, and Excel dominating their space. It also has the iconic Windows operating platform. As new releases of these well entrenched products hit the shelves in the near future, the company's bottom-line should benefit significantly.
The main struggle and frustration for Microsoft shareholders to date has been the company's inability to innovate. Given its dominance in the PC space, it seems surprising that the company is so underrepresented in the world of mobile and social networking. Facebook (NASDAQ:FB), Apple (NASDAQ:AAPL), and Google (NASDAQ:GOOG) have been cleaning up while Microsoft sits on the sidelines. But, this could change. With the release of Windows 8 for mobile on October 29th, Microsoft could break open one of the fastest growing technology markets. It holds a partnership with Nokia (NYSE:NOK) to produce the software on the mobile device maker's smart phones. To date, neither company has experienced much success from this venture. But, according to Business Week, the Windows 8 mobile platform promises to present a significant step-up from its lackluster predecessor. For the first time, Microsoft's mobile platform will use the same base programming code as Windows. With just a 3.5% share of the smart phone market, the company has a lot to gain from this successful launch. And as Research in Motion (RIMM) has shown, fortunes in this market can turn very quickly. At this stage for Microsoft, that means nothing but upside.
It makes sense that Microsoft's shares have been overlooked so far. The company's attempts to compete in emerging technology markets have been met with failure and the company is growing more slowly overall than some over big tech names. But, as its price has remained idle, its business has grown and the valuation has become more compelling. And, the company is starting to learn how to innovate better after its recent string of failures. The risk reward ratio presents a very attractive deal for the investor. At worst, the company is a cash cow, throwing off a generous annual yield. At best, the company is ready to break into some of the most lucrative markets out there. It's been a painful two years; and it's about time that investors took a look at Microsoft.
Disclosure: I am long MSFT. I wrote this article myself, and it expresses my own opinions. I am not receiving compensation for it (other than from Seeking Alpha). I have no business relationship with any company whose stock is mentioned in this article.