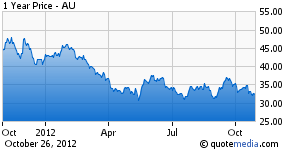 Current shareholders should continue to hold AngloGold Ashanti (NYSE:AU) for the long-term. Interested investors may consider the next few weeks as opportune entry point to initiate a position on the stock. AngloGold Ashanti's stock has been declining recently partially due to the uncertainty regarding the ongoing strikes at its South African assets. The strikes have come to an end, but not before adversely effecting production, causing AngloGold Ashanti to fall short of its initial third quarter guidance. Long-term outlook on gold remains bullish as its price continues to rise on the back of economic uncertainty and expectations of impending inflation in the long-term. Investors may benefit by initiating a position in early November as it's reasonable to expect a weak third quarter earnings release from AngloGold Ashanti.
Investors should consider Barrick (NYSE:ABX), Goldcorp (NYSE:GG), Newmont Mining (NYSE:NEM), and Agnico-Eagle Mines (NYSE:AEM) when reviewing AngloGold Ashanti's metrics. AngloGold Ashanti's price is around 8.07 times earnings, 1.8 times sales, and 2.2 times its book value. AngloGold Ashanti has the lowest price-to-earnings and price-to-book ratios among these firms; Newmont Mining's price is around 93.5 times earnings. Barrick's 1.6 price-to-book ratio is the lowest among these firms while Goldcorp's 6.7 price-to-sales ratio is the highest among the firms. Its annualized dividend is around $0.25 per share.
AngloGold Ashanti's $4.02 EPS is one of the highest among these mining firms, its 1601.5% EPS growth in 2012, is the highest among the firms. Its 7.6% projected EPS increase for 2013, is the lowest among the firms. AngloGold Ashanti's sales have increased 7.6% through the past five years. Its 33.08% ROE is the highest among these firms; its operating margin is around 34.2% and its profit margin is around 25%. AngloGold Ashanti's current ratio is around 2.7 while its debt-to-equity ratio is around 0.45.
AngloGold Ashanti's 0.39% float short and 0.80 short ratio are the lowest among these gold mining firms. Its beta is usually around 0.55 and is the highest among these firms; its average volume is around 1.84 million. Its market cap is around $12.4 billion, and it currently trades around $32.50 per share; the lowest per share among the aforementioned. AngloGold Ashanti's stock is down 22.5% YTD and declined 7.4% over the past month. In contrast, Agnico-Eagle Mines is up 55.4% YTD; it's the only one of these stocks with positive growth YTD and over the past month.
By the end of October, AngloGold Ashanti announced that the six week long unprotected strike at its South African assets finally came to an end through the issuance of an ultimatum. On the aggregate, AngloGold Ashanti was losing production of around 32,000 ounces per gold for each week the strike continued. Workers at three of the mines returned, and AngloGold Ashanti expects to ramp up production as soon as possible. The full impact of the strikes will be reported on the mining firms upcoming earning release expected on November 8th.
The ongoing unprotected strike and issued ultimatum eventually led to AngloGold Ashanti dismissing 12,000 workers from the South African mines. This move by the mining firm was effective in convincing 12,000 other workers to return to work at the Vaal River operations in the last weeks of October. The initial third guidance for gold production ranged from 1.07 million to 1.1 million ounces; on the latest production release AngloGold Ashanti reported third quarter production around 1.03 million ounces. According to reports earlier in the month, Standard & Poor is currently considering a downgrade to junk for this gold mining firm. In 2011, AngloGold Ashanti's twenty assets spanning Australia, the Americas, and Africa realized a total gold production of 4.33 million ounces.
Aside from the strikes in South Africa, third quarter gold production was also lower due to the inferior performance from AngloGold Ashanti's Obuasi mine. As part of a large restructuring program to increase productivity from this asset, AngloGold will terminate its underground development contract with Mining and Building Contractors in order to assume operational accountability. The projected cash costs for this quarter ranged from $835 to $865 per ounce. In the first half 2012, AngloGold's South African assets accounted for around 32% of total production, decreasing from 42% of total production YOY. The Vaal River operations account all of AngloGold's uranium production and 40% of its gold production in South Africa.
AngloGold Ashanti's first half 2012 sales and other income totaled $3.36 billion, increasing from $3.02 billion YOY. First half 2012 costs and expenses totaled $2.22 billion, increasing from $2.04 billion YOY. AngloGold Ashanti's first half 2012 net income totaled $714 million, decreasing from $723 million YOY. AngloGold Ashanti's first half 2012 long-term debt totaled $1.87 billion, increasing from $1.71 billion at the end of 2011. AngloGold Ashanti's first half 2012 gold production totaled 2.05 million ounces, decreasing 3% from 2.12 million YOY. Headwinds surrounding low grade yields in South Africa and Continental Africa as well as seismic activity disruptions were the primary catalysts behind the reduced production in the first half 2012. Continental Africa accounted for 41% of total revenue in the first half 2012, increasing from 37% YOY.
AngloGold Ashanti's moderate price per share, higher beta score, and potential for strong ROI make it an ideal candidate for initiating a position in this sector before the mining firms stocks start to coincide more closely with the price of gold. These mining firms become more attractive as gold prices continue to increase. AngloGold Ashanti shareholders may benefit from a strong uptick as market activity in the gold sector increases around 2013. Some analysts expect gold's price to reach $1,900 in the near term, $2,100 in 2013 and average over $1,800 through the next year. Gold's price has increased 12.9% on the year and around 4.5% YOY; increasing in gold mining firms like AngloGold Ashanti in the third quarter can be effective in capitalizing on the potential gold rally in the mid-term.
Disclosure: I have no positions in any stocks mentioned, and no plans to initiate any positions within the next 72 hours. I wrote this article myself, and it expresses my own opinions. I am not receiving compensation for it (other than from Seeking Alpha). I have no business relationship with any company whose stock is mentioned in this article.