Baidu (NASDAQ:BIDU) reported Q3 results on October 29th:
Key highlights:
Revenue: $994.6 million, +49.7% y/y
Operating profit: $524.6 million, +48.1% y/y
Diluted EPS: $1.37, +59.8% y/y
Online revenue customers: 390K, +28.3% y/y
Revenue per online marketing customer: $2,546, +16.8% y/y
What I Liked: Solid Results and Strong Customer Acquisition
Despite a combination of a macro environment that was weaker than 3Q11, growing PC to mobile shift and changes in competitive dynamics, Baidu continued to execute with an almost inline revenue growth and an EPS that beat consensus.
Customer acquisition was very robust, thanks to Baidu's experienced and efficient sales team. Total online customers reached 390K, +28.3% y/y and accelerating for the fourth consecutive quarter. Strong customer acquisition indicates that 1) Baidu is growing its customer base despite new entrants and 2) growing SME customer base lays a solid foundation for future monetization in mobile. In Q3, the top five spending customers are from medical/health care, education, travel, machinery and franchising. According to management, B2C sectors continue to grow steadily while B2B faces some headwind.
click to enlarge images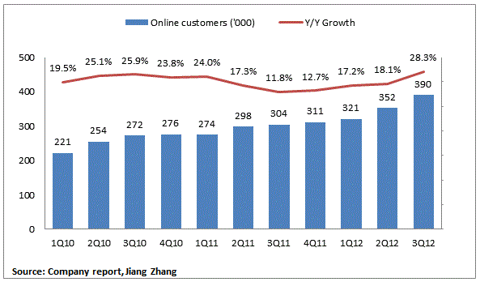 In addition, revenue per online customer climbed sequentially, +4.3% q/q, suggesting solid execution by the management.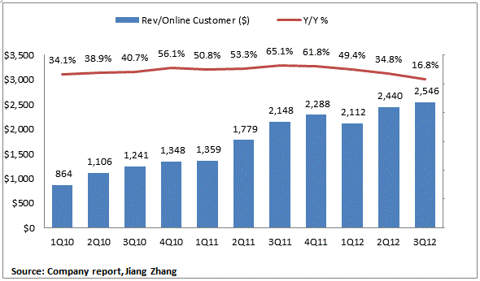 While I note that ARPU decelerated sharply on a year-over-year basis, investors should recall that ARPU was rather strong in 3Q11 due to hot money from ecommerce and group-buy companies. Since then, these sectors have cooled down a bit and I believe that Baidu's current ARPU is growing at a more sustainable level.
What Concerned Me: Revenue Miss and Weak Guidance, Slow Mobile Transition
Baidu's revenue of $994.6 million came in below consensus of $1.0 billion. In addition, the company guided $979 million - 1.01 billion in revenue for next quarter, below the consensus of $1.03 billion.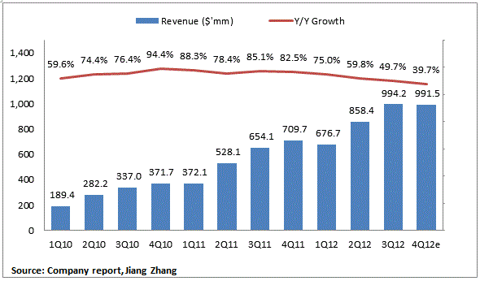 The revenue miss and the soft guidance may be due to growing competition from Qihoo. Back in August, Qihoo introduced its own proprietary search engine that immediately captured 10% of China's search traffic market. While I do not believe that Qihoo will be a long term threat to Baidu due to Baidu's superior search technology, proven track record and better user experience, Qihoo's presence and continued investment on it search engine could weigh in on Baidu's stock in the near term.
Like its global internet peers, such as Google (NASDAQ:GOOG) and Facebook (NASDAQ:FB), Baidu is also experiencing fast PC-to-mobile transition of its users. According to management, mobile traffic to Baidu increased at triple digit rate in the past quarter.
Transitioning from desktop to mobile monetizing will be a challenge in which I believe Baidu can overcome. Investors should recall that Baidu is no stranger when it comes to educating its customers and assisting them making the transition from one monetization platform to another. Four years ago, despite some skepticism from the street, Baidu masterfully developed, integrated and commercialized its Phoenix Nest system, which is currently the company's hallmark monetization platform. For mobile, I believe that Baidu can also successfully execute its monetization strategy.
In my view, Baidu's 10 plus years of search experience, proven management and strong brand among users will allow the company to overcome the current mobile and competitive concerns in long run. This transition period presents an attractive opportunity for investors, given that Baidu, which trades at its historical lows and 18x 2013e earnings, is starting to look like a value play.
Disclosure: I have no positions in any stocks mentioned, and no plans to initiate any positions within the next 72 hours. I wrote this article myself, and it expresses my own opinions. I am not receiving compensation for it (other than from Seeking Alpha). I have no business relationship with any company whose stock is mentioned in this article.