Questcor (QCOR) Q3 earnings was a great sequel to the previous two quarters and my bottom line is: I don't want my money back. There was a slow buildup of information that led to a climactic report of earnings and it didn't stop there. During the analyst question period, important information was provided that left me wanting more.
But the next day? The silence around the water cooler was deafening. What happened? Why aren't we at $100/share, or at least $50? Why isn't every analyst beating the Questcor drum? Why didn't we at least get a scrolling headline on CNBC -- after all this talk about the market returning to fundamentals and Questcor being one of the few companies that has steadily beaten earnings estimates!
"The Hangover III" (for release May 2013) may provide the appropriate analogy. As great as 3rd quarter earnings were, we just weren't ready to party the next day. Our head hurt, we were exhausted from all the negative headlines and quite frankly, what's the rush?
Well it's been a few days, so a review is in order ...
In my recent article (Questcor Earnings: Growth Rates, Catalysts, Citron and You ...), I discussed the upcoming positive catalysts and some of the headwinds that may affect stock performance. In this article, we will focus on the Q3 earnings report, selected technical indicators and expand on the impact of those positive catalysts.
Earnings
Questcor released their Q3 earnings report on October 23 and shareholders were elated. There was a 26% ($.20/share) earnings surprise. GAAP earnings were $.91, with Non-GAAP at $.97 against a net income increase of $15 million over second quarter.
Sales reserves for government rebates decreased slightly when compared to the sales increases. This may be in anticipation of the Medicaid rebate reduction from 100% to 23%, effective January 1, 2013. The estimated reserves currently held were steady. Moving forward these reserves are expected to be a reduced percentage of sales and therefore if growth continues, we may see a decline in the total reserves.
Policy Coverage
Questcor addressed one of the key questions on every investor's mind; the policy coverage headlines. Current investors have read the headlines regarding Aetna (AET), United Healthcare (UNH), Humana (HUM) and other insurance company updates on policy coverage.
For new readers of my articles, it is now widely understood that insurance companies update their reimbursement policy documentation, which then serves as the source document for marketing, member, provider and other external documents. Speculation and reporting based on those external documents is old news. Updates to reimbursement policy for 2013 were mostly complete by July with a few postings in mid September. So the results of Q3 were not surprising but rather expected.
It is also worth noting, the requirement for pre-authorization can be traced back for at least 2 to 3 years, with prior year reimbursement policy documents. Questcor indicated the pre-authorization step has been the norm since 2007.
I'll refer you to the full transcript for Questcor's response but in summary, there was no appreciable negative effect on sales or scripts from any change. neither did the environment change from previous experience.
Share Repurchase and Dividend
The number of outstanding diluted shares was reduced by approximately 2.7 million, according to the 10Q filing. Authorized future share repurchases have been increased to seven million shares.
The new initial dividend of $.20 with an ex-dividend date of 10/29/2012 was announced. Note, this dividend amount is subject to change in future quarters, but if you owned Questcor stock last Friday, you will receive the dividend November 15th.
Expanding Sales Force
The nephrology sales force expansion was completed in June and the 58 reps have been successful in generating new scripts. Nephrology will be the focus of Kidney Week, which start October 30.
The neurology sales force expansion was completed in August and now stands at 107 reps. Questcor indicated their job responsibilities include increasing provider awareness to identify appropriate patients for Acthar.
Anecdotal cases were discussed as examples of appropriate patient identification and it was mentioned that Acthar may have additional mechanisms of action based on research. Until recently, Acthar's mechanism was understood to mimic the adrenal release of corticoids as a response to ACTH in the body. This new research may add interesting data points to clinical efficacy and acceptance moving forward.
Prescription Reporting
Monthly reporting of prescriptions and shipped vials will end. Questcor will return to the industry standard of quarterly reporting. Why did they make this change? Here's why.
When nephrology indications were first being pursued, monthly reports were valuable to gauge the effectiveness of those efforts. Over time, arm chair analysts and shorts have tried to decipher small inflections in specific disease script levels. This "deciphering" added to the volatility of the stock price and did not accurately project actual performance. Disease indications, like muscular sclerosis, have fluctuating monthly prescriptions levels due to the unpredictable nature of exacerbations. Acthar is a two to four week treatment regimen for these unpredictable flare ups.
IMS may make aggregate prescription analytics available to subscribers and historical data available for everyone, but monthly data will not be provided by Questcor.
Research Article Published
Questcor CEO, Don Bailey, mentioned the publication of an article in the Multiple Sclerosis Journal, which discusses the mechanisms of ACTH action in the body.
I highly recommend investors read the article. It is written in a fairly easy style that non-medical professional should be able to get through. It's a good jumping off point for investors to continue their own research. There are 37 source references to explore, spanning 50+ years.
Here is a quick and meaningful excerpt:
"ACTH doses far exceed doses that maximally increase glucocorticoid release. Similarly, ACTH has benefited patients with nephrotic syndrome who failed corticosteroid therapy. Given these observations, the credo that the benefit of ACTH in MS rests on steroidogenesis merits reconsideration."
Until recently, Acthar's mechanism of action was understood to be the same as the adrenal release of corticoids; a response to ACTH in the body. In the picture below, the adrenal cortex production of corticoids was the understood mechanism.
Source: Multiple Sclerosis Journal Article
Shipped Vials
Questcor's accompanying presentation documented the number of vials shipped and the sustained growth for seven quarters running. When broken down by the three leading indicators, we saw sustained paid script growth in each: 335 for NS; 1291 for MS; and, 102 for IS.
Source: Questcor Form-8K
Stock Charts
Now on to some of the basic charts, for the technical analysts out there. The daily candlestick has demonstrated some indecision while reaching the 30 day moving average and we can see support of the 10 day moving average just below. The 50 day MA is the next target, which may show some resistance. It is in a downward slope and currently at $32.82.
The MACD signal is positive and heading toward the zero line but the Histogram has leveled off and slowed a bit.
Source: StockCharts
The P&F chart is showing a strong double top pattern breakout and we can easily see the bullish price objective of $46 on the horizon. Which raises the BIG question. When and how will we get there?
Source: StockCharts
Investigation
The investigation by the Eastern PA District Attorney, Zane David Memeger, is ongoing. There was no additional information provided.
However, the history of the DA's pharma related investigations is available, with five cases on the website. It may be worth an investor's time to research the cases and their outcomes. In my reading, I see where the FDA informed pharma companies of the off label marketing. That doesn't appear to be applicable here. There are also some examples of blatant off label marketing. Acthar has 19 FDA approved indications, so details of this investigation will be interesting, once released.
Did Citron Abandon Coverage?
Citron posted two blog entries, the week of October 14th. Both entries, presented rather vague speculation of future insurance coverage and were based on end user documents, instead of reimbursement policy documents. These blog entries were follow on to previous entries in July and September, as well as negative headlines regarding Oxford's update.
The last two blogs by Citron were discussed in my previous articles and detailed information may be found there. There were some interesting options action coinciding with these last two blogs. For example, there were high volumes of open interest for October 19th weekly options, at strikes ranging from 20 to 26. A large number of these were initiated with 3,000+ volume, when investor confidence was at a low.
On October 17th, with the release of Citron's negative blog, options volume spiked, but open interest declined. Over the next few days, the same action was observed, with open interest declining compared to volume. There were thousands of closed options heading into expiration and one last negative blog on October 19, resulted in the same pattern.
Similar options action may be observed with other expiry dates. It might be assumed that since these options were all opened during a negative sentiment time period (due to Aetna headlines), they, would be negative options bets. Additional negative blogs, should increase open interest.
However, the same options action was observed on 10/23, heading into earnings that were routinely expected to be strong. The majority of open interest was initiated during a negative sentiment cycle and after multiple earnings estimates were being published/updated, there were a large number of positions closed.
Judge for yourself. Historical options data may be obtained from EOD Data.
Citron also decided not to publish Wellpoint's (WLP) reported continuation of coverage for Acthar. Street Insider and a few other newsfeeds also provided little detail.
In fairness, I did not investigate the Wellpoint statement either, as it's neutral for long investors. There wasn't a direct quote or source reference and their policy was finalized last May. This is just not news, or rumor, that has any impact.
The Short's Dilemma
Short positions peaked at the end of September, with the largest positions reported for the year, of 25.7 million. By mid-October, there were approximately 500k short positions covered. When contrasted with the number of outstanding shares, over 40% of outstanding shares remain shorted and yet, none of the negative headlines negatively impacted Questcor earnings. Let's examine some of the short data points.
Source: Nasdaq Short Interest
The source of these large positions may very well be the shareholding funds themselves. Institutional ownership is high and they were probably hedging against the negative headlines that never truly materialized into fact or impact.
| | |
| --- | --- |
| % of Shares Held by Institutional & Mutual Fund Owners: | 113% |
| % of Float Held by Institutional & Mutual Fund Owners: | 115% |
Source: Yahoo Finance
Average daily volume has been declining since the Q3 earnings announcement, leaving little room for covering at these price levels. Very few shareholders appear willing to part with their shares.
Source: StockCharts
Since Citron's last two negative blog entries, daily short transactions have declined. Based on the negativity of those blogs, one might have expected more short transactions. Since Q3 earnings, an even steeper decline is seen.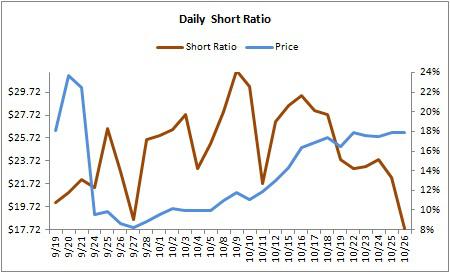 Data Source: FINRA Daily Reported Short Transactions
The short's dilemma here is simple; how to unwind these bets without driving the price to $100/share in one day. Daily volume is low, shareholders are confident in their long positions and analyst price targets range from $25 to $74, with the $25 price target an outlier.
Conclusion
In my opinion, Questcor is focused on creation of an environment more friendly to long term investors. Reducing monthly cherry picking of data points, adding a dividend and repurchasing a large percentage of outstanding shares, will increase confidence in both the share price and in positive cash flow.
Using the pre-earnings P/E of 12 (very low by industry standards) a share price increase to $42.96 is targeted, with the recent Q3 earnings of $.97/share and even a projection of flat sales for Q4.
Projecting historical average growth in Q4 and a completed share repurchase, $50 per share may easily be reached, retracing to the level previous to the Citron "news".
Those are conservative estimates, though. Before the recent headlines, the historical P/E averaged between 20 and 30 based on the aggressive growth. If the investigation headwinds were to subside and a more standard industry multiple were applied, Questcor may exceed $80/share in 2013.
I'm betting on it and so are other shareholders. We have not been discouraged by the recent spate of bear raids, publication of bogus news and those analysts whose price target changes inexplicably by the day, even though the fundamentals of the company have improved steadily.
Disclosure: I am long QCOR. I wrote this article myself and it expresses my own opinions. I am not receiving compensation for it (other than from Seeking Alpha). I have no business relationship with any company whose stock is mentioned in this article.