Linn Energy (LINE) has shown impressive third quarter results, with EPS of $0.45 beating analyst estimates by $0.16. Its superior financial performance is reflected in the 14% increase in profitability, 65% improvement in EBITDA margins, and 106% rise in average daily production. In our opinion, its high dividend yield of 7 percent and dividend payout of 60.5 percent makes it a good prospect for dividend-seeking investors. We believe the company is on the right track to achieve cost efficiencies, and its continuously increasing reserves portray its bright future profitability. Therefore, we reiterate our bullish stance on the stock.
Linn Energy is one of the largest U.S. oil and gas development, production and exploration companies. Its reserves have shown remarkable growth of 50% over the course of the last year, and a CAGR of approximately 65% from 2006 to 2012. It had recorded total reserves of 5.1 Tcfe till the end of first half of 2012, as reflected in the chart below. We assume the continuation of this reserve growth rate will enable the company to generate a sustainable amount of revenue in the coming period.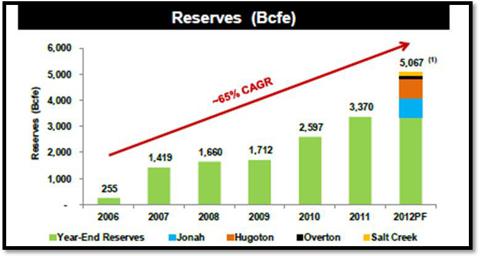 Source: Company website
The company's daily production has increased from 379 million cubic feet equivalent per day to 782 million cubic feet equivalent per day in the last year, due to its ability to locate a large number of gas reserves. In our opinion, the company will benefit from the increasing natural gas demand due to the start of winter season, and structural transformation from oil to gas.
The company has also strengthened its roots in oil drilling. It is currently engaged in the eight rig counts in the Hogshooter zone to cater to the upcoming oil consumption growth of 0.9 million barrels per day for the next fiscal year, as estimated by the EIA. Linn Energy has successfully completed drilling of its 12 Hogshooter wells in the current year, with the total production of 700,000bbl of oil. The company plans to drill 11 more wells by the end of this year, which will further increase its oil production volumes.
Due to the high uncertainty attached with oil and gas prices, the company's management has made the right move by hedging its 100 percent oil and gas production till the fiscal years 2016 and 2017. In this way, the company can mitigate its future risk and make its future cash flow much more predictable.
Stock Price Movement

Source: Google Finance
LINE has shown an upside of 6.5% over the course of the last six months. This is the only stock that showed an upside among its peers, as depicted in the graph above. The stock's 50-day and 200-day moving averages are $40 and $38, respectively. In our opinion, the stock will further move upwards based upon the following two key points; 1) the completion of its acquisition in the Jonah Field from British Petroleum (NYSE:BP) will enable the company to add 145 MMcfe per day of LNG to its total capacity production and take advantage of Green River Basin strategic location, and 2) the continuous increase in operational efficiencies will further improve its margins and sustain its high profitable position.
Valuations

Source: Yahoo Finance
LINE is currently trading at an EV/EBITDA of 7.6x, at a premium when compared to its peers Anadarko Petroleum's (NYSE:APC), Pioneer Natural's (NYSE:PXD), Forest Oil's (NYSE:FST) and Tengasco's (NYSEMKT:TGC) EV/EBITDA of 5.6x, 6.7x, 5x and 5.8x respectively. It is trading at price-to-sales of 7x, a forward P/E of 17.5x and EV/Revenue of 9.4x, which are higher when compared to its competitors, as is illustrated in the table above. However, due to the high growth rate, these valuations are justified. In our opinion, its operational efficiency strategy and future production growth prospects will help the company improve its valuations.
Disclosure: I have no positions in any stocks mentioned, and no plans to initiate any positions within the next 72 hours.
Business relationship disclosure: The article has been written by Qineqt's Energy Analyst. Qineqt is not receiving compensation for it (other than from Seeking Alpha). Qineqt has no business relationship with any company whose stock is mentioned in this article