A Look Back At Other Stock Market Closures
U.S. stock and options exchanges closed Monday and Tuesday of this week due to Hurricane Sandy. It is the first unscheduled, market-wide shutdown since September 11.
The last weather-related closing occurred on Friday September 27, 1985, for Hurricane Gloria, but the NYSE has closed to honor the funeral of presidents, world events and technical glitches. Here is a list of some of the rare NYSE closings:
- July 31 - November 27, 1914: Closed pending outbreak of World War I. Reopened for trading in bonds with price restrictions on November 28, 1914; for trading in a limited number of stocks under price restrictions on December 12, 1914; and for trading in all stocks, under price restrictions, on December 15, 1914. All restrictions were removed April 1, 1915.
- November 11, 1918 [MON]: Armistice signed
- 1929 - 1933: Numerous closings; due to market volatility
- August 15-16, 1945 [Wed-Thu] V-J Day. End of World War II
- November 22, 1963 [FRI]: Closed at 2:07 pm. Assassination of President John F. Kennedy
- September 27, 1985 : Market closed due to Hurricane Gloria
- October 23-30, 1987 [Fri-Fri]: Shortened hours following stock crash and record-breaking volume - 2:00 pm close
- September 11-14, 2001 [Tue-Fri]: Closed following the terrorist attack on the World Trade Center (longest shutdown since 1933)
Courtesy of Jill Schlesinger, Moneywatch
This is the first two-day weather-related shutdown of the markets since 1888.
We looked at these previous occurrences of market shutdowns going back 90 years (not using the multiple 1929 to 1933 closings) to see how the Dow Jones Industrial Average [INDU] [DJIA] (NYSEARCA:DIA) performed in the short-term when the market re-opened. The data is in the table below:

Click to enlarge
Obviously a small sample size here - but interesting to note that 4 of 5 times (80%), the market ended lower on the day it re-opened (compared to the previous close). Yet by 10 trading days later (approximately 2 weeks), 4 of times (80%) it was net higher. So it has shown a tendency to recover quickly after an unscheduled close.
The only one of these events that was weather-related was in September 1985 - you can see this is a rare occurrence for the NYSE to be closed due to inclement weather. So that is the most similar occurrence for comparison's sake - in 1985, the market was higher 1, 5 and 10 trading days after the closure. In addition, you can see on the chart below that the DJIA basically began a strong, consistent multi-month rally just after this closure:
DJIA Daily Chart 1985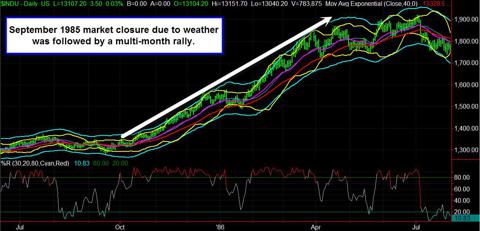 Click to enlarge
Perhaps the officials over-reacted by closing the market (NYSEARCA:SPY) (NASDAQ:QQQ) (NYSEARCA:IWM) down on Monday before the storm really hit - but it's part of the "better safe than sorry" attitude we see since Hurricane Katrina decimated New Orleans. This unusual two-day closure is likely to end with the market re-opening on Wednesday for October month-end, according to the latest reports.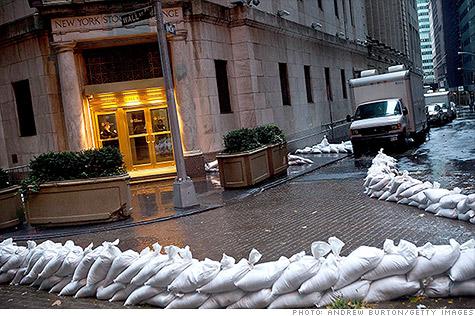 Disclosure: I have no positions in any stocks mentioned, and no plans to initiate any positions within the next 72 hours. I wrote this article myself, and it expresses my own opinions. I am not receiving compensation for it. I have no business relationship with any company whose stock is mentioned in this article.
Additional disclosure: BigTrends Rapid Options Income clients hold an open SPY Iron Condor position.