In the past, we have frequently commented on how highly leveraged Germany's banks actually are, with Deutsche Bank (NYSE:DB) an especially egregious offender. The last time we looked, its assets to net tangible capital ratio was about 52:1 (this information is by now a bit dated).
However, Deutsche is Europe's biggest bank, which of course means that it not only has a big cookie jar, but is also expected to enjoy the full support of the state. In the event of things going seriously wrong at some point, it is probably widely assumed to represent the quintessential "too big too fail" institution.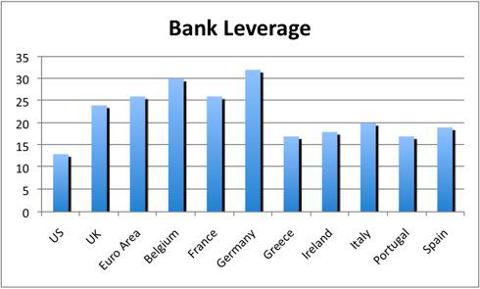 The chart above shows bank leverage overall by country -- Germany leads with a Lehman-like average (of course, Lehman was not backstopped by the central bank).
Back in March, Bloomberg reported regarding Deutsche Bank's assets and leverage after the Ackerman era:
Deutsche Bank AG adding assets as other lenders trim their balance sheets, leapfrogged France's BNP Paribas SA (BNP) to reclaim the title of Europe's largest bank.

Chief Executive Officer Josef Ackermann, who has called proposals to limit bank size 'misguided,' will leave behind a balance sheet about 40 percent larger than in 2006, and more than 80 percent as big as Germany's economy, when he steps down in May. The firm is the second-most leveraged and third-least capitalized of Europe's 10 largest banks, even after Ackermann boosted reserves and trimmed dependence on borrowed money.' (emphasis added)
So when Ackerman said he thought limiting the size of banks was "misguided," he really meant it and left behind the second most leveraged TBTF bank in all of Europe.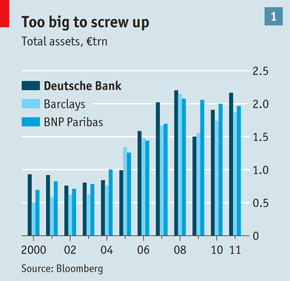 In the chart above, you can see Europe's biggest banks by assets: Deutsche, BNP Paribas, and Barclays.
Deutsche Bank's Accounting Practices Under Fire in German Press
Now it turns out that the bank's earnings numbers may have been tainted by somewhat questionable accounting practices. This is what independent banking analyst Dieter Hein of Fairesearch alleges in an article in Germany's Frankfurter Allgemeine Zeitung.
According to Hein's analysis, the investment banking unit's compensation costs were not properly accounted for. Since 1999, the unit has not even earned its cost of capital.
Hein reckons that deferred bonus payments in the investment banking division would lower the bank's earnings by 42% had they been accounted for. For the investment banking division itself, earnings would even be lower by two-thirds. To be fair, these bonus payments may yet be rescinded. However, Hein's estimate of €4 billion in deferred bonuses is a far cry from the €2.4 billion the bank itself recently admitted to.
Charts by IMF, Economist.