Strong cash flow and fat profit margins usually insulate the media industry during times of economic stress, but that may not prove to be the case in the current downturn because of secular pressures on traditional media as advertisers move to new platforms, according to Fitch Ratings.
In its inaugural "Credit Encyclo-Media" report, Fitch said higher-than-usual debt levels and depressed stock prices are exerting financial pressure in the current cycle, with some companies facing greater credit risk.
Those companies most at risk companies are highly leveraged and depend on local advertising, Fitch said, including newspapers, radio and yellow pages.
Some companies in these sectors are at risk of breaching covenants or not satisfying debt maturities. Stock prices have been down significantly, and there does not appear to be a catalyst for the pressured revenue picture to reverse itself, meaning that management teams could be under further pressure to consolidate or otherwise revise financial policies to the detriment of bondholders.
In contrast, Fitch said the outlook is stable for large diversified media conglomerates and especially for those with significant global exposure.
Fitch's new report covers 24 media and entertainment companies in the U.S. and provides an analysis of the degree of cyclicality for 21 different sub-sectors of the media industry.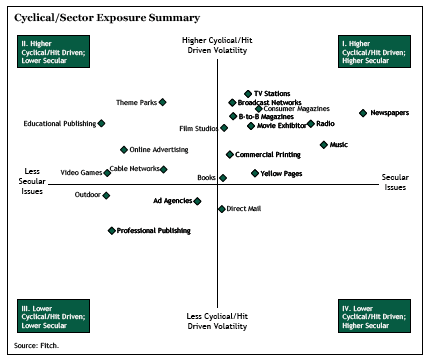 Fitch expects the Olympics and political advertising to boost ad spending in the second half of 2008, but notes that overall ad revenues are running below forecast so far this year.
Of the 24 media/entertainment companies rated by Fitch, 17 have a "stable" outlook, including CBS Corp. (NYSE:CBS), Time Warner Inc. (NYSE:TWX), and News Corp. (NASDAQ:NWS), five have a "negative" outlook or are on the watch list with negative implications, including Tribune Co., the McClatchy Company (NYSE:MNI) and R.H. Donnelley Corp. (RHD). The Interpublic Group of Companies (NYSE:IPG) holds the sole "positive" outlook on the list.