hhgregg (NYSE:HGG) is a regional appliance/electronics retailer that has been beaten down by over 60% in the last year. It operates all over the Eastern half of the United States. Investors are worried that the brick and mortar business model is dying, particularly in consumer electronics, and that HGG has a broken model. Its comp sales have been down for the last 3 years, Circuit City has failed recently, Best Buy (NYSE:BBY) is struggling and has also seen poor comps, Sears is on the ropes, and Amazon (NASDAQ:AMZN) has been putting up 20%+ comps. It doesn't sound good on the surface.
In the midst of this decline, HGG has actually expanded the number of its stores, some even into the old Circuit City stores. Certain analysts think that expansion like this is crazy because the comps are so poor and the business model is supposedly broken.
The chart below is a breakdown of HGG's revenue and comp sales in each category.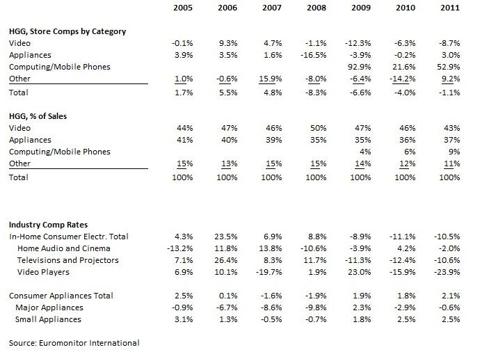 As you can see, the decline in comp sales is being driven by the Video category, HGG's biggest source of revenue. The following is the same breakdown for Best Buy. Notice that HGG does not sell many of the items in Best Buy's Entertainment category, that company's biggest decliner by percentage.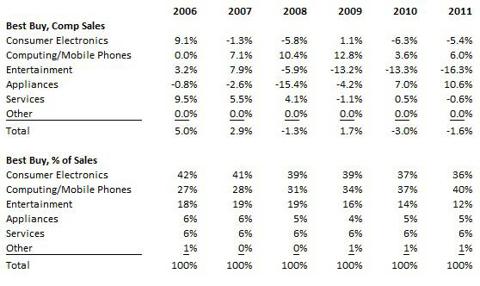 Now this trend of comp sales is not good for any of these companies and many people believe that Amazon is to blame. Amazon is notorious for not breaking down its revenues; the best gauge of Amazon's comp numbers is in its "Electronics and Other General Merchandise" category which encompasses virtually everything under the sun and doesn't particularly help the analysis. Amazon comps in this category are 20%+ year over year.
The real number to analyze is the electronic industry itself, also listed in the chart above, and how it has fared over the years. After all, it was very much tied to the housing sector where many people refinanced their home and purchased a big screen TV. See below for industry comp rates with an overlay of HGG's comp rates in the Video category and the Appliances category.
As you can see, the poor comps at HGG are being driven by poor industry comp rates and not necessarily by the likes of online retailers. HGG even looks less volatile than the industry over time in the electronics category. Further, evidence that Amazon has taken away significant business would show itself as the company posting comps that are significantly below that of the industry in every period. This is not the case.
Best Buy Aside
The above trend also applies to Best Buy, the biggest electronics retailer. You can see from Best Buy's numbers above that its Consumer Electronics category also tracks the industry trends. The Amazon effect might not be as strong as originally thought in this category, Best Buy's biggest division. However, it appears that the online competition is likely affecting its Entertainment category, which is not its primary sales category. This area encompasses DVDs and music and is probably being hurt by the likes of Amazon, Netflix, Apple iTunes, and the rise of DV-R technology.
There is something to be said about search costs and service. There is an idea out there that people browse the showroom, get the model number, and then go home to buy the item online at Amazon which is probably true in many cases. There is a cost associated with browsing, looking up costs online which may or may not lead to a real deal, and then buy the item online. You have a UPS guy bring the product instead of someone that can actually do the installation in the case of bigger items and the idea of service, in the event of a repair, is non-existent online as compared to a local dealer.
HGG is positioned where these bigger products that need installers and proper repair men make up a larger portion of its sales mix, thus helping to insulate the company from online competition. Of course Amazon might sell, for instance, a Mr. Coffee (a small appliance and definitely easier for the UPS guy to deliver than, say, a refrigerator) for a better price but HGG doesn't make the bulk of its money selling small items like Mr. Coffee or other small box/easy delivery items. Even still, there will always be a market for those people whose coffee maker just broke who just want to have a cup of coffee; they would rather run down to the local store, pick one up, not have to wait for Amazon to deliver it, and wouldn't mind spending a couple extra bucks just to be done with it. There are many product attributes that affect buyer behavior, price being just one of them. Therefore, the Amazon thesis seems to be limited.
Additionally, HGG is not even in the business of selling DVDs or music as big as a Best Buy; these are BBY's hardest hit comps. Although the Amazon thesis groups the company with Best Buy and Circuit City, its sales mix is different and more insulated from online competition than them. HGG offers same day delivery which is great for customers and probably better than what Amazon can offer.
Competitive Advantage
If you believe that HGG will be better able to weather online competition going forward compared to other retailers and that the poor comp sales are more explained by an industry trend instead of a competitive trend, it still does not necessarily qualify the company as a good investment. Other issues need to be taken into account. See below for a comparison of HGG to its competitors.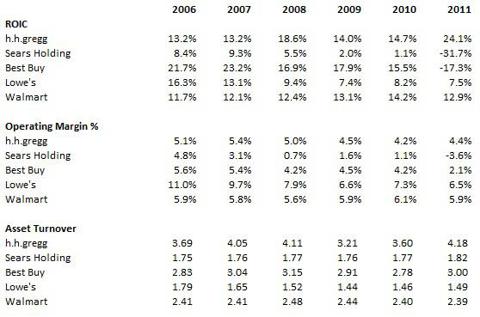 As you can see, HGG has a higher asset turnover than anyone that operates in a big box format, which is good if you are low cost leader, building a business on volume. Its ROIC is consistently above even Wal-Mart (NYSE:WMT).
HGG operates in clusters in a city which gives it competitive advantage. It opens multiple stores in a market to leverage the efficiency of its warehouse and supply chain. It also leverages advertising dollars in this way. The economies gained by clustering are reflected in a better gross margin as compared to competitors. All competition is local; the company's goal is to operate in markets where their scale within those markets gives them an effective cost advantage there. See the map of the clustering below; this is all about getting local economies of scale.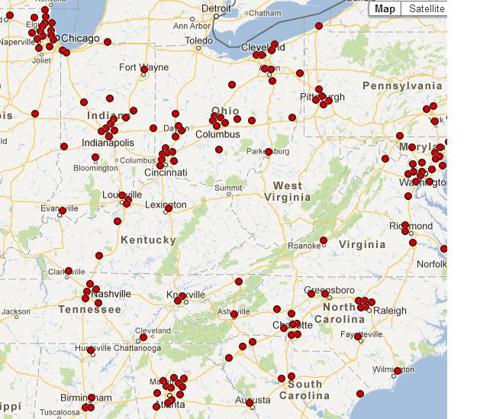 HGG supplements its price leader strategy with a great customer experience through great salesmen. The following is taken from Consumer Reports, July 2012.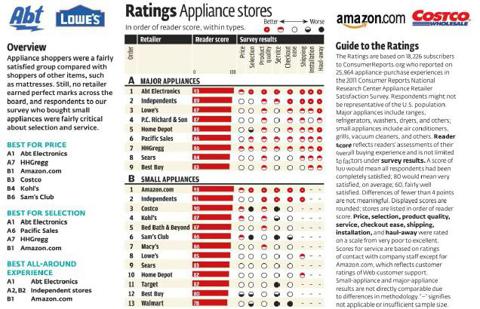 As you can see, HGG earned consistently good marks across the board compared to the competition in key areas.
Valuation: No Valuation Needed
A buying opportunity has been created because recent comparable sales numbers are not good at all. In fact, many investors believe that these numbers reflect the demise of brick and mortar and therefore believe the business model to be broken. However, an analysis of the in-home consumer electronics industry and appliance industry per above will reveal that the industry is on a downward trend which is the real driver for the poor comps. This is good news in the sense that it shows that HGG (and Best Buy at least in their biggest category) is not having their lunch eaten entirely by another competitor (i.e. Amazon) as originally thought; everyone is suffering in this category. The market is pricing a "left for dead" company; if you can support a reason why this is not the case, then you don't need a full valuation to know that the stock is undervalued.
The million dollar question then becomes: where does this downward trend in in-home electronics and major appliances end? Consider the following:
As you can see, the per capita and household spending in real dollars on in-home electronics and appliances is declining to pre-housing bubble year levels. Flat-screen TVs are not the trendy thing anymore; smart phones fill that role. It is not surprising that these categories are tightly correlated to the housing sector as people in the bubble years refinanced their home and bought high ticket home items. Based on the trend in this chart, the recent stabilizing of the housing sector, and because total households will likely increase as a result of people moving back out onto their own, I expect the decline in in-home consumer electronics and major appliances to bottom out in the next few years. This will stop the declines at HGG and other consumer electronics sellers.
To the chagrin of some analysts, HGG will continue adding stores which will likely improve its SG&A expense over time as it takes advantage of operating leverage. As a percent of sales, SG&A in future years will likely decline as a result of this better absorbing of fixed costs, improving profitability.
HGG has strong financials and will benefit from the failure of its competitors as it did with Circuit City. As demonstrated above, HGG is more competitively viable than many of its rivals, especially Sears (NASDAQ:SHLD). Sears, at one time, was the mainstay where the middle class bought its appliances. However, there is a larger than negligible probability that Sears will go bankrupt in the next few years. This will be a very significant development for HGG particularly as it relates to major appliance sales if it happens.
The company is trading at a P/E of 2.89 (not a typo) and a P/B of 0.64. The stock has declined almost 60% in the last year as investors, despite profitability levels, do not believe that the business model can survive. A closer look will reveal that the comps are poor based on the poor comps in the entire in-home consumer electronics industry and appliance industry as a whole, which is tied to housing. That trend appears to be bottoming out. If you believe this explanation and believe that the Amazon effect is overrated, this is a strong buy of a well positioned company at these levels. You don't need to do a full valuation to tell you that this company is undervalued at these levels.
As an added bonus, the company, as of May of 2012, authorized the repurchase of $50 million in stock, in addition to previous purchases. That is 23% of the market cap at its current valuation level.
Disclosure: I have no positions in any stocks mentioned, and no plans to initiate any positions within the next 72 hours. I wrote this article myself, and it expresses my own opinions. I am not receiving compensation for it (other than from Seeking Alpha). I have no business relationship with any company whose stock is mentioned in this article.