Although I believe in Amazon's long-term business opportunity and profit potential, I do not view the current pricing or profit situation as a responsible use of investment funds. I do not want to own Amazon shares until profitability emerges and is consistent for at least a couple of quarters. But there is a good opportunity to profit now from Amazon while I wait for a reasonable entry point.
The recent quarterly earnings, or in the case of Amazon a lack of earnings, offers a unique trading opportunity for profiting on Amazon through the holiday season. Amazon has a market cap of $107.92 billion and carries a Yahoo estimate of $272.60 with a PE of 2,836.19: no that is not a misprint. There is no dividend and earnings per share is $.08.
Given the stocks performance following earnings of gaining nearly $15 points after announcing a loss for the quarter, and missing estimates, I'm not sure estimates mean much in the case of Amazon share pricing.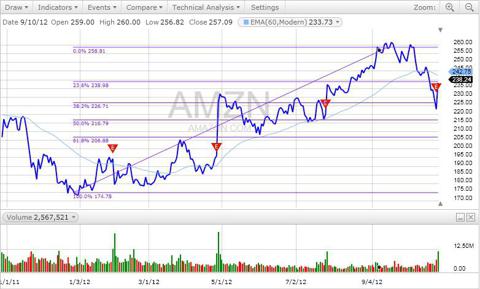 Click to enlarge
Importantly, holiday sales should prove to be a catalyst for Amazon shares. Selling To Open long dated Puts now will capture profit and provide enough breathing room to minimize risk. Selling a Cash Secured Put to open a position provides the seller with a premium that carries the obligation to purchase shares if the strike price is met. The risk is that if the share price drops below the strike price shares would be purchased at the higher strike price.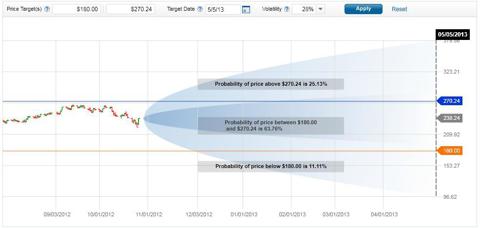 Click to enlarge
January 2014 Puts are priced today at $18.00 with a strike price of $190. This means that for each contract traded I receive $18.00 per share in lots of 100. The risk is that by January of 2014 Amazon will be trading under the strike price of $190 in which case I would be assigned shares at the strike price even if shares were trading lower. I view this as an acceptable risk reward profile. This trade also provides time and flexibility. Selling to Open Put orders return price decline,s as the share price increases. This inverse relationship is important for my Amazon thesis since share value seems immune to market logic that typically demands that share pricing reflects profits. This dynamic works to support this trade and offers multiple ways to help control risk. To close a Sell To Open Put order you are required to buy back your position. If Amazon has a strong holiday sales season share pricing should escalate pushing the price of the Cash Secured Put lower.
Sell To Open Put orders are secured with cash when the option order is opened. I will buy back at least part of my position and eliminate some risk and exposure if Amazon has a strong holiday sales season. In this scenario I do not keep the entire $18.00 per share premium. The dating out to January of 2014 keeps time pressure to a minimum and allows tracking of option value and share pricing. If share price plummets it is possible to buy back shares at anytime and redo the trade with January 2015 expiration. This exercise moves the timetable out even further and offers at least a little cushion in case of a surprise decline. January 2015 Puts were trading today at $25.10 with a strike price of $180. If I roll over a Sell to Open Put position I typically attempt to lower the strike price as I move the expiration date forward.
This trade puts some money in the bank for the holidays and allows profits on a company that I do not want to own right now.
Disclosure: I have no positions in any stocks mentioned, but may initiate a short position in AMZN over the next 72 hours. I wrote this article myself, and it expresses my own opinions. I am not receiving compensation for it (other than from Seeking Alpha). I have no business relationship with any company whose stock is mentioned in this article.