On Monday, October 29, American Capital Agency Corp. (NASDAQ:AGNC) reported Q3 income of $1.3 billion or $3.98 per share, and net book value of $32.49 per share. On a per share basis, this is an increase to book value of $3.08 per share, from the last reported book value of $29.41 at the end of Q2. AGNC's estimated taxable EPS for Q3 was $1.36, a $0.26 decline from Q2. See the chart, below, showing AGNC's comprehensive EPS, estimated taxable EPS and dividend per share for each of the last five quarters (all charts are from AGNC) (click to enlarge):

American Capital Agency buys mortgages that are backed by federal agencies, and which come with an implied government backing, but no guarantee. Other well-known agency mREITs include Annaly Capital Management (NYSE:NLY), which is the largest publicly mortgage REIT, and Hatteras Financial (NYSE:HTS). Index funds for mREITs include the iShares FTSE NAREIT Mortgage REITs Index ETF (NYSEARCA:REM) and the Market Vectors Mortgage REIT Income ETF (NYSEARCA:MORT), though these ETFs also hold REITs that invest in non-agency backed securities, as well as some commercial mortgage paper.
These mREITs generally hold leveraged portfolios of agency-backed securities and attempt to make income on the spread, or margin, between their borrowing costs and the interest paid by those agency RMBSs. Most mREITs have also generated significant gains due to agency RMBS appreciation over the last several years. AGNC's book value increased by $3.98 over the last quarter, and $5.59 over the last 12 months. See a AGNC's reorted book value for eacxh of the last five quarters (click to enlarge):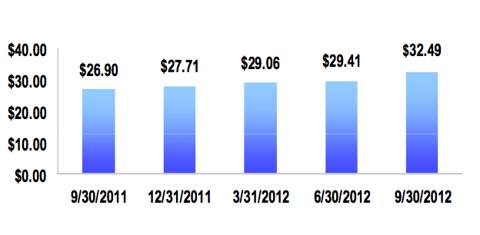 These mREITs also generally pay out substantial dividends that are taxed as income and not at the lower corporate dividend rate. On September 11, AGNC maintained its quarterly dividend at $1.25 per share for the third quarter of 2012. On February 6, AGNC had announced a dividend policy cut, lowering the quarterly payout to $1.25 from 1.40 per share. Prior to that 10.71% reduction, AGNC had maintained its prior $1.40 dividend for ten quarters. This report appears to indicate that AGNC will likely maintain its prior $1.25 payout rate for the fourth consecutive quarter. Based on its current share price, AGNC has an annualized yield of about 15.6 percent.
American Capital Agency also noted that its leverage rate at the end of Q3 was 7.0x, and that its average leverage rate throughout the quarter was 7.1x. AGNC reported a leverage ratio of 7.6x at the end of Q2, down from 8.4x at the end of the first quarter, which was then the lowest leverage rate AGNC had reported in over a year.
AGNC average net interest rate spread for the third quarter was 1.42%, a decrease of 23 basis points from the average Q2 spread of 1.65%. At the end of Q3, AGNC's net interest rate spread was 1.50%, a decrease of 12 basis points from the 1.62% net interest rate spread at the end of Q2. See AGNC's spreads over the last five quarters (click to enlarge):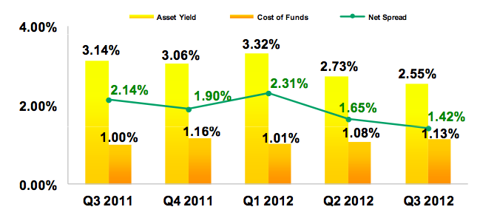 AGNC's actual constant prepayment rate during the third quarter was 9%, a decrease from 10% during both the first and second quarters of 2012. Most of AGNC's peer agency mREITs sustained far higher CPRs during the first half of 2012, indicating that AGNC has been competently managing its portfolio in order to mitigate both its leverage and prepayment risks. Last quarter, AGNC had noted that the mREIT
"repositioned the portfolio during the quarter into lower coupon MBS and lower loan balance and HARP securities, which are less susceptible to prepayment risk, reducing the impact of the decline in long-term interest rates on the Company's prepayment forecast."
In its Q3 report, the company added that its low CPR rates
"clearly demonstrate the benefits of active portfolio management, especially in an evolving landscape. Looking ahead, we believe prepayment speed increases will remain muted on our portfolio despite today's record low mortgage rates and the Federal Reserve's third quantitative easing program, commonly known as QE3."
AGNC also announced that its Board of Directors authorized the repurchase of up to $500 million of its outstanding shares through December 31, 2013, but that
"it would be its intent only to repurchase shares when the repurchase price is less than its estimate of the current net book value of a share of common stock. When AGNC purchases its stock at a discount to book value, it increases the per share book value of the remaining shares."
Such a repurchase plan appears highly comparable to the repurchase plan announced by Annaly Capital Management about two weeks ago, to repurchase up to $1.5 billion of its outstanding shares over a 12-month period. These plans are noticeably different and quite contrary moves compared to the standard serial secondary stock offerings generally made by mortgage REITs.
AGNC's current market price is about $32, while its last reported book value was $32.49, meaning that the company may already be willing and able to repurchase shares under the plan so long as AGNC's book value has not declined since the end of Q3 by more than fifty cents. Since the start of Q4, AGNC shares have declined by about 7.5%, or about $2.60 cents.
Disclosure: I am long NLY. I wrote this article myself, and it expresses my own opinions. I am not receiving compensation for it (other than from Seeking Alpha). I have no business relationship with any company whose stock is mentioned in this article.