The mantra continues to be that "cash is king." This mantra highlighted companies with cash on the balance sheet and generating strong cash flows, but it placed no emphasis on the use of that cash. Now after years of absurdly low interest rates, those companies hoarding cash might soon find out that using that cash for an accretive deal might rule the previous king.
Prior to the market open on Monday that never happened due to Hurricane Sandy, Riverbed Technology, Inc. (NASDAQ:RVBD) announced the deal to purchase OPNET Technologies, Inc. (NASDAQ:OPNT) for cash and stock. The deal provides Riverbed with more access to the application performance management (APM) sector and ties in perfectly to extend the network performance management (NPM) of Riverbed's Cascade product.
Not only does the deal make for a strategic fit that provides access to a multi-billion dollar sector, but the company is able to use cash on hand and cheap debt to turn the deal into a very accretive transaction.
This deal adds to the recent strong earnings report (see article here) to set up Riverbed for a strong 2013 and beyond.
Deal Highlights
Riverbed agreed to pay $43 in cash and stock for OPNET, representing a value of $1B and an enterprise value of $921M.
OPNET stockholders will receive for each OPNET share they own: (i) $36.55 in cash; and (ii) 0.2774 of a share of Riverbed common stock. The cash portion of the offer consideration will be financed through Riverbed's existing cash on hand and new debt.
The transaction is expected to be accretive to Riverbed's 2013 earnings per share on a non-GAAP basis. Riverbed expects to be able to leverage the brand and channels to add meaningful revenue and operating synergies in 2014.
OPNET Q3 Highlights
OPNET reported Q3 2012 earnings along with the announcement of the merger. The company reported solid revenue growth of 12% though the $47.0M missed analyst estimates of $47.9M. Earnings were down over last year due to higher costs. These numbers also missed the estimates of $0.24.
Naturally the company didn't provide a lot of details due to the pending merger and early reporting. Very possibly though, the missed numbers pushed OPNET to accept the deal.
Deal Numbers
The main reasoning for the deal is that Riverbed can utilize the $670M cash hoard and strong cash flow generation to fund a majority of the deal. The company can take cash earning virtually nothing and turn it into earning assets.
The deal calls for the issuance of 7M Riverbed shares accounting for around $150M of the value. The rest of the deal or around $850M will be paid for via cash on hand and debt financing. The company suggested that it would borrow $500M leaving itself with around $300M in cash after the deal is finalized.
In essence, the OPNET business line needs to generate enough income to pay for the extra interest costs from the debt. The company was forecasted to generate nearly $30M income in 2013 prior to any benefits from this deal so it won't take significant synergies to quickly turn this deal into major accretion.
At a 5% interest rate, the deal will cost $25M per year in interest costs for the debt and possibly $3-4M in lost interest income. The company didn't guide to any specific synergy numbers, but any additional sales or income would immediately be accretive. Not to mention, the company can quickly pay down debt with cash flow to reduce the interest costs.
Competition
The company expects to out grow the APM market by taking market share in a fragmented market. Gartner lists Compuware Corporation (NASDAQ:CPWR), BMC Software, Inc. (NASDAQ:BMC), and International Business Machines Corporation (NYSE:IBM) as leading competitors. The below chart provided in the deal presentation shows OPNET as a leader in the group: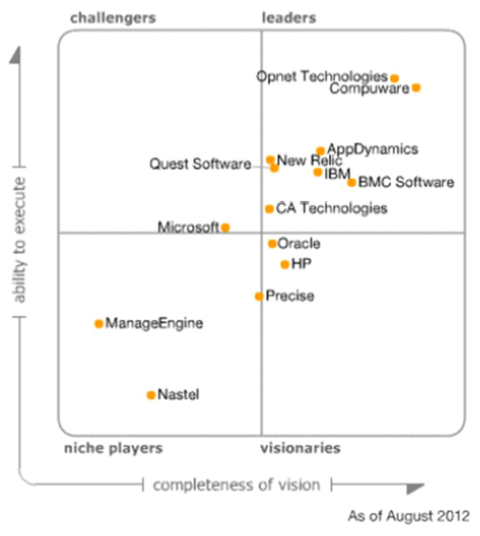 Conclusion
With the market closed for the first two trading days after the deal announcement, it is difficult to know how Riverbed's stock will react at the open on Wednesday. Ultimately, an accretive deal should be seen as very attractive to investors. Utilizing inefficient cash to create significant revenue gains by 2014 has to be seen as very appealing.
Hoarding cash is no longer an acceptable corporate strategy. Stocks of companies making accretive deals should rule the market in the next couple of years.
Disclosure: I am long RVBD. I wrote this article myself, and it expresses my own opinions. I am not receiving compensation for it (other than from Seeking Alpha). I have no business relationship with any company whose stock is mentioned in this article.