Seeking Alpha Market Currents recently reported that Ares Capital's (NASDAQ:ARCC) coverage is resumed at JMP Securities with an Outperform and a price target of $19. No details are available, but JMP surely notes what owners of Ares know (see Q2 earnings transcript): Banks dealing with slimming interest margins, weak loan growth, and a heavy regulatory foot are giving up a lot of territory to BDCs like Ares.
I agree and as I continue to watch the market turmoil, I have changed direction for a portion of my portfolio looking towards large dividend producing stocks as well. Not big news since this has been a trend with interest rates so low. Ares Capital is one stock that has had a consistent dividend since 2004. The company is a member of the Russell 3000, giving it special status as one of the largest 3,000 companies on U.S. stock markets.
Ares Capital Corporation is a specialty finance company that provides integrated debt and equity financing solutions to U.S. middle market companies. It invests primarily in first and second lien loans and mezzanine debt, which in some cases includes an equity component like warrants. To a lesser extent, it also makes equity investments. The company seeks current income and capital appreciation through its debt and equity investments. It seeks to originate investments in market-leading companies with a history of stable cash flows, proven competitive advantages and experienced management teams. The company's strategy is to serve as a lead agent or investor in order to optimize due diligence and capital structure as well as enable active monitoring of the investment. As of June 30, 2012, its portfolio was valued at approximately $5.5 billion, invested in 144 portfolio companies and backed by 87 different private equity sponsors.
Ares Capital is a closed-end, non-diversified management investment company that has elected to be regulated as a business development company (NYSEARCA:BDCS). BCDs came to be in the 1980s to provide public investors another means to invest in the long-term growth of private U.S. businesses. BDCs invest their capital primarily in small and middle market private companies in the U.S. Typically, BDCs are structured to originate and hold debt and equity investments to maturity and can invest across a portfolio.
In order to qualify as a BDC, companies must register in compliance with Section 54 of the Investment Company Act of 1940. Among other restrictions, BDCs are required to maintain an asset coverage ratio of at least 200% in order to borrow or pay dividends and to meet specific asset diversification requirements. In addition, BDCs that are regulated investment companies for U.S. federal income tax purposes, such as Ares Capital, are required to distribute at least 90% of investment company taxable income to shareholders in order to avoid corporate income tax on distributed taxable income.
During its recent equity offering Ares Capital Corp announced that it has agreed to sell $200 million aggregate principal amount of its 4.75% Convertible Senior Notes due 2018. Fitch Ratings has assigned a rating of "BBB" to Ares of unsecured convertible notes.
Fitch ratings Reported, "The continued downward pressure on spreads through the end of the summer has forced investors to look even further down the credit spectrum for yield, this time in the 'CCC' category. This has prompted a wave of 'CCC' rated issuance beginning in September through the first part of October. During this time, over $8.2 billion of 'CCC' issuance was offered (16% of total issuance during this time) - that is double the amount issued during the first seven months of 2012, according to Thomson Reuters LPC. Issuers with substantial credit risk, such as K. Hovnanian Enterprises, Inc. ($977 million), Ryerson Inc. ($900 million), and Michaels Stores, Inc. ($200 million; 6.0% yield), have been able issue bonds over last few weeks, at an average yield of 7.8%."
The company has also increased the size of its revolving funding facility with Sumitomo Mitsui Banking Corporation (NASDAQ:SMBC), from $200 million to $400 million.
One of the more recent Dividend Rank reports from the Dividend Channel noted that among the coverage universe, ARCC shares displayed both attractive valuation metrics and strong profitability metrics. For example, the recent ARCC share price of $16.80 represents a price-to-book ratio of 1.1 and an annual dividend yield of 10.24%. By comparison, the average company in Dividend Channel's coverage universe yields 3.9% and trades at a price-to-book ratio of 1.7. The report also cited the strong quarterly dividend history at Ares Capital Corporation, and favorable long-term multi-year growth rates in key fundamental data points.
This profitable niche for investors is getting a closer look from regulators amid concerns about whether sales fees and actual performance are being properly disclosed. As banks pulled back from lending after the financial crisis, private-equity firms stepped up their creation of these companies that make loans to small and medium-size businesses and buy such loans from banks.
Ares Capital is not a late comer to the market and as stated before has long been in the market place before the financial crisis. Thus, it was less affected by the crisis and maintained a constant dividend as shown below.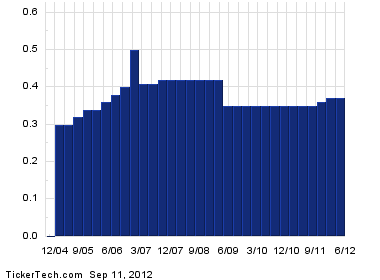 In general, dividends are not always predictable. But looking at the history above can help in judging whether the most recent dividend from ARCC is likely to continue, and whether the current estimated yield of around 9% on an annualized basis is a reasonable expectation of the annual yield going forward.
The company has been on a run this year up 13.2% YTD, 6.5% in the last six months prior to this writing. I have purchased some shares in the last few months and I will look at adding to my positions if warranted after the earnings release on 4 November.
Ares Capital makes up 1.04% of the Wisdom Tree MidCap Dividend Fund (AMEX: DON). It has seen 2 directors and officers purchase shares in the past six months, according to the recent Form 4 data. The ETF holds a total of $3,977,740.80 worth of ARCC, making it the #5 largest holding. According to the ETF Finder at ETF Channel, ARCC makes up 3.62% of the KBW High Dividend Yield Financial Portfolio ETF (AMEX: KBWD).
Monthly dividend paying stocks can be an appropriate complement to other monthly-paying securities like closed-end bond funds. Diversification, attention to debt levels, and being aware of the risks in each individual stock will help build a portfolio that pays an above-average dividend yield but also mitigates risk. BDCs do require a strengthening economy to help their debt and equity investments pay off for shareholders.
Getting in during a recovery period leaves more room for growth. However, Ares Capital Corporation has shown that it is not a stock just for the dividends. The company is in it for the long term during good and bad economical times, which is reflected in its mission statement.
Ares Capital reports, "Our mission is to create long-term value for our shareholders through an attractive dividend and solid investment performance across economic cycles."
Disclosure: I am long ARCC. I wrote this article myself, and it expresses my own opinions. I am not receiving compensation for it (other than from Seeking Alpha). I have no business relationship with any company whose stock is mentioned in this article.