Linn Energy (LINE) and newly-formed entity LinnCo (LNCO) reported solid third quarter results Thursday morning. Net of non-cash derivative losses, the firm earned $0.45 per unit during the quarter, up a penny from last year, and significantly higher than consensus estimates. More importantly, the firm achieved $1.01 in distributable cash flow per share, achieving a coverage ratio of 1.40x. Click here to learn more about why we think Linn Energy's has years of distribution growth ahead of it.
Perhaps the most meaningful event during the quarter was the IPO of LinnCo, an entity formed to exclusively own shares of Linn Energy. The one caveat is that LinnCo is a traditional corporation, while Linn Energy receives K-1 tax treatment, which can be a long and convoluted process. As a result, Linn hopes to spur institutional and retail interest from investors seeking yield without the same tax issues. The move also provided Linn with $1.3 billion in additional liquidity.
Total production exceeded internal guidance, rising 106% year-over-year to 782 MMcfe/d, capitalizing on hedging contracts that greatly exceed spot prices. Hedged natural gas prices were approximately $5.17 per Mcf, versus spot prices of $2.71 per share, highlighting the huge benefit the company gains from being mostly hedged (though this price was still substantially lower than the same period a year ago). Oil prices were also a bit higher via hedged production than spot prices, but actually increased 5% year-over-year.
Going forward, the firm remains mostly hedged, making results reasonably predictable. The firm expects to earn $0.78 per unit in distributable cash flow, ample liquidity to achieve its payout goal of $0.725 per quarter. Production looks to ramp sequentially to 800-835 MMcfe/d, compared to 782 during the third quarter. We're big fans of the company's execution, and the next several years look fairly strong considering natural gas and oil fundamentals (see graphic below).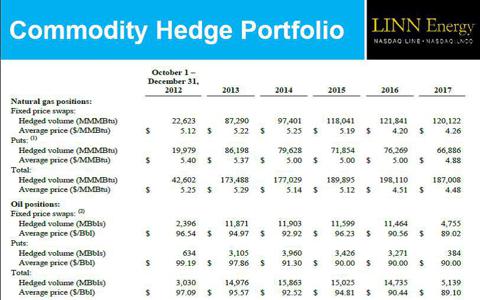 Image Source: Linn Energy
Overall, we continue to like the firm's business, but we believe shares are fairly valued at current levels. We may look to add shares of Linn or LinnCo to our the portfolio of our Dividend Growth Newsletter (see links on left sidebar for more information) if shares fall below the low end of our fair value range.
Disclosure: I have no positions in any stocks mentioned, and no plans to initiate any positions within the next 72 hours. I wrote this article myself, and it expresses my own opinions. I am not receiving compensation for it (other than from Seeking Alpha). I have no business relationship with any company whose stock is mentioned in this article.