The latest crash of the financial markets has created some great buying opportunities in the health care sector. You can almost pick any Biotechnology or Pharmaceutical stock and be guaranteed that it is undervalued today. The sell-off was steep and broad and took down good stocks with the bad. It certainly felt like some hedge funds were desperately liquidating anything in their portfolio. The financial stock selling was only exacerbated by a crash in commodities to create a avalanche effect that may not be over yet.

This has created a great buying opportunity in names such as Amgen (AMGN), Genentech (Private:DNA), Genzyme (GENZ) and Celgene (CELG) to name a few.

Celgene recently reported great earnings highlighted by higher than expected sales from its Multiple Myeloma drug, Revlamid. Sales were up 80% from a year ago and translated to a very nice 26 cents per share earnings or double last year's numbers. This was slightly unexpected as analysts were widely expecting to see some signs of weakening of sales due to competition from Velcade from Takeda Pharmaceuticals (OTCPK:TKPHF) (acquired through purchase of Millenium Pharmaceuticals). The company also raised its full year guidance to $1.5 /share from $1.45.

More recently, Celgene announced that its Small Cell Lung Cancer drug, Amrubicin, was given fast track status by the FDA. Amrubicin is being currently tested against GSK's (NYSE:GSK) Hycamtin in patients with refractory SCLC.

But, the news has not all been positive for Celgene. The FDA recently published a report that Revlimid may have an association with Stevens Johnson. Stevens Johnson has been on the label of Thalidomide as a potential issue and since the two drugs are of the same class, having that warning added to the label should not cause a drop in sales, especially considering that Multiple Myeloma is a deadly disease.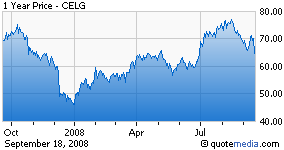 Celgene is trading at $64.3 with a market cap of about $29 billion. It recently hit a high of $76 in August. The recent sell off due to the FDA warning and the financial crisis has created a great buying opportunity for a stock that can trade into the $80s next year.

Disclosure: The author has no position in CELG stock or options.