In the past, if you had asked what we thought of OCZ (NASDAQ:OCZ), the response would have been glowing. However, times change... life is full of challenges and full of storms. For OCZ Technology Group Inc., it is the perfect storm.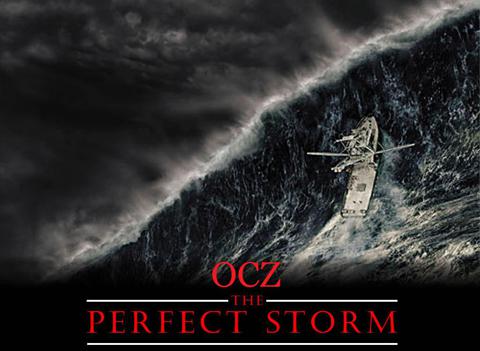 Click to enlarge
PC demand for laptops and desktops is in decline and obviously this must affect the demand for SSDs utilized by these devices. The situation might improve a few quarters down the road, but right now rising sales in tablets are eating into desktops and laptops sales.
OCZ currently receives roughly 96% of its revenue from the consumer side with an extremely small portion from enterprise sales. The reduced demand for PC and laptops will affect sales negatively for the yet to be released Q3 revenues and upcoming Q4 revenues.
Industry Outlook
One might say, "Maybe sales were good in the 3rd quarter and will improve during the 4th quarter!"
Let's take a serious look at what the industry has to say about demand.
AMD (NYSE:AMD) stated during its October 18th call:
The fourth quarter will continue to be challenging, and we do not expect PC market conditions to improve for several quarters.

Our business is focused on the legacy PC portion of the market- projected to have slowing growth over the next several years.

Broader macroeconomic issues are impacting consumer PC spending. OEMs are also taking a cautious approach to managing inventory in advance of the Windows 8 launch; tablets continue to grow as the consumer device-of-choice.

Third quarter gross margin was also negatively impacted by weaker-than-expected demand in the third.
We believe that Q3 PC sales grew approximately half of the seasonal norm.

As we look into Q4, we believe that the overall PC business will grow at about half of what we would expect from normal seasonality. Our revenue forecast growth is below these levels as our customers are taking a cautious inventory approach in the face of market uncertainty and the timing of the Windows 8 launch.
Even the mighty Apple (NASDAQ:AAPL) has lowered estimates and iPad sales came in below analyst expectations.
Also weighing on them (Apple): lower-than-expected iPad sales and concerns about the company's profit margins. Apple issued revenue guidance for the quarter ending in December of $52 billion, about $3 billion below analysts' expectations.
SSD companies provide guidance
From the LSI (NASDAQ:LSI-OLD) conference call:
Going forward, our guidance for Q4 reflects a cautious outlook due to uncertainties in the macro environment and softness in PC demand. While we did see reductions in our HDD business in Q3, we expect further reductions in component shipments in Q4 tied to ongoing softness in the PC end market. We also expect reductions in both our custom and standard product flash storage processors in Q4.
Fusion-io (NYSE:FIO) is providing slowing growth estimates for next quarter.
For the fiscal second quarter of 2013, we expect revenue to be essentially flat sequentially.
It is conclusive: PC and laptop demand is not going to help OCZ in its delayed Q3 numbers or Q4 on the consumer side.
The Perfect Storm
OCZ was hit by the perfect storm. Some factors were external: The rapid increase in the price of NAND and Apple actively buying huge quantities of NAND for its then-upcoming product line -- further constraining the supply of cheap NAND.
Other thunderstorms raged internally: Lackluster enterprise sales, the decision to employ a single NAND supplier, no NAND deal in place, a strategy in place to gain market share while blatantly overlooking the consequences, and lest we leave out our personal favorite -- an upcoming inventory write down combined with accounting issues that might result in past quarters being revised.
And the bucket of water for the drowning man overboard --we now have reduced PC and laptop demand.
(All Deckhands to the Bridge)
Concerning the restatement of earnings, Mr. Schmitt said:
Then in regards to your last question (which is in regards to restatement), we currently are still under review process and so far have not had any indication that there will be a restatement.
This shows that OCZ is looking at past quarters to see just how deep the accounting issues are. Each day the army of forensic accountants can't figure out the books at OCZ only registers the accounting issues as that much more complex.
A Recap
Much like the Andreal Gail in the movie "The Perfect Storm," OCZ is battling torrentially rough storms:
1. There is an over-reliance on consumer SSD sales combined with rising NAND costs.
2. Various NAND manufacturers, such as Micron (NASDAQ:MU), are entering the SSD battle grounds (we covered Micron and SSDs here). They will have the cost advantage as they produce NAND.
3. A line of credit has been used and may be in jeopardy (covered here).
4. There is only one supplier of NAND to OCZ (Micron) and still no NAND deal in place to secure prices and supply when it is needed.
5. There are 25-30 shareholder lawsuits in progress with more daily. Hopefully they will be combined into one. Expect an avalanche of suits to occur once OCZ reports earnings. Currently we are viewing the tip of the tip of the Titanic lawsuit iceberg.
6. There are inventory write downs in progress and accounting issues (along with a possible restatement of earnings in the works -- See our previous article)
OCZ's CEO said:
That is something that we're evaluating or have evaluated as well. And there is a good chance that we will be making some adjustments in regards to that (inventory).
7. OCZ will incur extra expenses via the lawyers and accountants that will be needed to sort out the lawsuits and accounting issues.
8. There are microscopic enterprise sales. While the former CEO did hint at a Microsoft (NASDAQ:MSFT) deal, the new CEO would not comment on it. If the deal does not occur, the pending lawsuits will use that as additional ammo for a case of shareholder false and misleading statements. Additional info here.
9. OCZ is not in compliance with NASDAQ rules thus it cannot raise capital via a secondary offering. If it were to regain compliance, any secondary offering would amount to massive dilution to existing shareholders at the current share price.
10. Capital Burn -- OCZ has already stated that it has lost money this quarter. This is a tight position given it has 43.3 million in cash and is carrying over 760 employees.
11. There is weak PC and laptop demand industry wide.
Hope and Wildcards
On the flip side, OCZ does have a few things going for it: A new CEO has taken over; OCZ has various patents that must have some worth; and an SSD controller chip Barefoot 3 in the works. OCZ's hybrid technology and software development teams provide additional value to the company. OCZ's market cap is only a mere 91 million.
It is still possible that the company airs out the books and then sells out to an acquiring company. It is also possible, as the former CEO stated, that it has won (authors note: and hopefully retained) some very large enterprise deals. These might help support the company during its evolution to a high-end consumer and enterprise SSD company.
Conclusion
We still think that OCZ simply has to air out its laundry and shine light on the books. The shareholder lawsuits will be tied up in court for a couple of years if they do not reach a settlement. OCZ needs to secure the line of credit and refocus the company, via layoffs, to a new, lean, mean SSD machine. Once the books are in line, OCZ requires a buyout by a power player in order to transition to an enterprise focused company.
If you aren't the kind that gets sea-sick and you have a cast-iron stomach, it might be worth rolling the dice via leap options at a 3 strike, but the weak PC industry is only going to make any recovery a tough row.
Disclosure: I am long AMD, OCZ, MU. I wrote this article myself, and it expresses my own opinions. I am not receiving compensation for it (other than from Seeking Alpha). I have no business relationship with any company whose stock is mentioned in this article.