Deere & Company (NYSE:DE) is scheduled to report fourth quarter earnings on November 21st with expectations for $1.88 per share, an increase of 16% over the same period last year. Revenue is also expected to be higher at $8.8 billion against $7.9 billion last year. The company missed expectations widely last quarter, the first time in 14 quarters, and there are several factors that point to disappointment this quarter as well.
Expectations have been cut 7.4% over the last 90 days, from $2.03 per share. While revenue is still estimated to increase by 13.5% this year over last, it is expected to slow to an increase of just 3.3% next year.
Signs of Weakened Demand to Come
I highlighted a problem with farmers' futures obligations in an article in August. Agriculture producers usually lock in prices on some of their crop by selling futures against the fall harvest. Earlier this year, producers were looking at the highest planting in decades and the markets were talking about falling prices. Many farmers locked in prices and promised to deliver on the contracts but the record drought has driven yields down across the Midwest. Many farmers may have to go back to the market to buy back the contracts, at inflated prices, because they won't have the grain to deliver. This could seriously crimp income and put off plans for equipment purchases.
Further evidence of the slowdown to come came last week when Firestone Agricultural Tire announced a shutdown and layoff of hundreds of workers on high inventory. The plant makes tires for farm equipment manufacturers and is idling the factory to bring production in-line with lower demand. Earlier this year, Deere cut 25% of its production in factories across Iowa because of lower demand caused by weak farm income.
Shares are pricey but other fundamentals remain strong
The shares trade for 11.4 times trailing earnings, just over the industry average of 10.9 times. Profitability metrics are fairly good with an operating margin of 13.3% and a 40.8% return on equity. The shares pay a 2.2% dividend yield and are up 8.7% over the last year.
Deere receives 75% of total sales from its agricultural and turf segments and sees 37% of equipment sales from North America. Financial services, largely financed sales and leasing of its agricultural equipment, makes up another 8% of revenue. Weakness in agricultural incomes could hit both the direct sales of equipment as well as increase defaults in the financial services segment.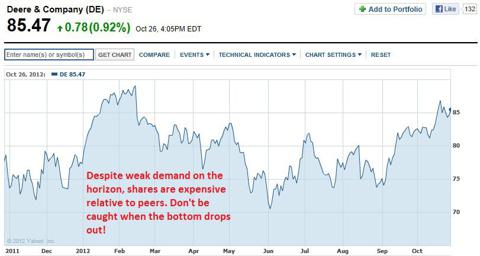 Click to enlarge
Stronger names in equipment and agriculture
Caterpillar (NYSE:CAT) cut its 2012 forecast for the second time this year on October 22nd even while posting better than expected earnings on strength in Latin America. The company reported net income of $2.74 per share against $1.71 earned in the same period last year. Revenue also increased by 5% to $16.45 billion from the comparable quarter. The shares trade for a relatively cheaper 8.6 times trailing earnings and pay a 2.2% yield. The company is very well run with an operating margin of 14.2% and a 40.8% return on equity. I prefer Caterpillar on a valuation basis as well as through its more globally-diversified revenues. The incoming government in China will have a strong incentive to stimulate the economy and the increase in infrastructure projects should help boost demand for heavy equipment.
Joy Global (NYSE:JOY) missed earnings expectations by $0.06 in the third quarter but still managed to grow net profit by 13% over the same period last year. Total sales also increased by 22.2% over the comparable period and have risen 30% in the last four quarters. The company sees 57% of its sales from underground mining equipment and has a greater exposure to China than other equipment manufacturers. Supporting the company is the world's largest aftermarket service and support network in mining equipment. This accounts for more than 50% of revenues and stabilizes cyclical trends. The shares trade for just 8.7 times trailing earnings and pay a 1.1% yield. The company's operating margin of 21.1% is well above peers though the 34% return on equity lags that of Deere.
For those looking for a play on agriculture, the Potash Corporation of Saskatchewan (NYSE:POT) is a stronger play. The company missed expectations by $0.01 per share in the third quarter on a 7.7% decline in revenue over the same period last year. Potash is the world's largest diversified fertilizer company by capacity and the world's largest producer of potash. Global demand for fertilizers is increasing as the world tries to feed surging consumption on relatively stabilized planting acreage. Producers will need to depend on fertilizers further as extreme weather patterns drive down crop yields. The shares trade for 15.0 times trailing earnings, about average for the industry, and pay a 2.1% yield. Profitability metrics are well above peers in the industry with a 42% operating margin and a 27.5% return on equity.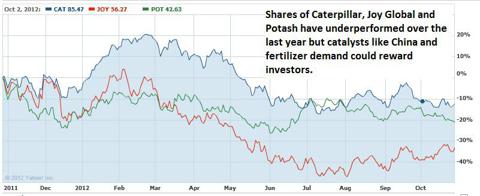 Click to enlarge
Don't be caught in the headlights by this Deere
An increase in consumption by emerging market populations should act to support Deere and the rest of the U.S. agricultural complex in the long-run. There are just too many near-term catalysts for a negative surprise and I would not recommend the shares. Investors should look to other options like Joy Global and Caterpillar on valuation and exposure to emerging market growth while Potash offers a better play on agricultural demand.
Disclosure: I am long JOY. I wrote this article myself, and it expresses my own opinions. I am not receiving compensation for it (other than from Seeking Alpha). I have no business relationship with any company whose stock is mentioned in this article.