Regardless of who wins the election, we believe that precious metals and especially the undervalued junior miners should be included in one's portfolio. We are living in volatile times, where we see possibly many catalysts to cause a breakout in gold (NYSEARCA:GLD) and silver (NYSEARCA:SLV).
The world has chosen a Keynesian approach to the crisis, which may cause gut wrenching hyper-inflation. Remember, central banks all over the world are adding to their gold reserves- especially emerging nations. Countries such as China are overweight in U.S. dollars (NYSEARCA:UUP) and Treasuries (NYSEARCA:TLT) and have already began buying undervalued natural resource assets and early stage precious metal miners. They are opening banks for the first time in Canada and the U.S. to finance natural resource development.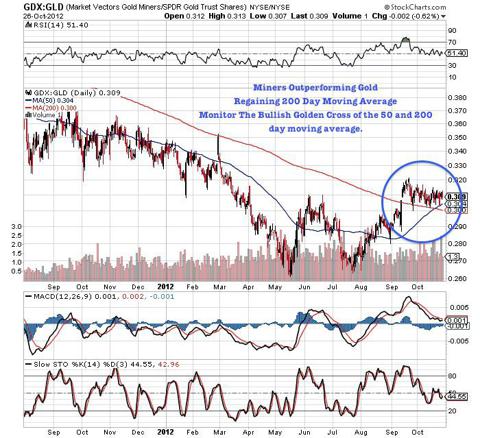 Click to enlarge
The gold miners (NYSEARCA:GDX) are already beginning to outperform both bullion and the S&P 500 (NYSEARCA:SPY) and we believe this trend will continue due to favorable fundamentals and seasonality. For the past six months, the silver miners (NYSEARCA:SIL) and gold miners have outperformed.
We expect this trend to continue as investors see possible weaker earnings and slowing growth in the large caps, yet rising inflation and commodity prices, which benefit the miners.
Notice that even during this market correction, both the gold and silver miners are holding up well versus the S&P 500 and are outperforming bullion. The miners may be forecasting a coming breakout in gold at $1800 or a rotation from large caps to miners. After this breakout, look for the large miners with rising share prices and increasing cash positions to make deals with the cheap junior gold miners for large premiums. The large miners are desperate for growth, and to replace diminishing reserves.
Disclosure: I am long GLD, SLV, GDX. I wrote this article myself, and it expresses my own opinions. I am not receiving compensation for it (other than from Seeking Alpha). I have no business relationship with any company whose stock is mentioned in this article.