In August, we analyzed and evaluated SUPERVALU Inc (NYSE:SVU) in the wake of its poor results. We concluded that although it had seen a regression in Q1 2013 versus its FY 2012 levels, it was a better retail turnaround candidate than RadioShack (NYSE:RSH). We were disappointed in SVU's stock performance in July due to its disappointing financial results. At the same time, we were pleased that we had avoided a larger loss if we had invested in RadioShack. While evaluating these companies against each other is somewhat unorthodox, we think it is apropos for us because we had considered investing in each of them recently as a "turnaround project" as well as the fact that both SUPERVALU (Shaw's/Star Market) and RadioShack are right next to each other at the River Street Shopping Center in Waltham, MA (which is where we shop for groceries).
While SVU has seen its adjusted EPS and free cash flows take a tumble this year relative to last year, at least it has generated positive adjusted EPS and free cash flows, which is more than what we can say for RadioShack. SVU has generated $108M in free cash flows in the first half of its FY 2013 period. That compares favorably with the $32.4M in operating cash flows and the negative free cash flows of $12.1M that RadioShack incurred in its last 3 quarters (the FY 2012 period for RSH).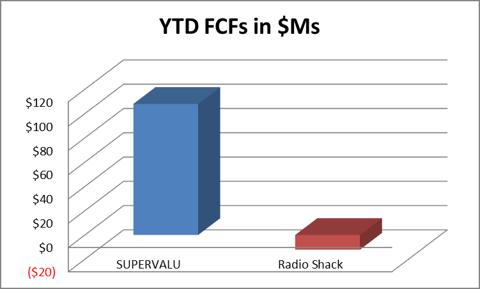 Click to enlarge
Source: MRQ Reports for SUPERVALU and RadioShack
One advantage that RadioShack has against SVU with regards to sales and gross margin momentum is that its most recent quarter's comparable stores sales decline of -1.6% was narrower than the -4.3% endured by SVU. One advantage that SVU has against RadioShack with regards to sales and gross margin momentum is that its gross margin % and gross profit dollars declined at a slower rate than RadioShack even though SVU made significant price-cut investments in order to stem its sales declines.
With regards to the balance sheet, on one hand, RadioShack has the advantage in that it has greater liquidity assets and less gross debt than SVU. On the other hand, SVU has a lower percentage of its debt coming due next year plus SVU has been dedicating a significant portion of its free cash flows since its 2006 debt-funded acquisition of Albertsons in order to pay down debt. Both companies refinanced debt recently and obtained new term loans and secured credit facilities. Because SVU is still generating positive free cash flow plus because it owns 40% of its store base, we believe that SVU has more resources to handle an extended downturn than RadioShack. We also believe that SVU would be less exposed to an extended downturn than RadioShack since SVU sells consumer necessities while RadioShack sells discretionary items.
Both companies are exploring strategic alternatives. SVU hired Goldman and Greenhill to serve as its corporate financial advisors in order to evaluate strategic alternatives for the business. SVU has recently received indications of interest from a number of different players. We even discussed potential strategic options for SUPERVALU's Jewel-Osco banner in Chicagoland with the Chicago Sun-Times. We believe that a traditional grocery store chain should consider taking SVU out in order to capture the potential merger synergies itself, rather than wait for a private equity firm to step in and engage in financial engineering on it. An intangible benefit would come from eliminating the third largest traditional grocery store company from competition and avoiding a long and nasty price war that no one wants. In the most recent quarter, Kroger, Safeway and SUPERVALU (the three largest pure play grocery chains in the US by revenue) all saw sequential declines in identical store sales growth rates versus identical store sales growth rates in the prior quarterly period.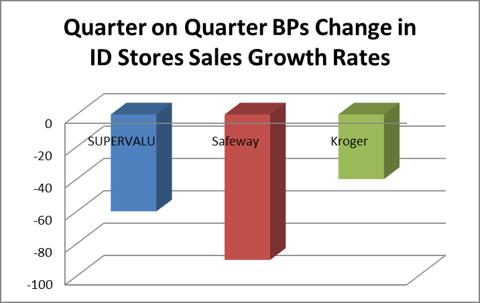 Click to enlarge
Source: Last two Quarterly Earnings Reports for SUPERVALU, Safeway and Kroger
In contrast, RadioShack is teaming up with Hon Hai (FoxConn) to grow its Chinese store base. Worse comes to worse, RadioShack could beg Hon Hai to take it over. However, we haven't seen any private equity companies sniffing around RadioShack in order to take it out and RadioShack's top competitor Best Buy (NYSE:BBY) has its own troubles.
In conclusion, we believe that SVU is more likely to make progress turning itself around than RadioShack. Both companies are facing strong and significant industry headwinds as well as operational issues which have negatively impacted the performance of those firms. There are two reasons why we believe SVU will be more likely to turn itself around or salvage more value for investors than RadioShack. The first reason is because it has already replaced its former CEO Craig Herkert with Wayne Sales, who had an immaculate record of achievement and performance when he led Canadian Tire (OTCPK:CDNAF) from 2000-2006. In our July 30th report on SVU, the Minneapolis/St. Paul Business Journal quoted our assessment of Wayne Sales. The positive vibe we felt about Wayne Sales was reinforced at SVU's Q2 2013 conference call even though SVU's Q2 results were worse than the Q1 results. The second reason is because SVU has already tapped Goldman Sachs and Greenhill to assist it in pursuing strategic alternatives and it has drawn assorted bids from a number of players, most notably Cerberus.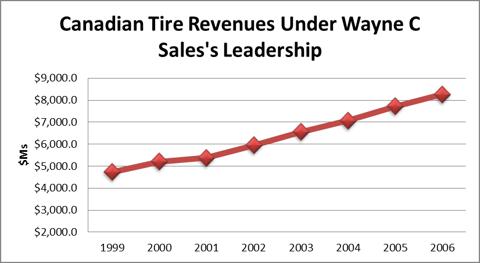 Click to enlarge
Source: Canadian Tire 2006 Annual Report
Disclosure: I am long SVU. I wrote this article myself, and it expresses my own opinions. I am not receiving compensation for it (other than from Seeking Alpha). I have no business relationship with any company whose stock is mentioned in this article.
Additional disclosure: This article was written by an analyst at Saibus Research. Saibus Research has not received compensation directly or indirectly for expressing the recommendation in this article. We have no business relationship with any company whose stock is mentioned in this article. Under no circumstances must this report be considered an offer to buy, sell, subscribe for or trade securities or other instruments.