We have been impressed with the growth registered by WisdomTree Investments (NASDAQ:WETF) since we purchased shares in it last year. In an era where even blue chip asset management firms are struggling to generate positive organic growth, it is refreshing to see strong organic growth rates from a company that did not even exist in its current form less than seven years ago. Granted, WisdomTree is operating in the Exchange Traded Fund sector and that is the fastest growing segment of the asset management industry. While WisdomTree 's $17B in ETF AUM won't lead it to be confused with BlackRock's (NYSE:BLK) iShares ($706B) or State Street's (NYSE:STT) SPDRs business ($336B), we are pleased with its organic growth and we can see why Goldman Sachs upgraded WETF in early October.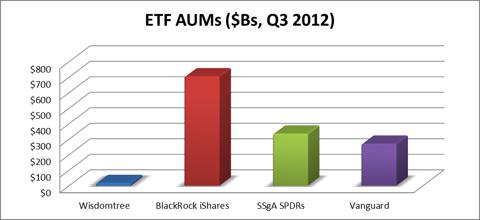 Click to enlarge
Sources: MRQ Reports for Wisdomtree and BlackRock, P&I Online Articles for SSgA and Vanguard
In our August report, we discussed how WisdomTree is unique amongst asset managers in that it is the only manager that shows its updated AUM figures as well as its net organic growth directly on its Investor Relations Website. We believe that this was due to its previous history as an Over-The-Counter Pink Sheets stock. By highlighting this information in a fresh and up-to-date manner, WisdomTree enabled its investors to see how the company was performing rather than waiting for quarterly results. Not only has WisdomTree rapidly grown its total cumulative assets under management, it has also grown its net organic fund flows and its market share of ETF fund flows.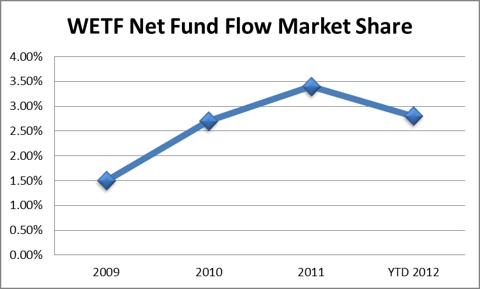 Click to enlarge
Sources: Wisdomtree 2011 Annual Report and Wisdomtree Q3 2012 Report
WisdomTree saw $1.036B of positive net fund flows into its ETF products during the most recent quarter as central bank monetary easing helped push investors back into the equity markets. WETF saw positive organic growth from its Emerging Markets Equity, US Equity and International Fixed Income products, which were partially offset by fund outflows from its Alternative Strategy, Currency and International Developed Markets products. Only we could be disappointed that WETF generated over $1B in organic flows from WETF because its market share for ETF fund flows during the quarter was only 1.8%. While that is still higher than its current ETF AUM market share, we expect more from this scrappy little upstart.
AUM Growth
On a year-over-year basis, total AUM increased by 50% versus the prior year period and by 11.86% on a linked-quarter basis. The company has gathered $3.67B in positive net new fund flows during the 9 months of the year and its average ETF advisory fee was 54bp. While this is higher than typical ETFs offered by larger competitors such as BlackRock's iShares family and SSgA's SPDRs family, WisdomTree focuses on active ETFs and fundamentally weighted benchmarks rather than standard benchmarks like the S&P 500 or the Barclays U.S. Aggregate. We like the product positioning of the company since it offers a more dynamic alternative to traditional ETFs and at a lower cost than typical active mutual funds.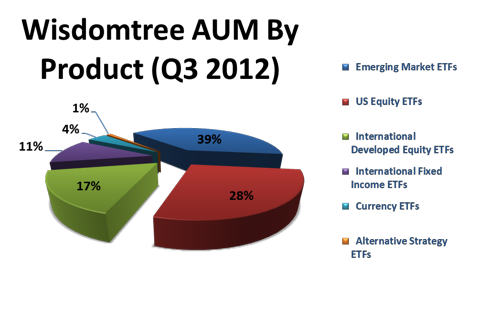 Click to enlarge
Source: Wisdomtree Q3 2012 Earnings Release
WisdomTree generated revenue growth of 22.1% on a year-over-year basis and 6.0% on a linked quarter basis, due to increased average daily AUM balances. Operating expenses saw a slight increase of 4.6% on a year-over-year basis and this was due to reduced expenses relating to lower AUM in WETF's currency and international fixed income ETFs subject to the profit sharing arrangements with BNY Mellon. This enabled the company to generate a nearly 234% increase in its pro forma adjusted operating income versus the prior year's comparable quarter. The company generated $7.3M of free cash flows year-to-date versus $9.3M in the prior year period. As the company is a young start-up, we are pleased that it has no bonded indebtedness and it has a very liquid balance sheet. Of its $60.8M in total assets, $49M (80.6%) is cash and investments.
On October 22nd, WisdomTree 's stock sold off by 6.28% after two of its largest shareholders announced plans to sell a significant portion of their shares in the company. RRE Ventures announced its plans to sell its 18.2M share stake in the company (nearly 15% of the float) and WETF's Non-Executive Chairman Michael Steinhardt announced plans to sell 11.655M shares of WETF (Steinhardt will still have 20M shares, representing a 15.9% stake in the company). The shares have declined by another 4% this week even though the company announced EPS that exceeded analyst expectations. We agree with Sterne Agee that this is a tempest in a teapot as RRE had its WETF shares for more than 7 years and that was a long time for a VC fund to hold an investment. Sterne Agee also pointed out that Steinhardt still has a significant portion of his wealth concentrated in shares of WETF and that no formal offering of shares has been launched.
Another interesting fact we like to reiterate about WisdomTree is that it has a strong group of well-respected leaders backing it. Former hedge fund legend Michael Steinhardt serves as WETF's Non-Executive Chairman and he owns 15.9% of WETF's shares after his planned sales are complete. WisdomTree was founded by Jonathan Steinberg, aka Mr. Maria Bartiromo. Steinberg is also the son of well-known financier Saul Steinberg. Finally, WisdomTree has well known Wharton Finance Professor Jeremy Siegel as its Senior Investment Strategy Advisor.
In conclusion we are pleased with the performance of WisdomTree Investments and we expect continued growth from the company. We were impressed with the level of net new business generated by the company during the most recent fiscal quarter, even though it benefited from a rising tide in the equity markets. Because the company is now generating consistent profitability, we expect the company to be able to recover its previously written off Net Operating Loss Deferred Tax Assets instead of having the DTAs expire worthless. The company had nearly $107M in Net Operating Losses as of the end of the year which would be worth $49.4M if WETF can utilize these DTAs. We estimated that the company was able to utilize $5.8M so far this year based on its YTD Net Income of $5.8M. Because the substantial majority of the deferred tax assets do not begin to expire until 2018, we believe that the company will be able to generate enough net income during this time period in order to utilize the benefits of these DTAs. If WisdomTree is successful in utilizing the DTAs, it will save $46.75M in taxes by doing so. That is significant when we consider that WisdomTree only has $60.8M in total assets.
Disclosure: I am long WETF, BLK, STT. I wrote this article myself, and it expresses my own opinions. I am not receiving compensation for it (other than from Seeking Alpha). I have no business relationship with any company whose stock is mentioned in this article.
Additional disclosure: This article was written by an analyst at Saibus Research. Saibus Research has not received compensation directly or indirectly for expressing the recommendation in this article. We have no business relationship with any company whose stock is mentioned in this article. Under no circumstances must this report be considered an offer to buy, sell, subscribe for or trade securities or other instruments.