Warren Buffett's ability to act swiftly in buying Constellation Energy Group (NYSE:CEG) for $4.7 billion is truly amazing. At the beginning of the year, Constellation traded for over $100 and its shares had slumped below $25 prior to Buffett's acquisition announcement.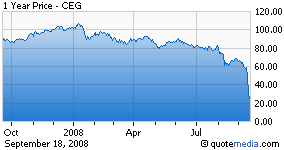 At a $26.50 take-over price, Buffett is paying about an $11.5 billion price tag for Constellation, including net debt and retirement obligation. LTM EBITDA: $1,925 million, which means Buffett paid less than 6 times EBITDA for Constellation. By the way, property, plant and equipment [PPE] are worth $10.4 billion alone.
The great lessons from Buffett and Munger are:
• Cash is King (in the right hands): In his 1987 annual report, Buffett said, "Our basic principle is that if you want to shoot rare, fast-moving elephants, you should always carry a loaded gun." Although holding cash isn't exciting, it is a potent instrument for an acquisition "offensive" during a market crisis or panic.
• Be Prepared: From the OID Aug. 2008 Edition, Charlie Munger said, "What is interesting is how brief many of these opportunities to take advantage of dislocations are…. The dislocation was very brief, but very extreme. And if you can't think fast and act resolutely, it does you no good. So you're like a man standing by a stream trying to spear a fish. And if the fish just comes by once a week or once a month or once every ten years, you've got to be there to throw that spear fast before the fish swims on. It's a pretty demanding activity if done right."
• Leverage Kills. Even good companies can be killed by excessive leverage. Unlike Lehman, which is loaded with "toxic" investments, Constellation Energy has real, valuable assets. The only reason it was pushed to the brink of desperation is because of the leverage. If it had a strong balance sheet at the first place, Buffett would not have the opportunity to get these prized assets.
• Buy from Desperate Sellers: True bargains only come along when there are desperate sellers. Just one week before, Constellation traded above $55 per share and now it is trading at half of that.
Disclosure: Long BRK.A and BRK.B