Shares in Chinese tilapia producer HQ Sustainable Maritime (HQS) were hammered after reporting a loss in August, losing more than half of their value.
Click to enlarge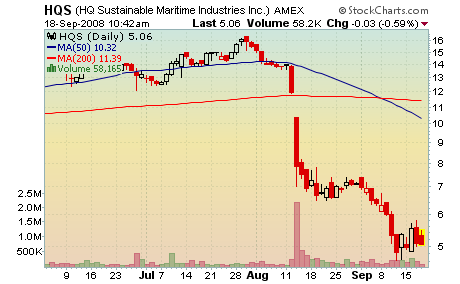 At current prices, I think that the stock looks attractive, especially considering the operational update that HQ Sustainable Maritime issued this week.  In the update, CEO Norbert Sporns stated:
I am extremely pleased with the positive level of business activity we have achieved thus far in the third quarter. Operationally, we are performing at a very high level, which we attribute to both an increase in our production capacity and a stabilization in Tilapia pricing. Worldwide demand for our aquaculture and health products remains strong and we are confident that our expansion efforts will enable us to more efficiently and effectively meet this demand.
The update also noted that an independent pricing service reported that tilapia prices stabilized in the third quarter.  I have taken a small position, and will watch for further developments.
DISCLOSURE: Long HQS.