When looking for inexpensive volatility we don't just look at the front month. It is a good idea to take notice of how the volatility is being affected in the later periods.

Notice on Corn how our front month volatility (IV30) is down at the lows. Now we can just stop here and talk about picking up a long straddle to look for a volatility pop, but if we dig deeper we can find another play.
First lets talk about Corn from a fundamental side..
Obviously corn is a commodity that plays an important part in our lives. We currently use corn as human consumption, animal feed, and ethanol. It is estimated that 40% of all corn is used for ethanol.
Like most commodities it is all about supply and demand. Since corn is an agriculture product its supply depends heavily on the weather. We got to witness this firsthand in 2012 when we had a large drought sweep the United States. The drought killed off nearly ⅙ of the nation's corn crop sending corn prices higher. Corn bushel prices found themselves over $8 at one point, but have now pulled back from those highs.
We use the CORN (NYSEARCA:CORN) ETF to help us trade and track the price of corn.
When we take a look at the volatility further down the line we can see the similarities. When viewing the IV90 and IV120 together we can see how close they are currently running. This is suggesting we need to look at a time spread.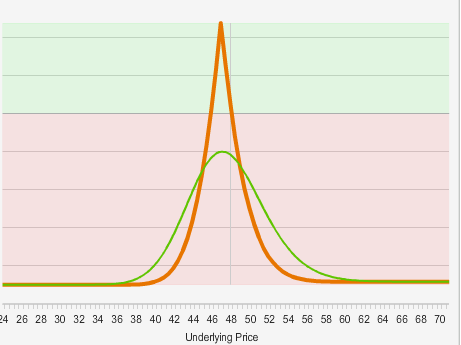 A time spread is a neutral strategy. The idea is to sell the short term option and buy the long term option. Ideally you will want Corn to finish around your strikes when the short option expires. After that you close out the long option and close out the play.
There are a couple of things that make a good time spread. First you want volatility to be low overall. We see this in Corn as volatility is at all time lows. Next you want volatility to be close in the later months. This will allow you to buy the long term option with cheap volatility.
The idea here is that the volatility between the IV90 and IV120 will not be able to stay so close together. If volatility continues to drop in the front month the volatility in the back month will not drop as much. This will drop the premium in your short option and raise the premium in the further out option.
The trade here is the Dec/Feb 47 Call Time Spread.


This will allow us take advantage of the lower volatility across several time periods. This play is positive theta so time decay is our friend. Remember we want the short option to expire worthless. Time spreads are negative gamma so big movement will hurt this play. With the way Corn is trading it doesn't seem like we will get a big movement out of it. We are also positive vega so the increase in volatility will help us.
We can pick this trade up for a 0.90 debit. We will look to get out of this play with a 25% profit or at 1.13. This play will last no longer than the December expiration. We should be able to get the profit throughout November as volatility does need to move here.
Disclosure: I am long CORN. I wrote this article myself, and it expresses my own opinions. I am not receiving compensation for it. I have no business relationship with any company whose stock is mentioned in this article.
Additional disclosure: Currently we are long the Nov/Feb 48 time spread and have been for a week. We are already seeing a good profit on this position. With the extra theta decay caused by the storm we will look to buy to close the short side of this position. If we do get the short side closed we will roll this position into the Dec/Feb time spread.