By Rom Badilla, CFA
Home prices rose for the seventh consecutive month suggesting that the recovery in the housing market continues to gain traction. Standard & Poor/Case-Shiller released its Home Price indices for August on Tuesday, when both the stock and bond markets were closed due to the storm hitting the North East quadrant of the U.S. The 20 city composite, which measures home values in the largest metropolitan markets in the U.S., improved by 0.5% in August when accounting for seasonal patterns (SA) and 0.9% on a non-seasonally adjusted basis (NYSE:NSA). This gain brings the year over year tally to 2.0% NSA which is above consensus surveys as economists expected an increase of 1.9%. The latest number follows a July reading of 0.3% SA, which was revised downward from initial readings of 0.4%. The home price index value now stands at 142.70 SA.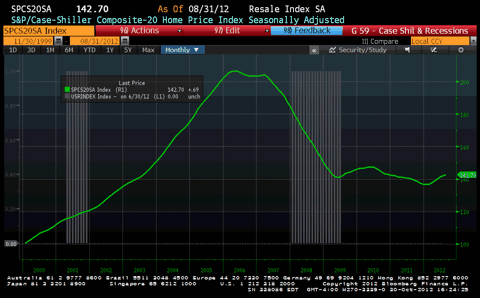 Case-Shiller Home Price Index & Recessions
The gains in home prices were fairly broad-based as 19 out of the 20 cities experienced improvement with Seattle as the lone exception. Atlanta and Phoenix topped the list as home prices rose by 1.7% and 1.4%, respectively while Los Angeles increased by 1.0% in August. In addition, Cleveland rebounded with a 0.3% gain in August after falling 0.4% in the prior month. New York and San Francisco failed to make improvements as home prices were flat in August. As mentioned previously, Seattle home prices fell by 0.1% after increasing 0.8% in July.
As we have seen in the past, increases in home prices coupled with rising equity markets, can rejuvenate consumer spending via the wealth effect. In other words, as people can see their assets improve in value, the more secure they become in their financial well-being. This confidence and feeling of being richer, whether real or not, can translate into spending and add to economic growth. As a result, this data release on home prices coupled with declining inventories and lower default rates reinforces the belief that housing is on the path to recovery which could act as a tailwind toward better economic growth.
Disclaimer
The above content is provided for educational and informational purposes only, does not constitute a recommendation to enter in any securities transactions or to engage in any of the investment strategies presented in such content, and does not represent the opinions of Bondsquawk or its employees.